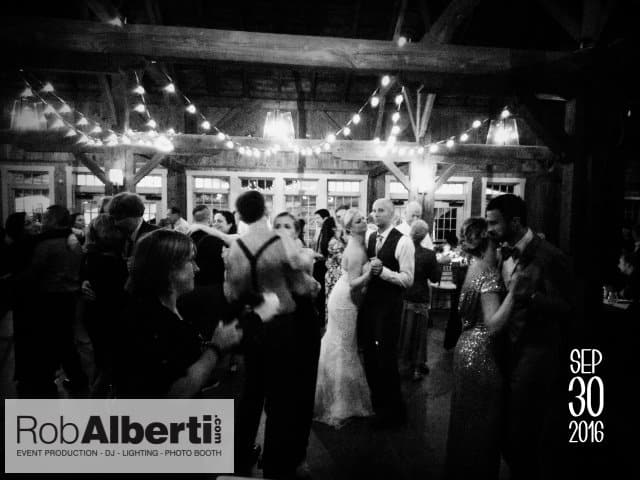 Alison + Ken – Quonquont Farm – Barn Wedding – Whatley MA
Alison + Ken were married under tent (raining) at Quonqont Farm in Whatley MA. Dinner and dancing were in the barn at Quonquont. We had some fall colors starting to show outside in the surrounding trees. We did one of our love story introductions for Alison + Ken (you can hear it below).
On the way to Alison + Ken's wedding, my trailer wheel bearing failed on I-91. I limped the trailer off the highway, parked it in a nearby parking lot, unloaded my trailer into my truck and rushed off to setup for their wedding. No one was the wiser. That's why we plan a little more time in our travels, have a backup plan ready to go and still arrived with more than enough time to setup and be ready for Alison and Ken and their reception.
Introduction Song: Hallelujah – Ray Charles
First Dance: The Luckiest – Ben Folds
Alison and Dad: I Loved Her First – Heartland
Ken and Mom: All To You – DJ Scott Keo
Last Song: I've Had The Time Of My Life – Jennifer Warnes & Bill Medley
Caterer: Hillside Catering
Photographer: Kerri Green Photography
Listen to their introductions and Love Story Intro