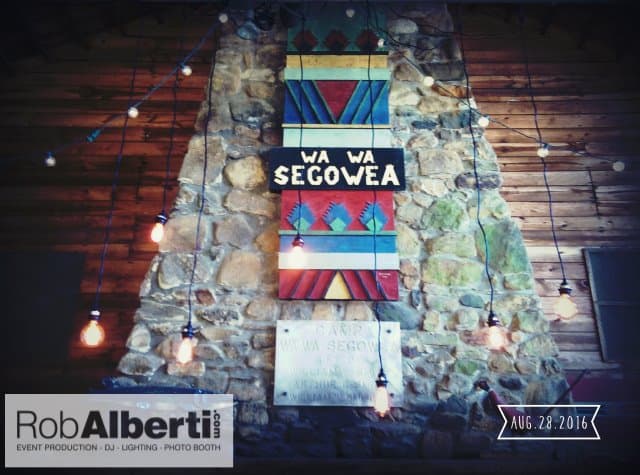 Camp Lodge Wedding – The Berkshires – Wedding Lighting Design – Camp WaWa
So, we've had quite a few wedding couples contact us because they are planning their wedding reception at a local camp lodge. Take away marble columns, clean bathrooms, air conditioning, paved roads and then add in a hundred guests camping out for the weekend in tents and cabins and your wedding celebration takes on a completely different feel.
We've been brought in on a few of these projects to help dress up the wood camp lodge with our lighting. Maybe it's a simple string lighting design that they want. Sometimes it's elaborate crystal chandelier installations. This past weekend, we had to work around the permanent string lighting installed in the lodge and add in some WOW factor to Camp Wa Wa.
Where all the speeches were being done (front of the stone fireplace) we did an installation of Edison bulbs overhead. In the corner where the band was playing, we hung mason jar lighting overhead on red strands. Outside, we added some bistro lights to illuminate the picnic table area and then finished it all off with a couple LED garlands to flank the entrance.