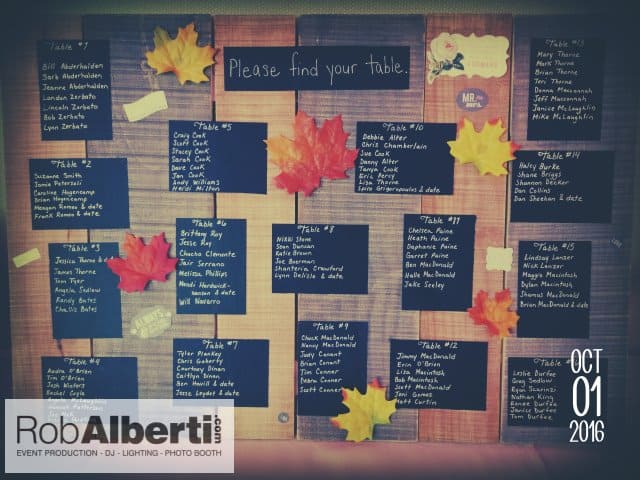 Creating the "Wow" effect at your wedding that doesn't cost a lot of money
You want your family & friends at your wedding to have fun. You definitely do not want them to walk away and just say it was "OK". You don't need to spend $50,000 on a private fireworks display to give your wedding something special. When you "Wow" your guests, they will be engaged and involved at every turn – they will really be drawn into the festivities. You want them to really understand that this wedding celebration is totally uniquely YOU. Let's make your wedding a reflection of you, your past and your love for each other.
The "Wow" factor is like magic. Maybe you see it coming, maybe you don't. When your guests experience it, they will understand who you are and what your love means to each other. You can "Wow" your guest through lighting, sound, experiences, and stories. I remember one of my brides – she came up to me during the reception and let me know that her mother broke down and cried. They were not sad tears, you see, my couple had decided to do a custom up-lighting design at their reception but they did not tell ANYONE. When her mom came into the room and saw how amazing it looked, she was so taken aback, that she wept.
Do you remember hiking up that mountain path and all of a sudden you come to a clearing and you see out across the valley, some 30 miles away in front of you? Or you walk into an old mansion and your breath stops as you take in the architecture around you. Maybe an old friend sitting over coffee tells you a story from their past that you never knew about them. It draws you in, it pulls at your emotions, you can't help but stare. You are part of that moment.
How do you create this feeling at your wedding? Here are some examples of what some of our past clients came up with:
Have a friend, your officiate at the ceremony or disc jockey tell the story of how you met and fell in love
Recreate your first date: an Edwin McCain concert as the musical backdrop of your cocktail hour
Use old family photos on each table as part of the décor to reflect where you've been
Create a dance routine as part of your first dance, entrance or bridal party dance
Sing a song for the love of your life: We had one of our grooms come up and play a song on his guitar for his new wife. There wasn't a dry eye in the room.
Select 4-8 guests ahead of time to come up and tell a short story about the two of you and disperse over the course of dinner
Love sports? Why not create a sports themed entrance like one of our couples did – bridesmaids v. groomsman and we introduced them in like competing teams at a sports event
If you're the groom, take the microphone after toasts or during dinner to just thank everyone for coming and say a few words to your new wife
One of our couples had a family tradition where the elders of the family came out and lip-synced to Queen's Bohemian Rhapsody complete with blowup guitars and microphones. You can't tell me that your guests will not soon forget that
We had a recent couple that made up trivia questions about the two of them and we used these to give away the centerpieces at each table.
Choose a wedding favor that reflects your personality or family background; we've seen people give away tree saplings, honey (family raised bees), one couple's dessert was homemade ice cream from the family farm.
Have some special song that means something to you and your sorority sisters? Make it a special moment during dancing and invite them out by name
Use a photo booth or photo booth app / instagram to share candid photos of you and your guests at the wedding
Skip the boring guest book and do something unique; one couple had a TREE print and people used their thumb print to create leaves on the tree, others had people write a "wedding wish" on a note card and created a TIME CAPSULE that they would open on their 10th anniversary
We have had many artistic or graphic designer couples that used their background to create personalized "Save The Date" cards, invitations or just graphics and design to pull the entire décor together
An old typewriter and note cards can be a way to get guests to wish you well on your wedding day
Old books piled up as table centerpieces would be very cool if you were an avid reader or worked in a library
Escort cards on a large matted photo of the two of you – as people take their seating assignments, the photo is revealed below
Love wine? Have grape vines projected on the wall or ceiling of your reception
Anyway you can do it, bring your story and your personality to life in your wedding plans. Now, here's your assignment – think of what makes you uniquely you. Write down your story, think of that special song or come up with a theme and create your inspiration board around what really makes the two of you special. Now, go and make your wedding day completely all your own. Give your guests that "Wow" factor as they become drawn into your love story.