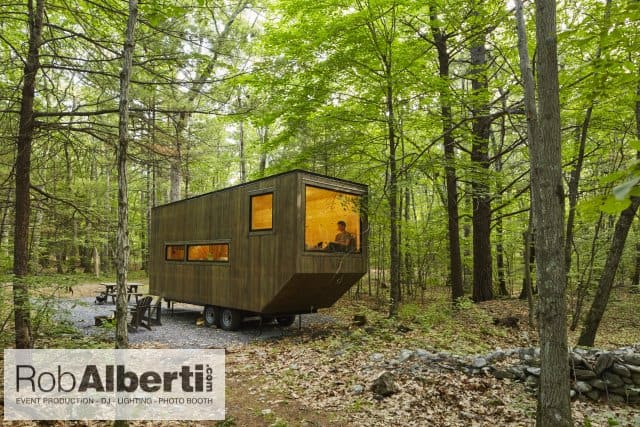 Getaway Boston – Business Retreat Camping Trip
Getaway Boston – Business Retreat Camping Trip
So, the other week I decided to get out of the office and sneak away camping and see if I could concentrate on a few business projects that I just never seemed to have the time for when I am here. It's great to get away – whether to the local coffee shop or Getaway Boston for a change of scenery. It was a great time to do some writing, a little bit of music research and mixing and even some business planning without distractions.
Yeah, I am sure you are thinking – "Camping – what work can you get done there?" With Getaway Boston (located about 2.5 hours away in NH just outside of Concord), they take care of everything for you. The cabin (think Tiny Home living) has a comfy bed, a small table, kitchenette, AND A BATHROOM. There are heat and AC and running water. Yep – this is really roughing it. It's so convenient – you just pull your car right up to the cabin. No need to check-in at the office. They email you the keycode to get it. There is a mini-fridge and even food to make pasta and smores at their firepit. Yep – even the firepit has a supply of wood.
There was no need to pack a tent, ground tarp, rope, sleeping blankets, pots, and pans. No trudging down to the bathrooms 10 minutes through the woods. No wet clothes or cold tent. I didn't even cook while I was there. I took a 10-20 minute drive and just ate out. Not really camping – more like GLAMPING. They took care of everything for me.
Now – you might be wondering what this has to do with your wedding plans, but think about it. For so many couples now – they are trying to DIY projects for their wedding. Yes – it's a great way to save some money or get friends and family involved in helping you plan, but not everything should be DIY.
Here are some DIY wedding horror stories from the recent past:

I had a wedding in the Berkshires where mom decided to DIY the catering. She hired a few teenagers and they cooked hot dogs and mac and cheese and served to the 150 guests. Most guests left soon after dinner. The party ended up being a complete flop.
A year or so back, one of our couples decided to DIY their own florals. Anyone who has seen the behind the scenes of floral installations on the day of a wedding knows that they take a long time if it's more than a simple centerpiece on each table. We had to postpone the ceremony by more than 40 minutes because they were not done setting up. With a normal wedding, you only get about 150 minutes of dancing. They ended up with less than 2 hours of dancing because of it.
Got a friend that takes great pictures? If they are not a professional photographer and if they don't have pro gear, DO NOT LET THE SHOOT YOUR WEDDING PHOTOS. You are going to be so disappointed in the end result. I can't tell you how many times we see inexperienced friend photographers who are out of place and miss key photo ops or who don't have backup gear (or even a camera that is as good as the ones we use in our photobooths!). It only takes less than 5 minutes for me to figure out whether a photographer knows what they are doing or if I am going to have to guide them the entire night due to their inexperience.
---
Hear One Of The Music Mixes I Made During My Camping Trip
---
Don't get me started on the untrained and inexperienced wedding DJ / MCs out there. Last weekend, I watched the DJ beat mix songs that should never have been put together (evidence – dance floor cleared each time). A high percentage of DJs out there do not know how to create a set of music that keeps the dance floor energized. Many leave awkward silence between songs or train wrecks each and every song mix. For the select few that can keep a dance floor packed, there is only a small percentage that knows how to use the microphone and act as your Master of Ceremonies. This by far is the most difficult to find. If they can't make a simple announcement and get your guests to react to that announcement. Most trip over their own words or just mumble something incomprehensible that no one can understand.
I had a recent couple that had seen so many bad DJs in the past that I was informed that I could NOT TALK ON THE MIC at all during their wedding. The groom ran around trying to get guests to get organized before anything was scheduled to happen. The best man ran around table by table giving instructions throughout the night. Despite my repeated warnings about staging too many events in a row and then expecting guests to get up immediately to dance – they did it anyways and there ended up being an awkward 20 minute lull in activity while we waited for guests to use the bathroom, bar and go outside. It's amazing how much experience we have in crowd dynamics after 30 years in business. Believe me, we've seen it all and we know what works and what does not work. LISTEN TO OUR SUGGESTIONS.
If you've ever been to a great wedding with a true professional wedding DJ and MC, you know the difference. The wedding planners we work with and other wedding vendors that we interact with know it. Things run smoother. No need to run around behind the scenes. Your DJ/MC handles all these things for you. It's like camping at a normal campsite and comparing it to Getaway Boston camping. It might cost a little more, but what you get out of it is so much more.
There is a reason why our clients say things like: " We had Rob for our DJ or master of ceremony an reception. They also did up lighting and the photobooth. The only time people sat was to eat. I have an amazing 417 photos in a scrapbook wich we also used for a sign in he even brought the pens for that.. Our wedding wasnt huge about 100pple it was only a week ago. But people are obsessed with our wedding. Thank you for rockin the house all night.
He had everything timed perfectly from the aisle walk to processional. The mezzanine music awesome. People still talk about the music and photobooth and the amazing lighting he did. Just blew me and our guests away. Thank you" Keyo-Ann
---
---