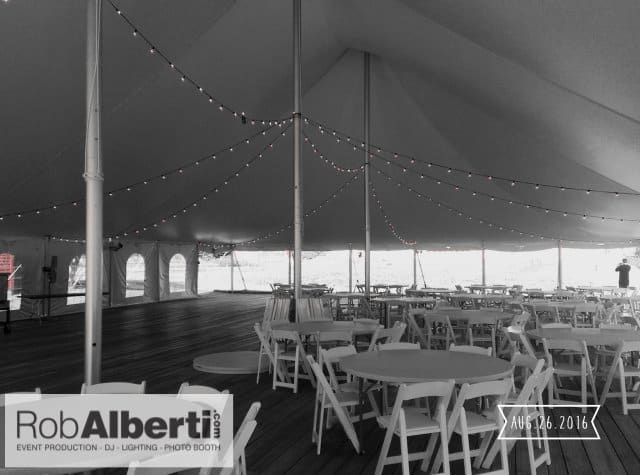 Hancock Shaker Village – Wedding Tent Lighting – Bistro String Lights
We've seen great tent lighting and we've seen sloppy and poorly installed lighting. If string lights are installed by inexperienced or done DIY – there can be issues. The lights go out during the event – because they've overloaded the electrical circuits. Maybe it rained and they did not protect all the electrical connections from getting wet. Maybe the lights are too low and guests pull them down accidentally. Whatever the case – it's not as easy as it looks. Oh, did I mention that many areas (especially in the Berkshires) require an electrical permit to be pulled for all wedding tent lighting installations? That means – you need to be a licensed electrician to install string lights. Imagine your wedding or event being closed down by the electrical inspector because you DIY'd your own string lights. It's just not worth it.
Here is a simple design that we recently did at Hancock Shaker Village. Notice the clean lines of the wedding lighting design.