How Much Does Wedding Lighting Cost
How Much Does Wedding Lighting Cost
How Much Does Wedding Lighting Cost: That always seems to be the first question wedding couples ask us. The reality is that lighting can be very reasonably priced compared to what it does for your wedding and your wedding photos. Wedding lighting can be as simple as uplighting around the perimeter of your ballroom valued at $800 or as high as $10,000 for more complex custom lighting installations. Figuring out what your budget should be for lighting is a complex problem because different venues and event spaces might require different scale lighting installations. Let's break it down into different styles of lighting. Of course, you can mix and match lighting options for a more complex (and more expensive) feel to your wedding. Lighting has the ability to transform a simple event space into something just amazing. Take a look at the below photo of a simple barn wedding turned into a Pinterest-worthy wedding.
Q: How much does wedding lighting cost?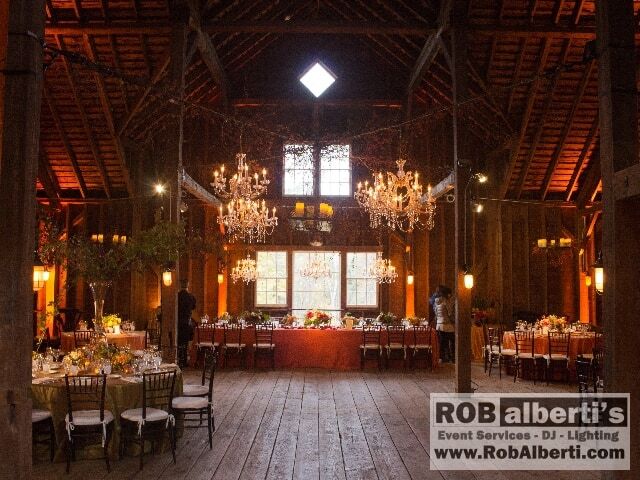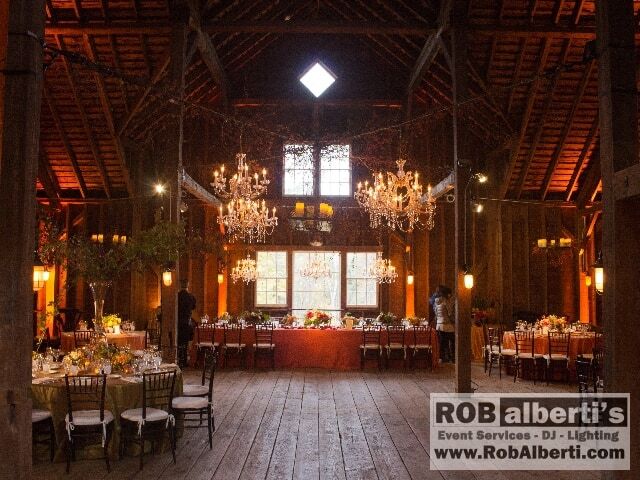 ---
Wedding Uplighting
"Rob helped us with the lighting for our mini-wedding this past September. It was an unusual situation, as he was a last-minute vendor add and we hardly connected with him directly. That said, he still managed to be one of our most valued vendors. The design that he put together for our space (and at the last minute!) was so gorgeous – it brought the entire look, feel, and function of our event together. His service was great, pricing incredible, and lighting impactful. He is an all-around service stop in the wedding industry and you won't regret working with him!"
Gabriella – CT Wedding Lighting
Cost Of String Lights For Weddings
There are a few different styles of string lights that couples want for their weddings. There are Bistro String Lights (typically 2″ diameter incandescent bulbs spaced about every 12″), Twinkle Lights (Think those small Christmas lights – tiny pointy incandescent bulbs spaced about every 4-6″), and Edison Bulbs (Those very ornate funny shaped bulbs with the glowing elements). Edison bulbs tend to be used in one space to draw attention over a head table or above the dance floor v. being strung for 100's of feet on a strand.
We tend to shy away from LED versions of string lighting. They just don't seem to be as pleasing to the eye as traditional incandescent bulbs and the light temperature that is emitted from them. One thing to consider is that LED lighting takes much less power – so we will lean on this style of lighting if power availability is a major concern at the site. Our LED string lights also tend to do better in cold weather, so we might lean toward them during the winter months as the incandescent bulbs are very prone to breaking in the cold.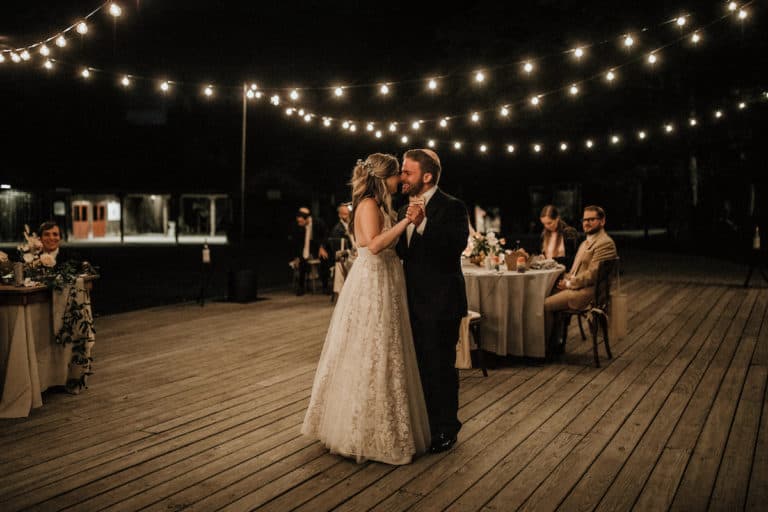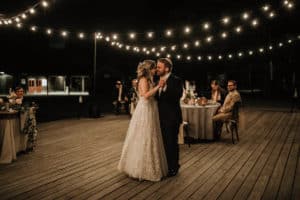 Bistro / Market String Lighting
Bistro string lighting is very versatile – with runs of lights over 200′ and the ability to dim them to set the perfect mood for both dinner and dancing.

As with any lighting – you need to consider how much power you have available onsite. Most bistro string lighting installations we do require a minimum of 2-20 amp circuits.

Most tent or barn bistro light designs range in price from $1,400 – $2,500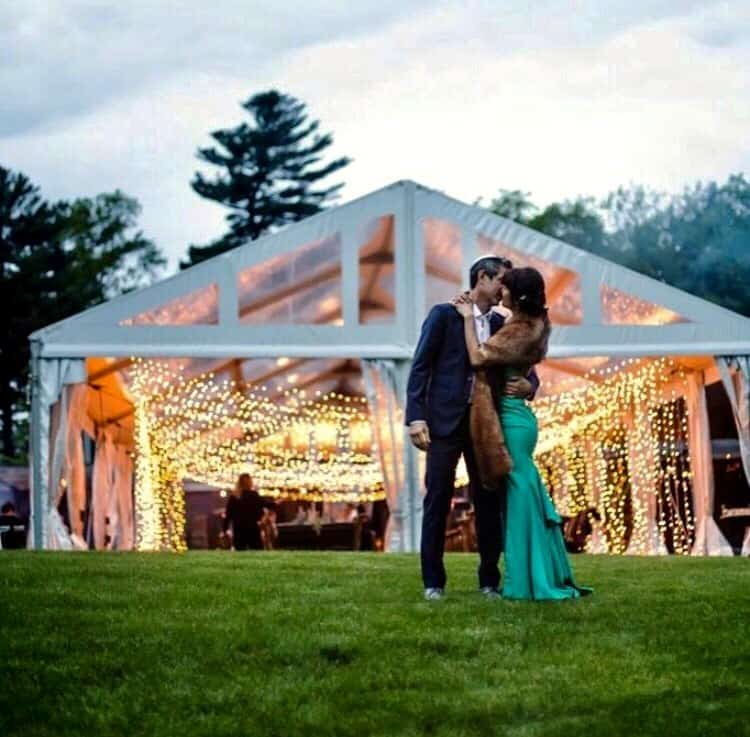 Twinkle String Lights
The great thing about twinkle lights is that you can create a much denser look and design with this style of lighting.

These installations also require a bit more power and we've used as many as 5-20 amp circuits for our larger designs

These installations are much more labor-intensive and therefore are much more expensive. Dense twinkle light designs normally range between $3,000 – $5,000 based on the size of space and design.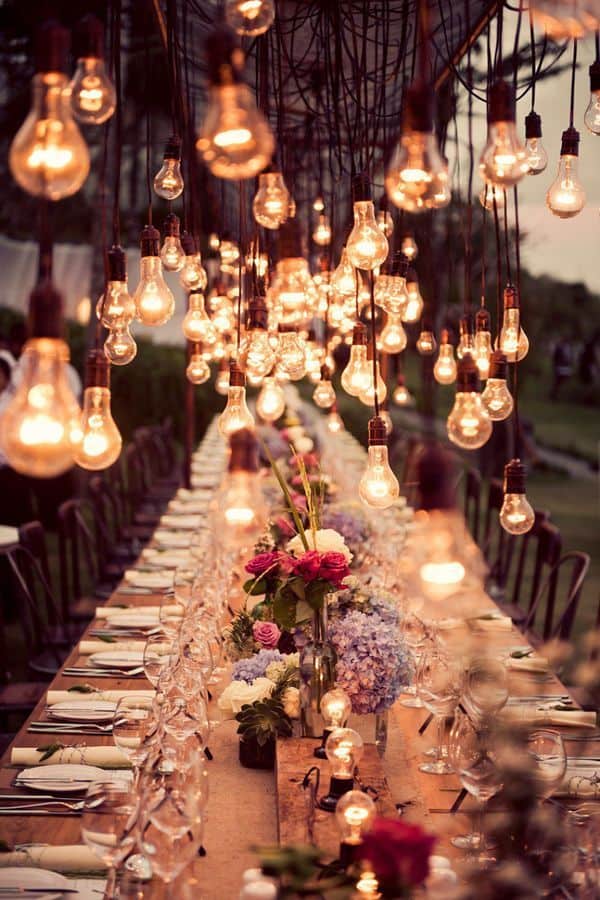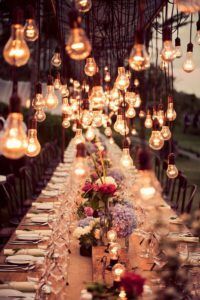 Edison Bulbs
We love using Edison Bulbs sparingly as a focal point in your lighting design. We have installed them over a head table, above the bar or dance floor.

Edison Bulbs take about 40w each so power draw and heat radiating from the installation can be significant. We always recommend installing dimmers on these installations to lower light output, power consumption, and heat.

As Edison Bulbs are typically used as a special highlight, you can expect this add-on to range from $800 – $3,000 depending on the complexity and scale of the design
---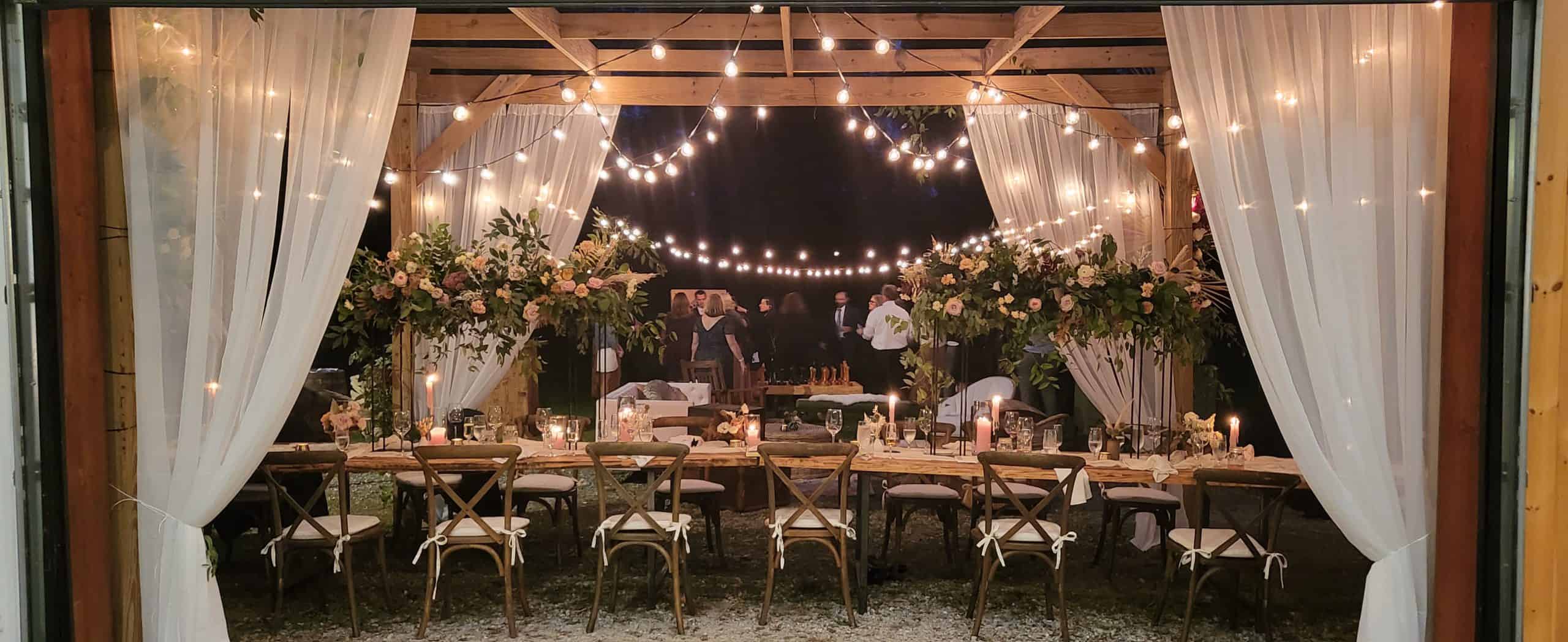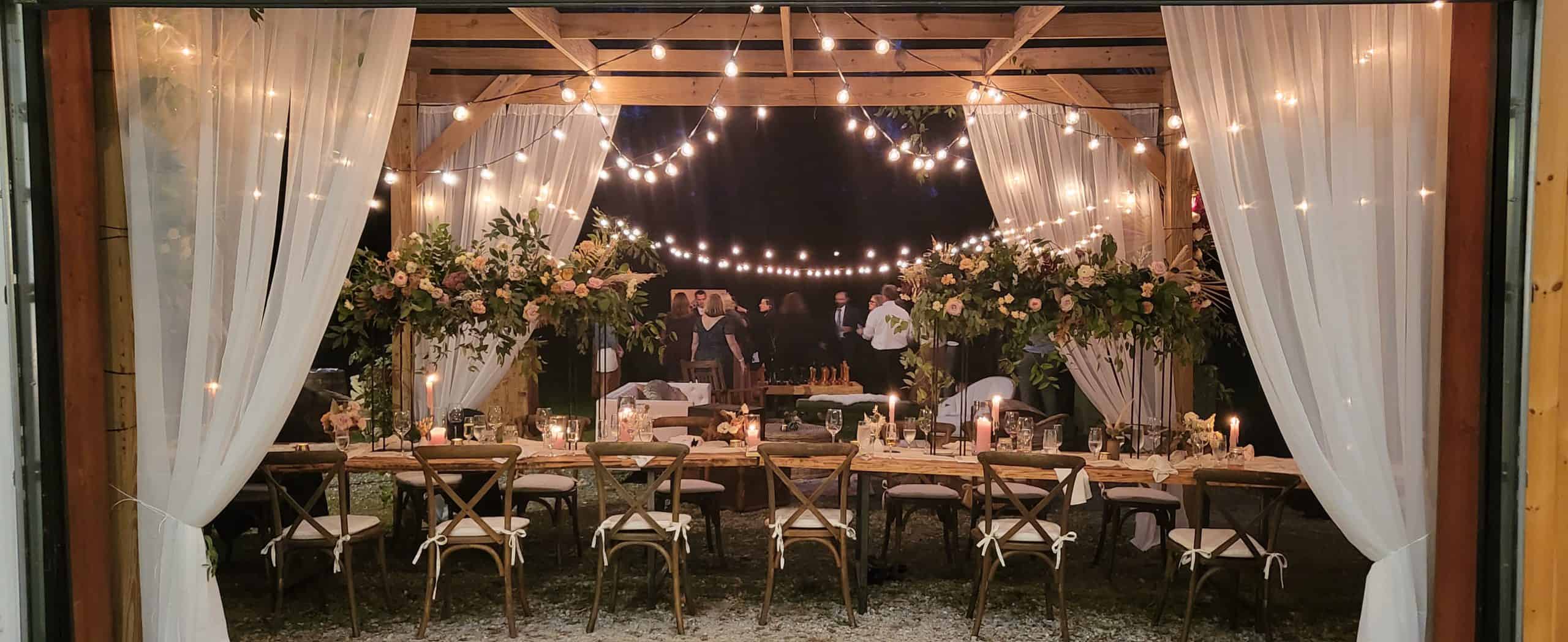 250 Longpond with Bistro String Lighting Inside and Outside
"Amazing experience! We had originally planned to get married in July at a venue and hired DJ Pat and Rob for some uplighting. We ended up changing both our date and venue (to our backyard in August) and both Rob and Pat were patient and understanding and able to work with our changes. We ended up having Rob lighting two tents which came out beautiful! "
Liz – CT Wedding Lighting
Average Cost For Wedding Uplighting
Let me tell you about uplighting – it is a great way to add color to your wedding background. It works great in both barns, museums and ballrooms. Uplighting is not meant for tented weddings (we would recommend a WASH LIGHTING for tent surface – it looks so much better than uplighting tent poles). With today's LED uplights – there is the convenience of it being battery powered, wirelessly controlled for both color changes and dimming capabilities.
Of course, buyer beware – as early versions of uplights had poor light output (LUX rating) and only had R-G-B color mixing which caused ugly banding color. The newer and higher output LED uplights have RGB and additional AMBER and WHITE and sometimes UV color mixing for a much broader color mixing capability. You see – you can't really create AMBER with RGB color mixing. Yes, you can find cheap $50 retail uplights out there, but they are not wedding-worthy in quality. Professional uplights range from $250 – $500 PER LIGHT and most wedding uplighting installations require between 16-30 fixtures. That means, for a typical uplighting installation in a wedding ballroom, we will bring in about $10,000 worth of gear (plus labor), so expect to pay between $800 – $1600 for uplighting your wedding. If someone quotes you $400 or less, there is something wrong. Either they are using inferior lighting fixtures or they are not properly lighting your entire venue with enough fixtures. Of course, you always get what you pay for when it comes to wedding lighting.
Q: How much does uplighting cost for my wedding?
A: You should expect to pay between $800 – $1400 for most lighting companies to properly uplight your wedding venue.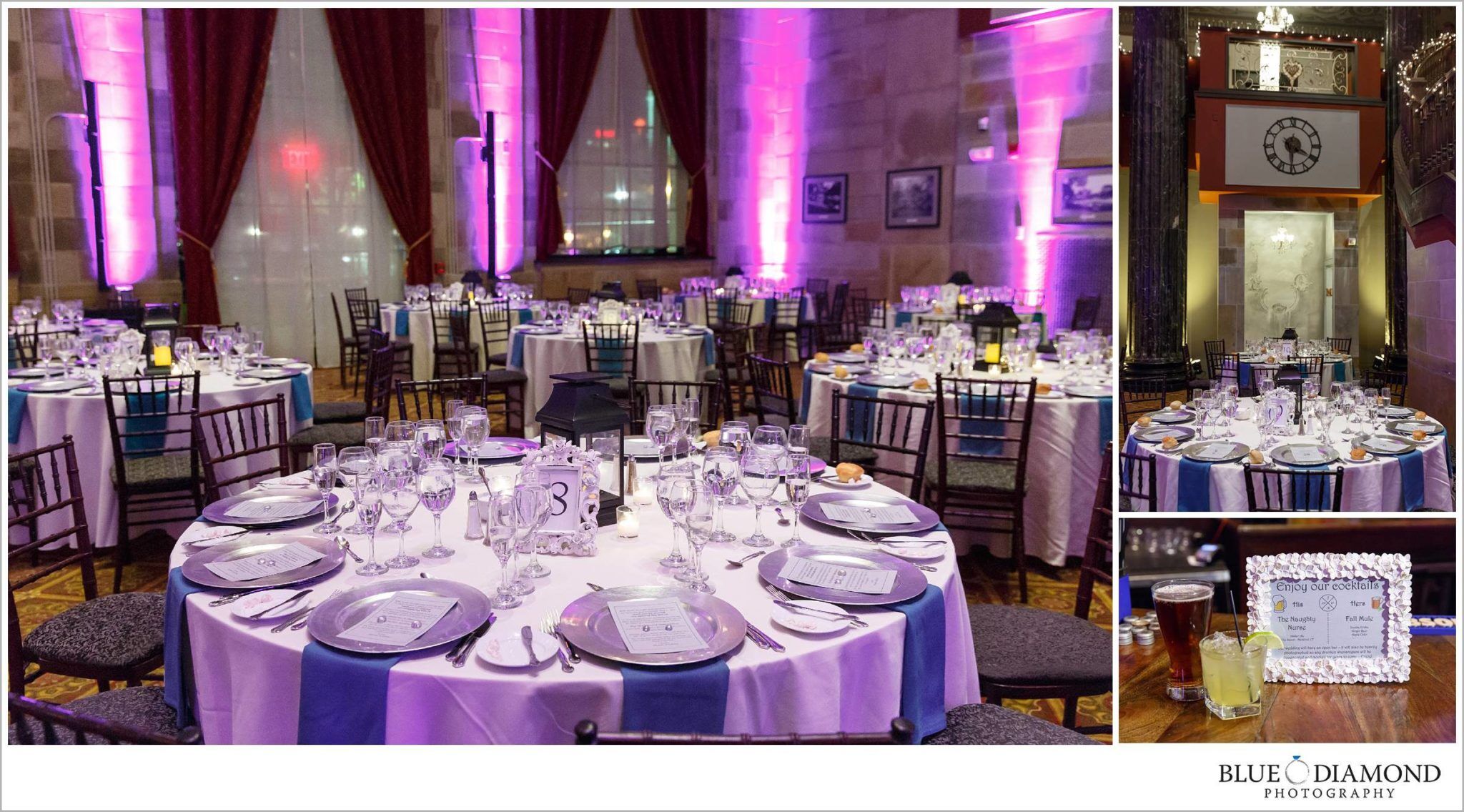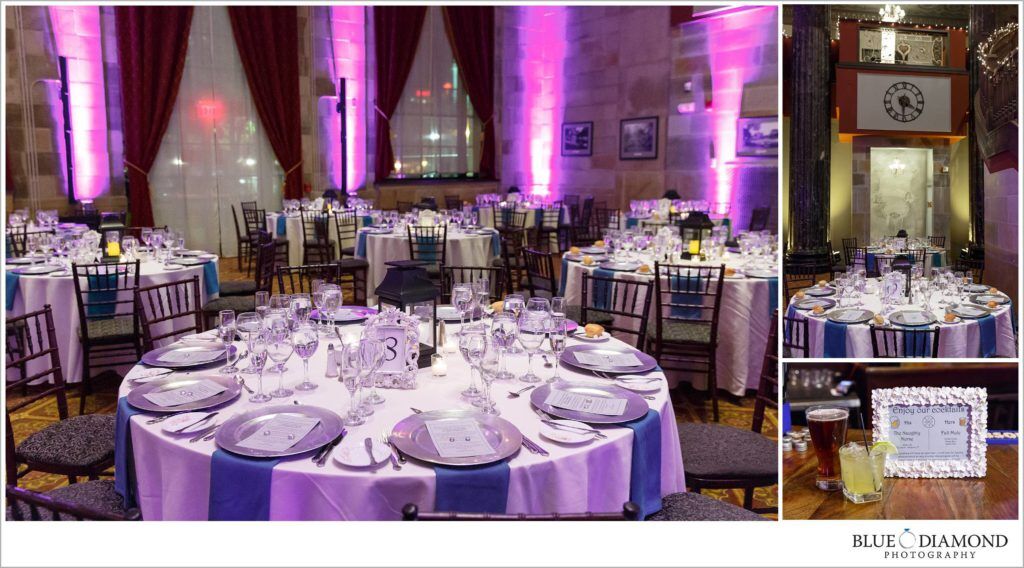 ---
"We worked with Rob to do lighting for our wedding reception. The venue was a huge camp dining hall with florescent lights and we wanted to use lighting to make it more elegant. Rob helped us to choose the right lighting, keeping it simple, and it made such a difference. He was super flexible and easy to work with in terms of set up and break down. We highly recommend working with him! Thank you, Rob!"
Sarah – The Berkshires Summer Camp Wedding Lighting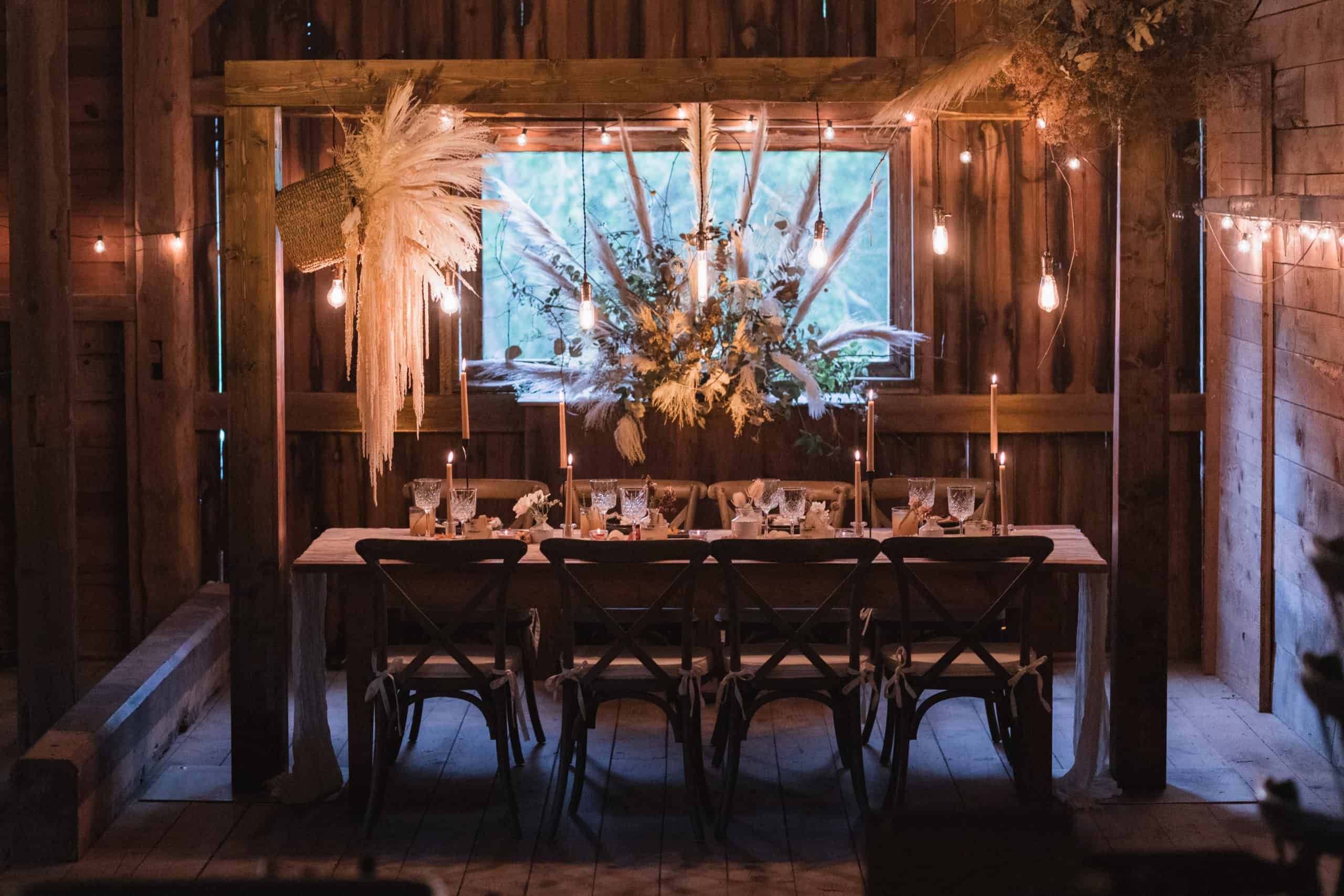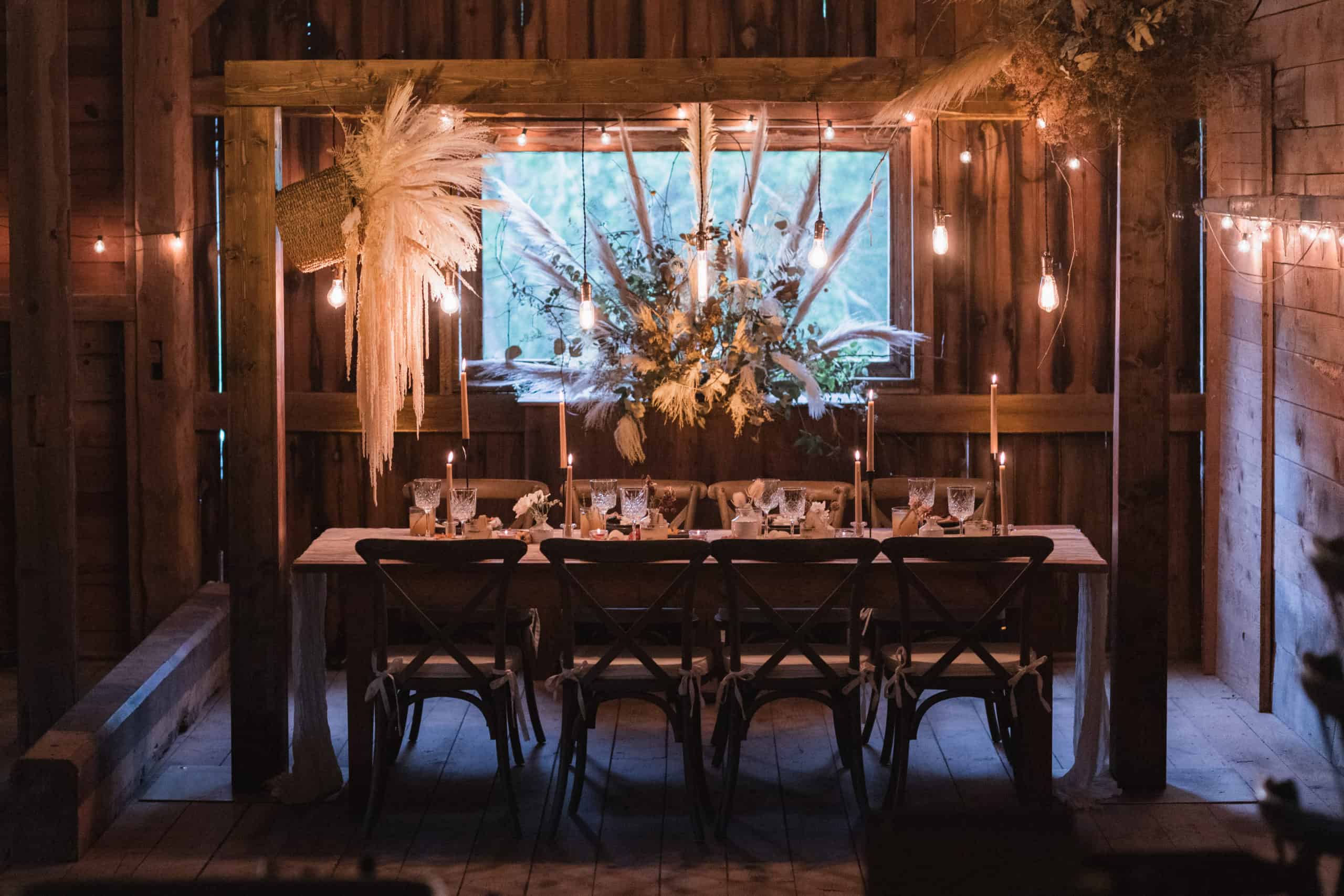 Wood Table Arch With Edison Bulb Installation
Hanging Lights For Wedding Reception
There are many styles of hanging lights for your wedding reception. If you are in a traditional ballroom, chances are that there is nowhere to hang lights from – but if your reception is in a barn, tent, or other space that allows for customized lighting, then you need to take advantage of that. After all – who wants their wedding photos to be just like every other couple that used the same reception space? That's the great thing about lighting – its transformative capabilities. We can come in and light the same barn yet, get a completely different look and feel based on the lighting design.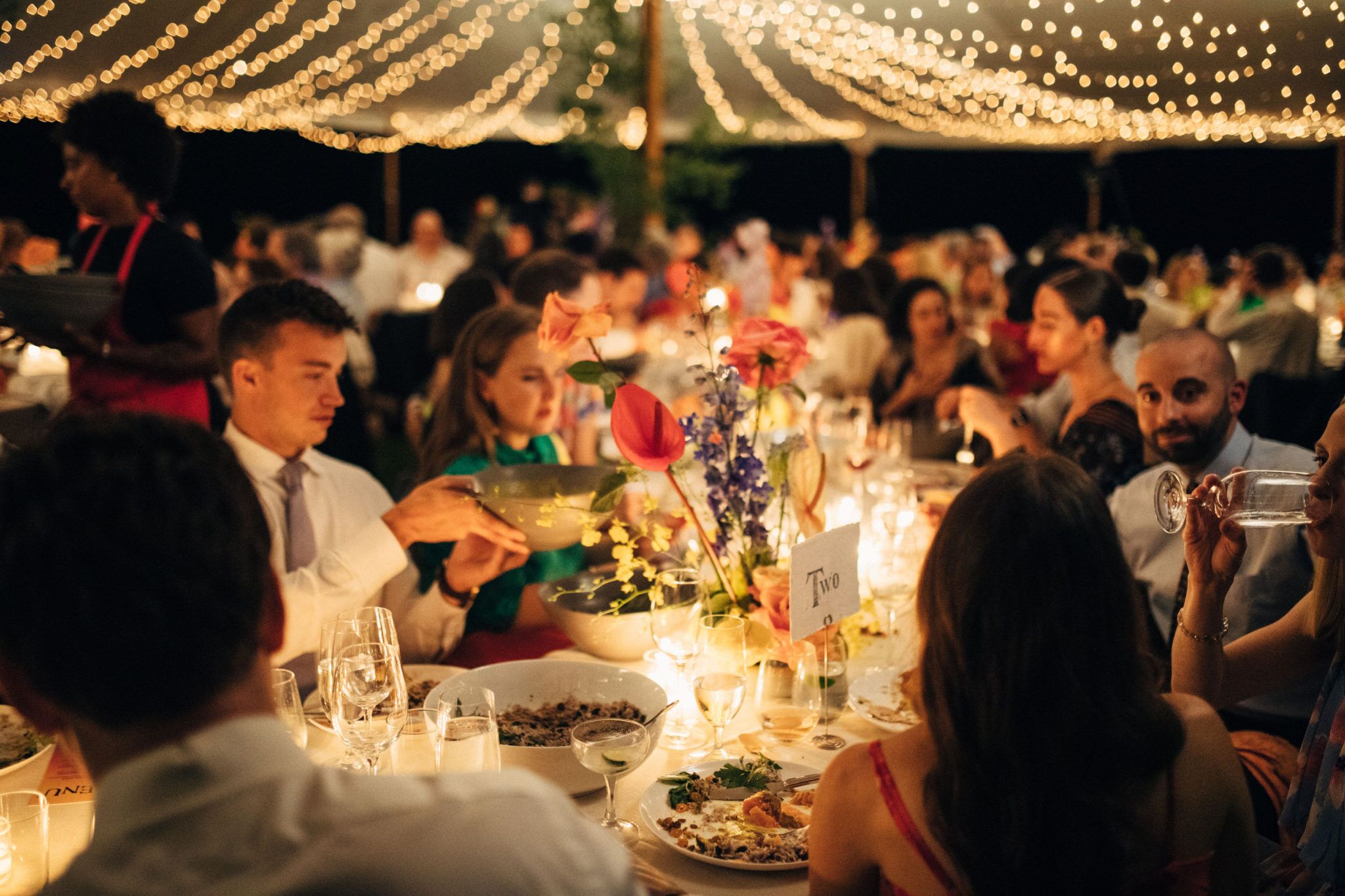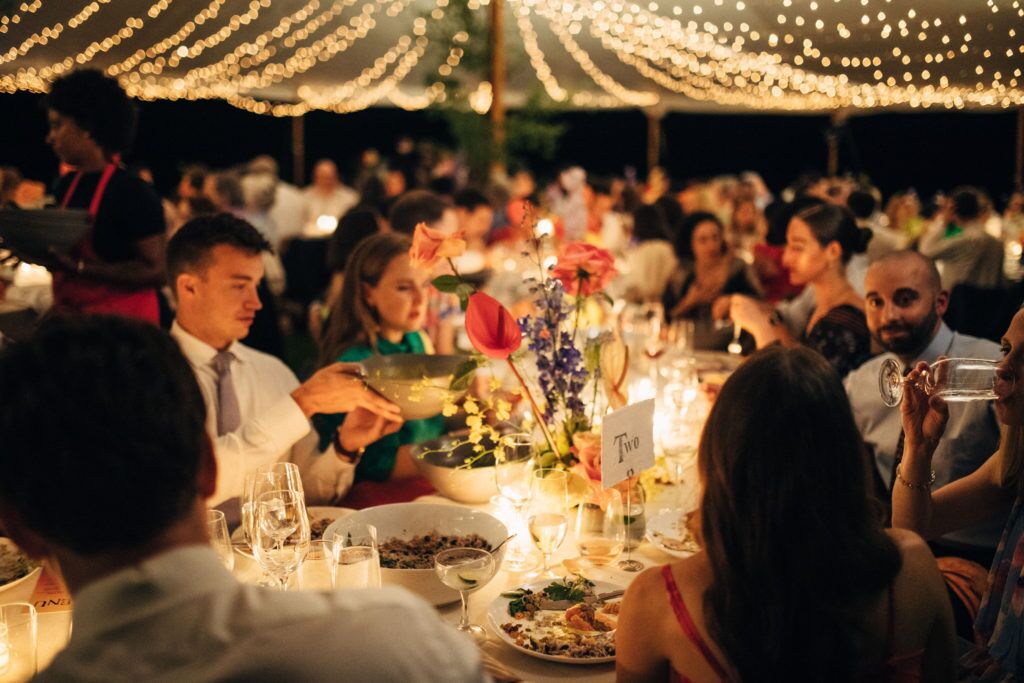 ---
Hanging lights can be Edison bulb, Chrystal Chandeliers, Glass Pendants, Mirror balls, or a BoHo rattan style fixture based on your inspiration images and mood board for your wedding. We will work with your florist or drapery installation and work seamlessly with them during installation. The best thing to do is send us a few images that inspired your interest in lighting for your wedding. We can arrange a site visit and talk over options once we know where we can hang installations and check power availability at your site.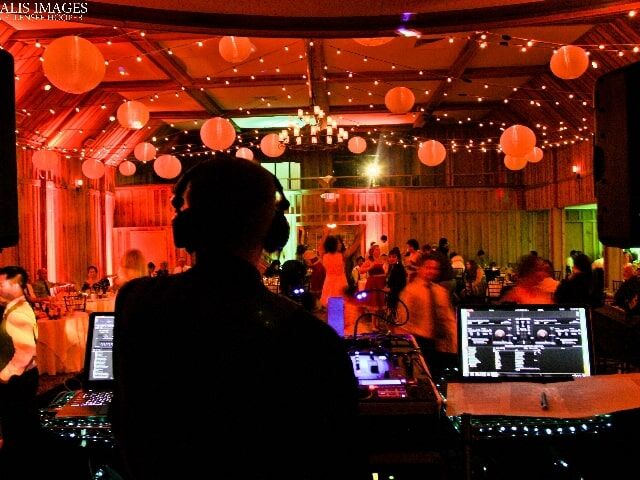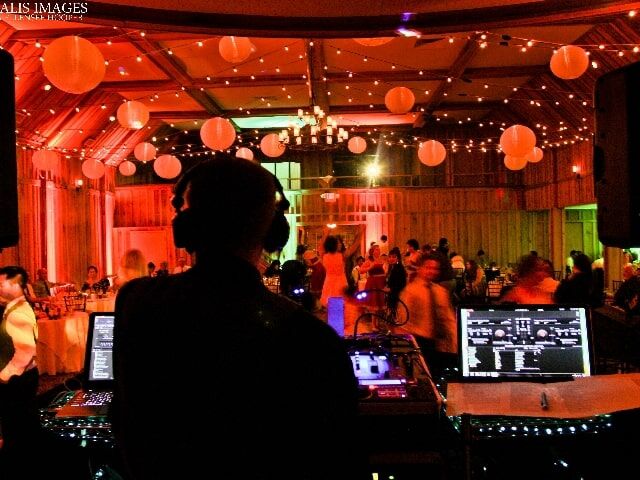 ---
How Much Does Wedding Lighting Cost
And What Do Our Past Customers Say About Their Experience
"Rob's company was recommended to us through our wedding venue Race Brook Lodge out in the beautiful reprieve that is Sheffield, MA, and they really knew exactly what we were looking for. With just a few consults we felt comfortable with the kind of atmosphere that they were going to help us create.. and they did not disappoint! Rob with the bistro lighting in the barn and our tent from Classical Rentals – and Jesse keeping people shaking on the dance floor well into the evening. Everything was wonderful and all went off without a hitch, highly recommend!!"
Lincoln – The Berkshires Tent Wedding Lighting
Find A Wedding Lighting Company Near Me
What Do You Do Now?
Contact DJ Rob today to learn about our pricing and availability for your upcoming event.
We offer wedding DJs, Custom Lighting Design, and Photo Booth Rentals.

Describe your wedding in 3 words so we have an understanding of what you are looking for.
Send us an inspirational image of what you are trying to create for custom wedding lighting.
Tell us the style of music that gets you up and shaking your booty.
Let us guide you through the planning process.

Our stomping grounds are The Berkshires and Hartford CT areas, but we travel from Hudson Valley NY to Boston MA, and Southern VT to the CT Shoreline and Newport RI. Get started today.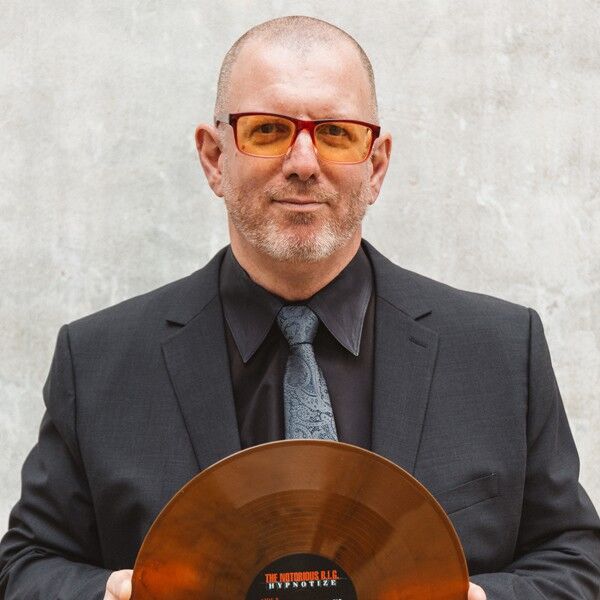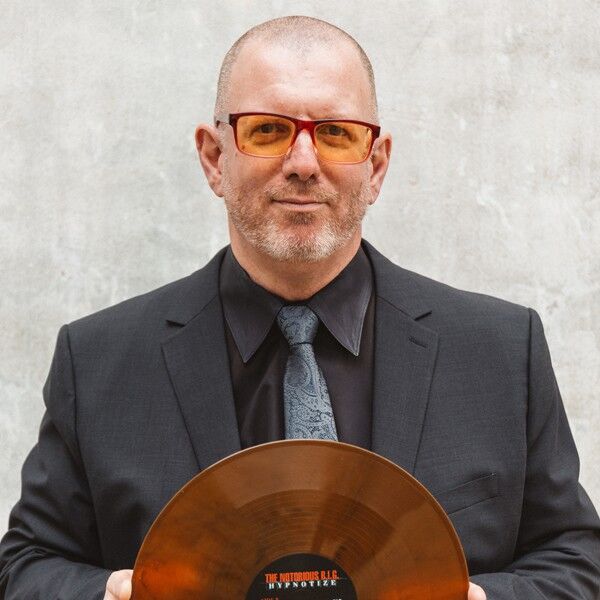 ---
Hear What Your Wedding Might Sound Like With One Of Our DJs
Afraid no one will dance at your wedding? Or that your wedding will be AVERAGE?
Whether you are a foodie, hipster couple or off-beat-bride – dancing is so important to you and you want your wedding to be a unique reflection of your personalities.
See what our past clients have to say: "Worth every penny spent!! Our guests had a blast!!! Rob kept the music flowing from one song to another"
So many couples are afraid no one will dance at their wedding. We want you and your guests to be up and dancing – not sitting and being bored.
You will get guaranteed more dance time with one of our DJs. I am going to make sure everything we do and play reflects your personality and not some canned DJ routine (ie – chicken dance).
You are going to have an amazing time, no cheesy DJ antics here.Now let's create some extraordinary memories.
---
Read More Blog Articles Like
How Much Does Wedding Lighting Cost


Fundraisers, Charity Auctions, and Corporate Event Production Services Near Me Fundraisers, Charity Auctions, and Corporate Event Production Services Near Me: We provide a personalized experience for all our corporate clients planning small to medium charity auctions, fundraisers, and corporate galas. With a wide range of event production services, AV rentals, and professional event lighting options….
---
Check Out Other Wedding Lighting Tips And Tricks By Following Us
How Much Does Wedding Lighting Cost