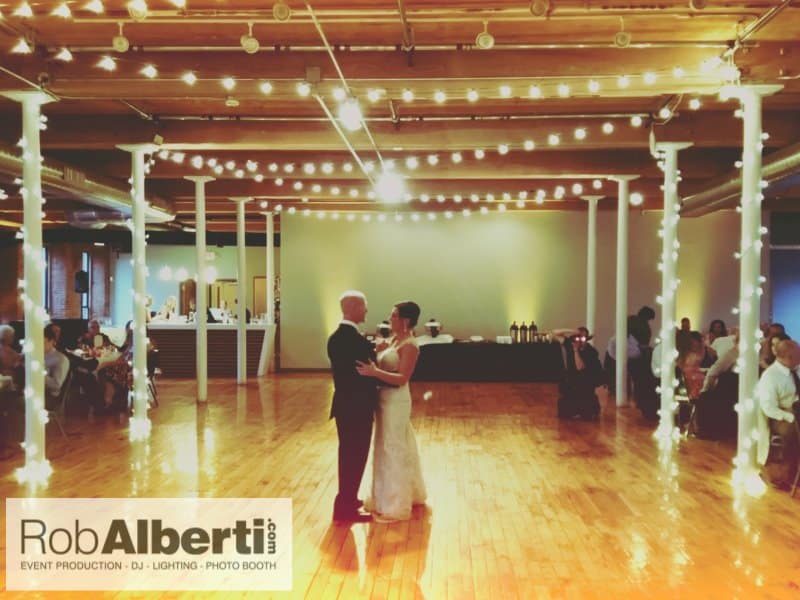 Jackie & Chuck – Mill One Open Square – Holyoke MA Wedding DJ
Jackie & Chuck reached out to us to be their wedding DJ from a referral from Mill One Open Square.  Little did we know that we had a few connections in common.  Chuck grew up in Southwick MA – he was just a few years younger than I so there were a couple guys from high school that I knew at the wedding. Then  I find out that Jackie is related to my old condo neighbors so I knew the Palmers there too.  Jackie also worked with my ex-wife, so I ended up knowing at least 6 guests that night.
Their ceremony was up in the gallery with a musician.  We took care of the DJing and amber/yellow uplighting in the Mill One space.  People were up and dancing from the get go.  They didn't even wait for the station meal to complete.    It was a fun wedding.
Introduction Song:  Feeling Good – Nina Simone
First Dance:  To Make You Feel My Love – Adele
Cake Cutting:  Cake By The Ocean – DNCE
Jackie & her father:  God Only Knows – Beach Boys
Jackie & her son:  That's The Beat of a Heart – Warren Brothers & Sara Evans
Last Song:  Thank You – Chris Cornell
Facility:  Mill One Open Square
Photographer:  Jamie Beth Photography