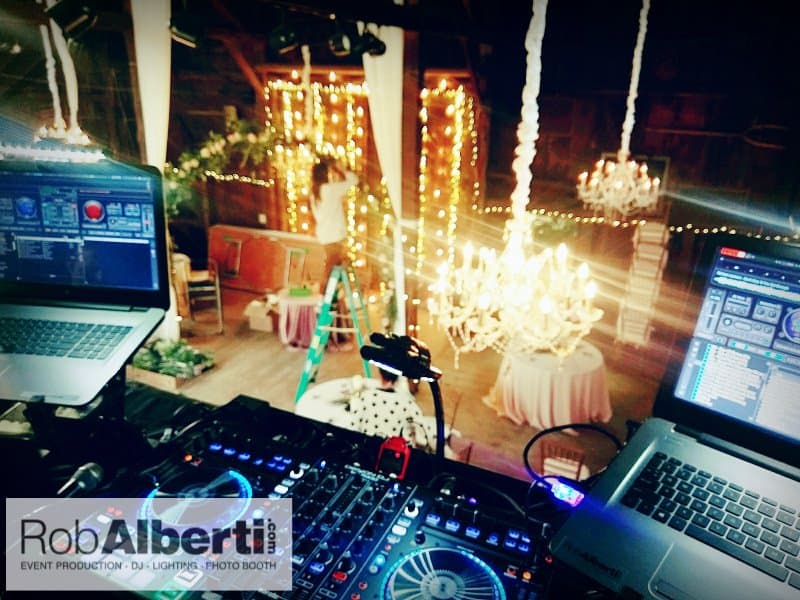 Nicole & Kristian – Webb Barn Wedding – Wethersfield CT Wedding DJ
Nicole & Kristian were married off-site but opted for a rustic chic wedding with 7 crystal chandeliers, drapery and an eye-catching wall of light in the Webb Barn in Wethersfield, CT. They had musicians for their cocktail hour outside under string lights. A Little Taste of Texas food truck provided their meal and they brought in an ice cream truck later for dessert.
We got shoved up in the loft at The Webb Barn (was about 20 degrees warmer up there and we had to have two big fans blowing on us the entire time!). It's not the ideal location to be DJing a wedding from up in a loft. The only person to approach us the entire night was Nicole when she wanted to request a song. It's tough to interact with guests when you are a flight above them and there is a big warning sign that there is no loft access allowed.
Nicole and Kristian and their family and friends danced the night away as I leaned back and forth to see around the pole in front of me. They had a great time! The dance floor was packed all the way up until the last song at 10 pm when by noise ordinance we have to end.
So – here are a few things we noticed about the lighting installation done (by another company)…
They used white extension cords against the BROWN wood. (We highly suggest using black cords when doing barn lighting installations)
Their white cord covers were two different shades – white and off-white.
The sconces around the perimeter of the barn were not dimmable so when the chandeliers were dimmed later, the sconces were still on FULL.
Two of the chandeliers on the same dimmer had drastically DIFFERENT output. One looked like it was nearly off, while the other was at nearly full brightness. (Different wattage bulbs or wiring problem?)
The back wall installation was not on dimmers – so the entire room was a bit brighter than we would have liked.
White zip ties were used where black ones would have blended better, black zip ties were used where white ones would have blended better with the background.
The bottom line – not every wedding DJ will give the same result and not every lighting design/installation crew will give you the same result. The details count and we would have never let so many errors go unresolved. It was a beautiful lighting job – I just wished they had taken an interest in making the details more polished.