Outdoor Wedding Lighting Ideas
Outdoor Wedding Lighting Ideas: Having an outdoor wedding? Whether you are in a tent in your back yard, rented a barn or are doing everything outside – lighting can transform your wedding space. We all see those amazing images on Pinterest or Instagram and naturally, we want our wedding to look like the ones in the wedding magazines and wedding blogs.
The first thing you need to realize is that you need to budget for lighting. Lighting for your wedding in the New England area where we are based out of can range from $1,000 – $10,000 depending on the complexity of the setup. The lighting gear is expensive (Just one of our sets of uplights is worth more than $10,000 to purchase) and setting up and striking these complex setups are time-consuming. A large amount of labor = higher cost to you. It's simple math.
The second thing you need to know is that there are only 24 prime wedding dates in a typical wedding season. For lighting, that normally means that we need to set up on a Thursday or Friday for a Saturday wedding and then need a crew to go back Sunday or Monday to strike it. So, we can't be at a Friday or Sunday wedding. That's why lighting can be expensive. It literally ties a crew up the entire weekend. It's not like DJing a wedding – we can show up 2 hours prior to guest arrival for your Saturday wedding and still do a wedding Friday and Sunday without a problem.
There are many different styles of installations that you can consider for your outdoor wedding lighting needs. Let's talk about each style of outdoor lighting and I'll show you some examples of what we've done for each.
---
---
Bistro String Lighting
Bistro string lighting (2″ diameter bulbs spaced about 1′ apart) are what you might see in wedding tents as both decoration and main lighting. Most people do not want LED string lights due to their limitations and the stark white light they produce. A traditional incandescent bulb will give you that pretty candlelight color lighting that most couples want for their wedding. String lighting is an energy hog – so expect your string lighting will need 2 or 3 20 amp circuits dedicated to it. An industrial trailer generator is how most DIY couples opt to power their backyard tented weddings. They are easily put on dimmers to set the perfect light level for dancing later.

---

Twinkle light (or fairy lights) String Lighting
Twinkle lights are a much smaller bulb (think Christmas tree lights) and spaced much closer together (2″ to 6″ apart). Twinkle lights don't take as much power as traditional string lights, but they are still dimmable. Twinkle light designs tend to be a more dense pattern and thus more expensive to install due to the large number of labor hours to install. (10-16 hours v. 4-6 hours for bistro lighting). The cool thing about twinkle lights is that there just are so many more possibilities with design patterns. Both twinkle and bistro string lights are available in white or black cord design. Be sure to ask your lighting designer what they recommend for your installation so that it is in alignment with your vision.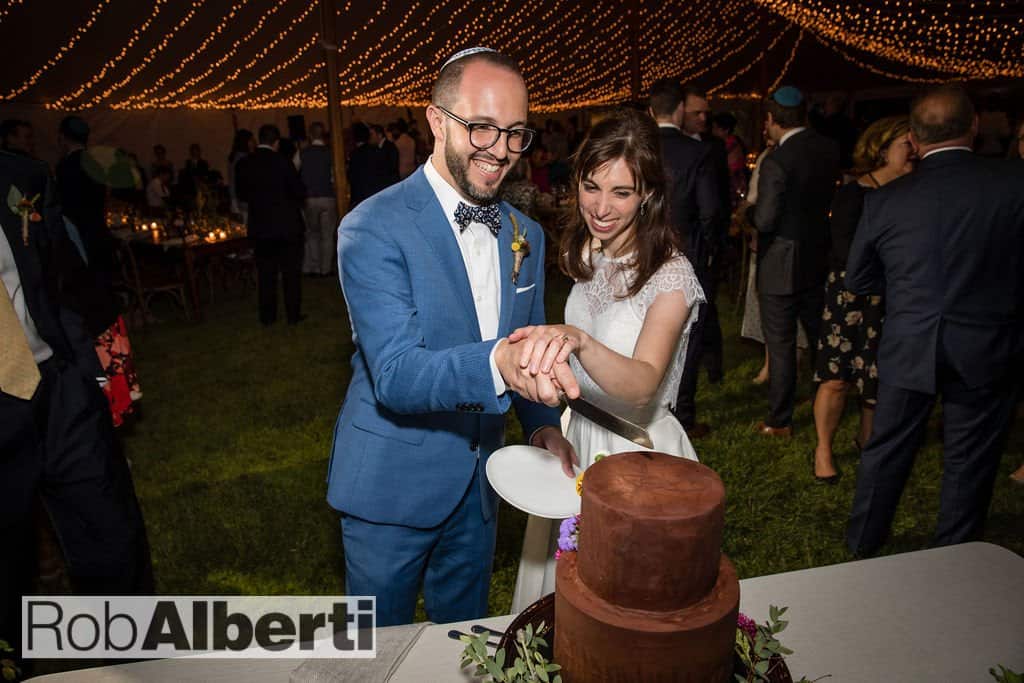 ---
Texture Lighting
Texture Lighting can turn an ordinary tent or surface into artwork and a real focal point for your wedding. Textures can be created by video mapping or more typically using a projection lighting fixture called a Leko Source Four (theatrical light) with a custom-designed pattern installed in it. You can project your monogram, logo or what we call a breakup pattern across a ceiling, wall or tent surface.

---
---
LED Uplighting
LED Uplighting is more common in ballrooms v. tented weddings but we have seen it used in both tent and barn wedding scenarios to add color or to draw attention to other decor factors in your setting. In barn weddings, an amber uplight will help warm those dark wood tones of the wood beams. Most LED uplighting is battery powered so it can be much easier and faster for setup and thus less expensive than other options. It allows you to add to your color scheme and many uplights can be wirelessly controlled to allow for dimming for dancing and color changes.

---
Free-Standing Lighting On Poles
Free-Standing Pole Lighting utilizes our typical bistro string lights to add lighting to space where there is nothing to hang lights from (barn, tent, trees) and can be a great way to create an event space on a patio, lawn or other open spaces. Using a 10′ high pole and weighted base, you can place these free-standing poles about every 20′ apart to create a unique event space anywhere there is power nearby. Did I mention that these weighted bases are about 60 lbs each? They are very stable but require a bit of labor to roll them into place and setup.

---
Tree Lighting / Path Lighting
Tree or Landscape Lighting is a great way to extend the boundaries of your party by highlighting that big tree up on the hill or the side of a barn. They can be used also to help light a path where wedding guests are parking their cars so they can safely get back to them at night. There are battery-powered LED floodlights that can be used to light up trees anywhere on your property. String lighting can also be hung off of shepherds hooks to create path lighting. Shepherds hooks and lanterns also make for a great path lighting option.

---
Chandelier Rentals
Wedding chandelier rentals can come in many different styles from traditional crystal chandeliers to custom reclaimed wood and Edison bulb designs. Transporting, storing, and installing these items can be costly so don't be surprised by the pricing when you start asking to have 6 crystal chandeliers installed in your barn wedding. Your lighting designer will take into consideration the scale of your venue when suggesting both the size and quantity of the chandeliers to have the most impact on your wedding day.

We also have table wood arches to span a typical 8′ banquet table – and custom sizes are available. Your florist can decorate them with greenery or floral or we can create custom lighting installations over your tablescape.
---
---
Find More Wedding Inspiration For
Outdoor Wedding Lighting Ideas
---
Talk with your lighting designer. Ask to see similar style weddings or events that they have done in the past. One thing we always recommend is to do a site visit at dusk so you can see problem areas at night to avoid dark areas where your wedding guests will be.
Lighting can transform your ordinary wedding into an extraordinary one. Don't try to DIY it. Peace mealing together a few lights you picked up at Costo and Home Depot and matching them with some random stuff off of Amazon will only guarantee that your wedding looks bad. You see – a true lighting professional will take into consideration the relative brightness and color temperature of each fixture being used. They will help you create a cohesive design and you won't have to be running around the day of your wedding trying to install 800′ of string lighting without the proper tools.
---
---
What Do You Do If You Need Help With Your
Outdoor Wedding Lighting Ideas
What Do You Do Now?
Contact DJ Rob today to find out pricing and availability for your upcoming event. We offer wedding DJs, Custom Lighting Design, and Photo Booth Rentals.

Describe your wedding in 3 words so we have an understanding of what you are looking for.
Send us an inspirational image of what you are trying to create for custom wedding lighting.
Tell us the style of music that gets you up and shaking your booty.
Let us guide you through the planning process.

Our stomping grounds are The Berkshires and Hartford CT areas, but we travel from Hudson Valley NY to Boston MA, and Southern VT to the CT Shoreline frequently. Get started today.


Hear What Your Wedding Might Sound Like
Helping You Fill Your Dance Floor – DJ Rob Alberti
---
---
More Blog Articles Like
Outdoor Wedding Lighting Ideas
Kelsey + Jose's Wedding at Millwrights Restaurant in Simsbury CT Millwrights draws a very foodie clientele to their unique venue. It's all about the food at these weddings as it was with Kelsey and Jose's wedding. They staged three heartfelt toasts during the multi-course meal. But when it was time to transition down to the…
---