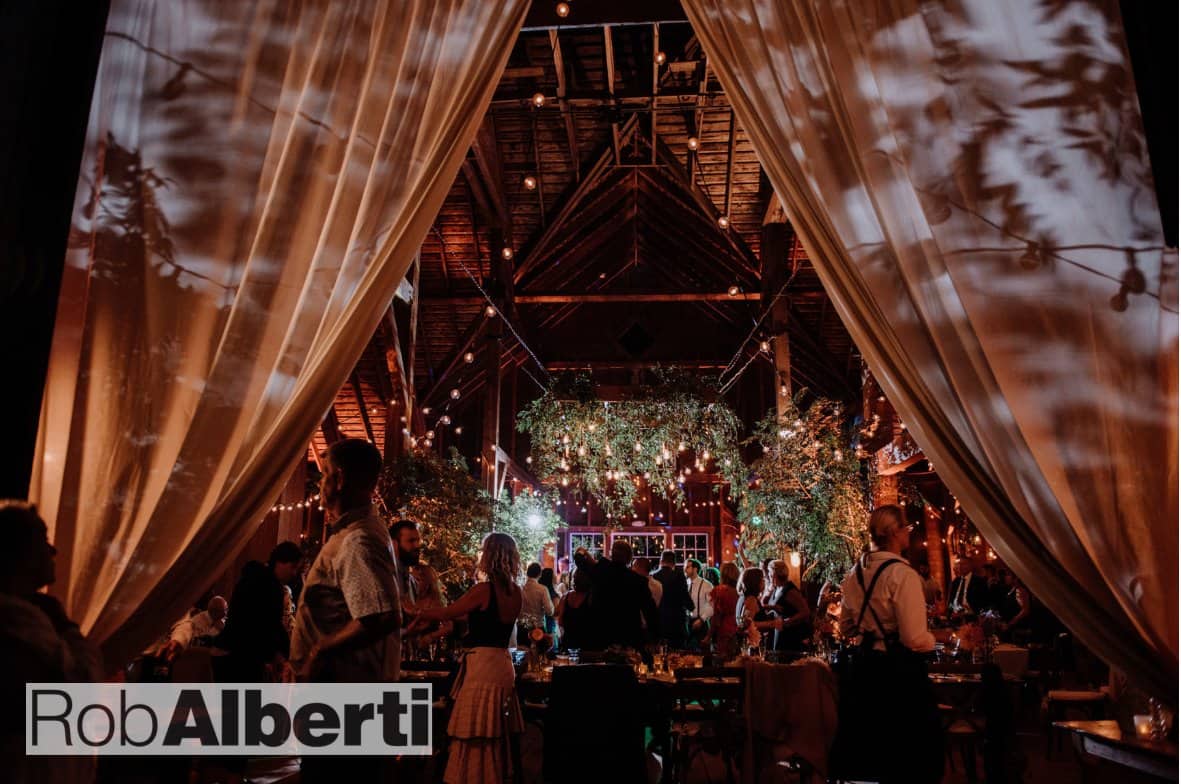 Stonover Farm – Wedding Lighting – Allison & Nick
When you walk into Stonover Farm barn – it's just an empty barn. It's hard to imagine for our clients what it can become with the right wedding decor, flowers, and lighting. We warmed the barn wood tones with our amber uplighting, then brought in hundreds of feet of bistro lights to even the lighting out throughout the barn space (and put on dimmers). We installed custom Edison bulb wood chandeliers over the bar and dance floor. We help light the stone path with our fairy lanterns. We even created path lighting with bistro lights and shepherds hooks to light the path to the bathroom trailer and for their rehearsal dinner space.
Check out some of the images from this wedding lighting job:
Venue: Stonover Farm – Lenox MA
Florist: Carolyn Valenti
Photographer: Elaina Mortali Photography
Caterer: Mezze Catering
Event Lighting: Rob Alberti Events
---
Meet Allison & Nick
Stonover Farms – Lenox, MA

I'd like for you to meet Allison and Nick. When you walk into Stonover Farms – it is an empty barn. Allison and Nick had a vision for their wedding. They wanted to completely transform the space with lights hung throughout. We walked the space with them, brought in a few light fixtures, and created a design to meet their vision.

We brought in amber uplighting to warm up the wood tones around the perimeter. We hung about 600′ of black strand bistro lights throughout the space. Then, we brought in 2 custom recycled wood chandeliers. One was an 8′ long plank chandelier with glass and hanging Edison bulbs hung over the wood bar. The second was a 6′ x 6′ square recycled wood chandelier with 16 Edison bulb hanging strands placed over the dance floor.

When they came in for their first look on their wedding day – they just lit up. It was more than they ever expected. Even, Stonover Farm's owner, Tom pulled me aside the day after their wedding to say that he's never seen the barn lit up – it was just amazing.
---
What Do You Do Now?
Contact DJ Rob today to find out pricing and availability for your upcoming event. We offer wedding DJs, Custom Lighting Design, and Photo Booth Rentals.

Describe your wedding in 3 words so we have an understanding of what you are looking for.
Send us an inspirational image of what you are trying to create for custom wedding lighting.
Tell us the style of music that gets you up and shaking your booty.
Let us guide you through the planning process.

Our stomping grounds are The Berkshires and Hartford CT areas, but we travel from Hudson Valley NY to Boston MA, and Southern VT to the CT Shoreline frequently. Get started today.


---
Kelsey + Jose's Wedding at Millwrights Restaurant in Simsbury CT Millwrights draws a very foodie clientele to their unique venue. It's all about the food at these weddings as it was with Kelsey and Jose's wedding. They staged three heartfelt toasts during the multi-course meal. But when it was time to transition down to the…