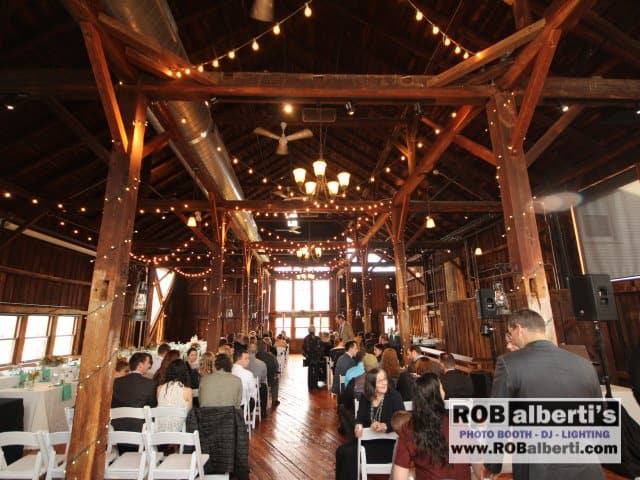 Thursday Wedding – St. Patty's Day – Rachel + Clay – The Red Barn Amherst
Yes, people get married on days other than Saturday. You see, St. Patty's Day is Rachel's favorite holiday. So, bring 100 family and guests to The Red Barn in Amherst MA on Thursday and you have a PARTY.
Rachel + Clay had a simple ceremony with Hanna Grace from Grace Ceremonies. No boring ceremony here. It was a very personalized and unique celebration of their love for each other. There were no formal introductions or over the top antics here – just close friends and family to celebrate with.
One of the things we always warn clients about when doing string lighting (built into The Red Barn) is that THEY NEED TO BE ABLE TO BE DIMMED later when it's time for dancing. If not, the room is never dark enough for the proper dance atmosphere. String lights should never be used without dimmers.
Rachel + Clay's First Dance: We are Man & Wife – Michelle Featherstone
Cupcake Feeding: Archies – Sugar Sugar
Rachel + her dad: A Friend To Me – Garth Brooks
Clay + his mom: The Way You Look Tonight – Adam Levine
Last Song: Save The Last Dance – Michael Buble