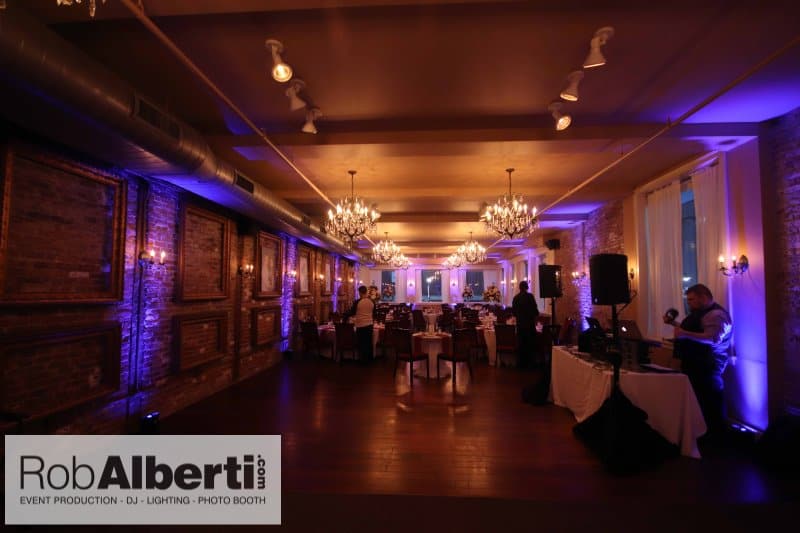 Wedding DJ Gear Explained – The Rob Alberti Difference
Let us explain the difference in wedding DJ gear. By far, the experience and style of a wedding DJ is the most important factor in finding the right wedding DJ for your reception. But, their DJ gear is the tools required to do a proper job. Without a great pair of speakers or the right quality microphone – things just don't go well at your wedding. Many times potential clients ask us about what style and type of gear we use for weddings. It does vary from venue to venue (due to acoustics and venue layout). I normally cycle gear every 3 or 4 years (new gear purchased every couple seasons to guarantee that we have the latest technology and everything is in top condition for your wedding). Many times our potential clients have sticker shock when they see pricing for their wedding DJ. Again, it's the experience and skill level of a DJ that makes them worth their weight in gold, but bottom line – the cost of doing business and gear costs that we've invested in also is a factor in the price we need to charge to stay in business.
---
The Basic Wedding DJ Gear
DJ Speakers
I love our near-field top speaker cabinets by Turbosound. They have a much wider pattern compared to most DJ speakers which allow for better clarity when it comes to toasts and announcements.

These top speakers are supplemented with either additional speakers or subwoofers depending on the size of your wedding guest list. We normally use 4 speakers for most weddings. (About $4,000 worth of DJ speakers) and about 2,500 watts per cabinet of available power.

For many local wedding venues, we will need to supplement the normal 4-speaker setup with wireless speakers placed outside for your cocktail area or in venue with multi-rooms, in each of the rooms to properly cover sound throughout. (At $1,000 per wireless speaker setup)
---
DJ Controller / Mixer
In order to control the music playback, we use a Denon mixer/controller. Our laptops play and manipulate music through this DJ interface with professional DJ software (Virtual DJ, Mixmeister) – we do not play music off of Spotify, Itunes or other non-professional grade software or Ipad apps.

Any wedding DJ that tries to DJ off a laptop without a professional controller interface – you might as well DJ off of Itunes or Spotify. It's the use of this DJ controller that allows us to seamlessly blend songs together or quickly play the next song.

This controller also allows us to have multiple music sources (2 laptops) so that we have a built-in backup in case of any problems. Any wedding DJ that thinks they can DJ off of a single laptop is just flirting with disaster. Just one of these controllers is about $1,000. Add in the cost of two laptops, DJ software and it's nearly $3,000.
---
Wireless Microphone
Not all DJ wireless microphones are the same. A $100 entry-level wireless microphone might be great for a yoga instructor, but we use only the best digital Shure wireless microphones because no one wants to hear microphones squealing or cutting out during your best man's toast or when we announce the two of you into the room. These digital wireless microphones set us back $1,500 each – so no mic drops, please!
---
The Look Of The Gear
We want to blend into your wedding decor. No flashy signs or ugly cables everywhere. Most of the time we are set up on a provided 6′ table at the facility and our gear is skirted in grey or black to blend into the background.
---
Wedding Ceremony System
You can't run sound for a wedding ceremony properly through the same gear we DJ the reception with. We have a dedicated system with multiple digital Shure wireless microphones (both handheld and clip-on lav mics) so that everyone can hear the emotion as the two of you exchange vows. This system is even set up so it runs on battery power so that you can get married in the middle of a field under a tree (like so many of you want to do – no need for 200′ of yellow extension cords or a nearby outlet)

This dedicated ceremony system clocks in around $6,000
---
Now For Backup Please
Back-Up Please
The Wedding DJ gear that you see set up at your wedding is not the only gear we own or have with us on your wedding day. We need to have a complete backup.

For me: I have your music on 4 external hard drives, 3 laptops, 2 tablets and my phone. I have a 2nd DJ controller (exact replica) of the one I normally use. I also have a pair of spare speakers, various cables and even battery backup in case the power goes out at your wedding as the show must go on. That's probably $5,000 just in back up gear onsite on your wedding day.
---
What Do You Do Now?
Contact DJ Rob today to find out pricing and availability for your upcoming event. We offer wedding DJs, Custom Lighting Design, and Photo Booth Rentals.

Describe your wedding in 3 words so we have an understanding of what you are looking for.
Send us an inspirational image of what you are trying to create for custom wedding lighting.
Tell us the style of music that gets you up and shaking your booty.
Let us guide you through the planning process.

Our stomping grounds are The Berkshires and Hartford CT areas, but we travel from Hudson Valley NY to Boston MA, and Southern VT to the CT Shoreline frequently. Get started today.


---
Hear Wedding DJs Near Me
---
Kelsey + Jose's Wedding at Millwrights Restaurant in Simsbury CT Millwrights draws a very foodie clientele to their unique venue. It's all about the food at these weddings as it was with Kelsey and Jose's wedding. They staged three heartfelt toasts during the multi-course meal. But when it was time to transition down to the…