What Will Lighting Do For My Wedding?
What Will Lighting Do For My Wedding?
What Will Lighting Do For My Wedding? How much does lighting cost and is it worth it? Can I just DIY my own lighting? There are so many questions to be asked when planning your wedding. You probably are not going to cook your own food or do your own floral centerpieces or take your own photos, so DIY wedding lighting is probably out of the question. There are many different styles of wedding lighting to choose from. Depending on your venue, the amount of setup time available, your wedding lighting specialist can give you a variety of options for your needs.
Q: What Will Lighting Do For My Wedding?
A: It will make your wedding photos Instagram or Pinterest worthy by creating stunning backdrops for your wedding photos. It will help create a focal point at your wedding and that WOW factor you've been looking for
Q: How much extra is uplighting for my wedding?
A: We normally charge between $800 – $1400 for uplighting as an add-on for your wedding (depending on the complexity and size of your wedding venue)
Q: How many uplights do I need for my wedding reception?
A: Most typical wedding venues require between 16-24 uplight fixtures to properly illuminate the space. More complex architecture or large venues might need as many as 40-50 light fixtures.
Q: How much is it to rent a chandelier for my tent or barn wedding?
town (why we have licensed electricians on our installation staff). Expect a minimum charge between $1000-$2000 from your lighting installation company due to the labor involved in custom lighting installations.
Check Out Some Of Our Past Wedding Lighting To Learn
What Will Lighting Do For My Wedding?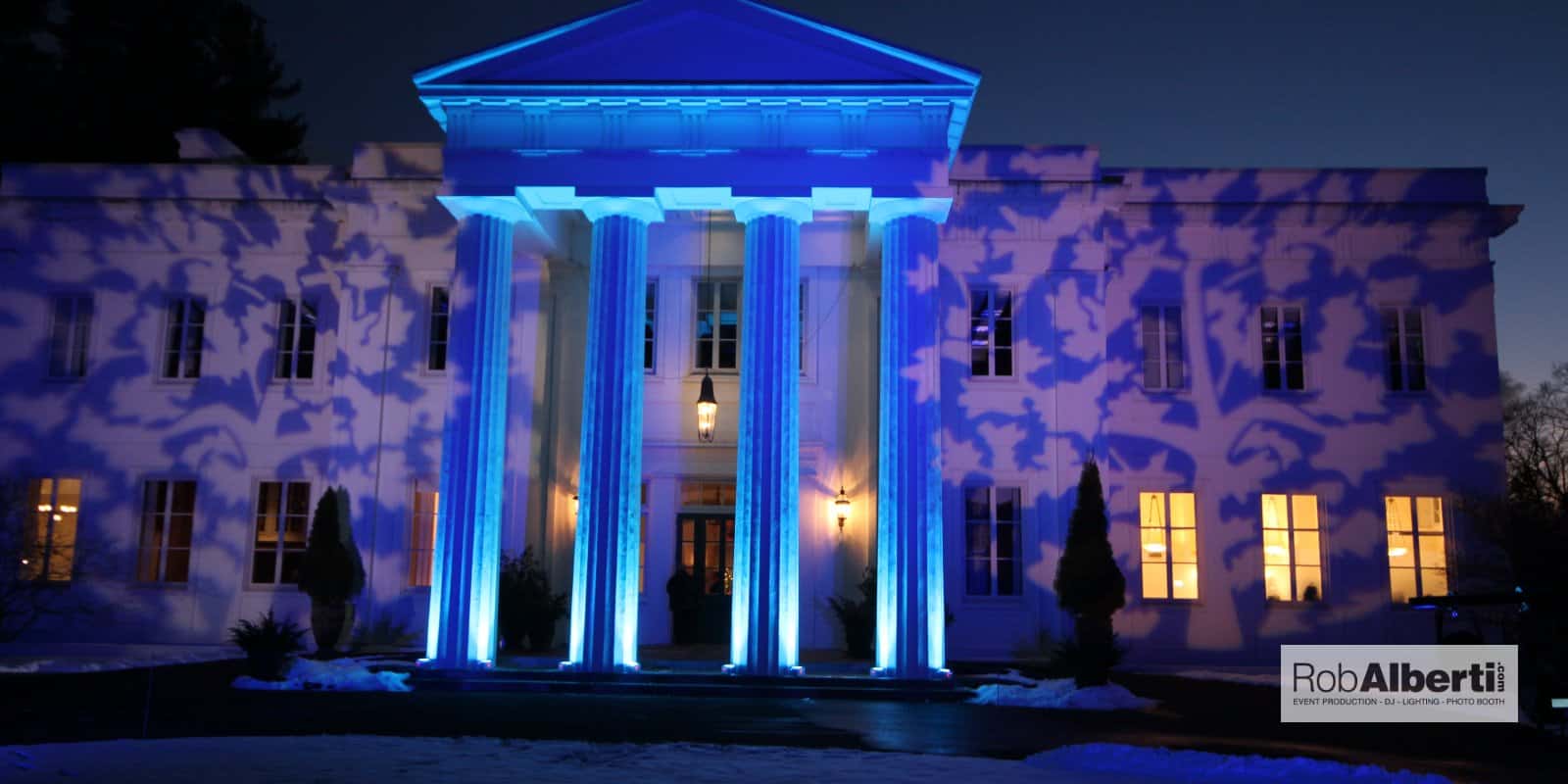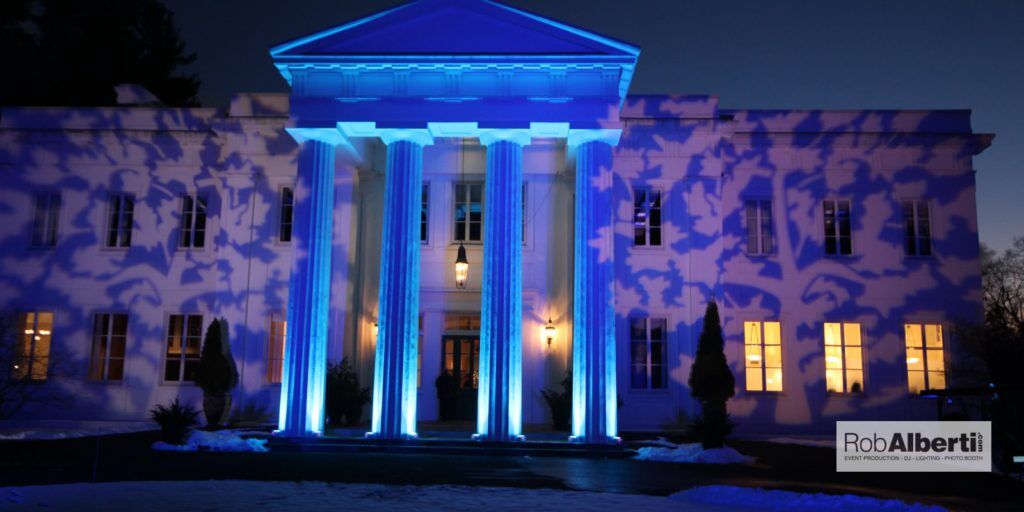 Wedding LED Uplighting
Uplighting is a way to accent the architecture in your wedding ballroom, barn, or outside your wedding venue. These lights are placed on the ground around the perimeter of your ballroom. Most uprights are battery-powered and can be remotely controlled to dial in color and dim the lights for dancing.

Uplighting should not be confused with dance floor lighting. Dance floor lighting typically moves and changes base on the music and is pointed mainly at the dance floor.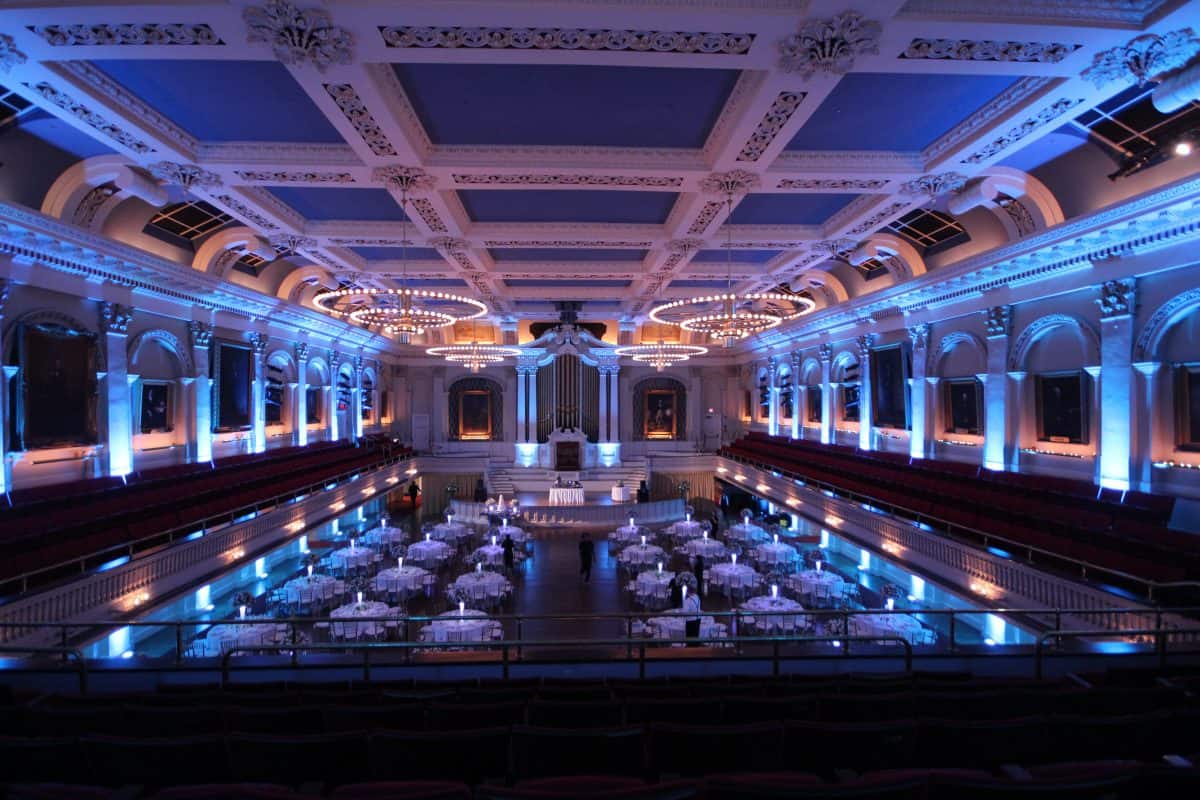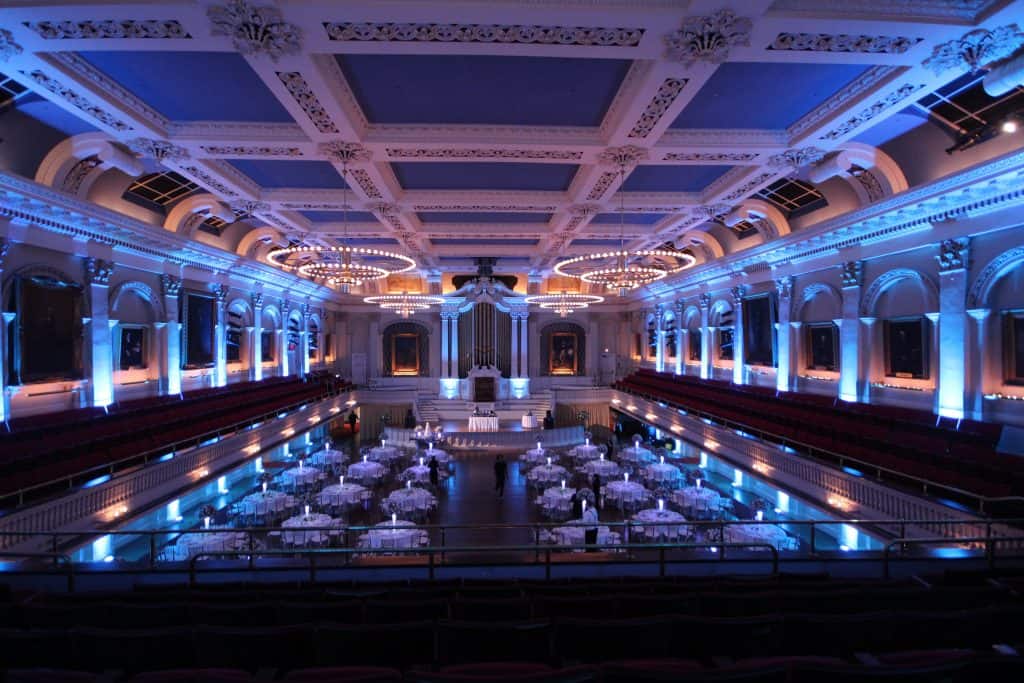 Want To See Some Before / After Images From Our Past Events?
"The lighting and music were perfect. Rob helped make our day look and sound just the way we wanted. He was professional and kept everything moving on time and in a seamless fashion."
---
"I cannot say enough about Rob and his team. They provided both the lighting and sound for our wedding. They are a well-oiled machine for sure. They know exactly what they are doing and I felt extremely confident stepping back and letting them do their thing. Completely stress-free.."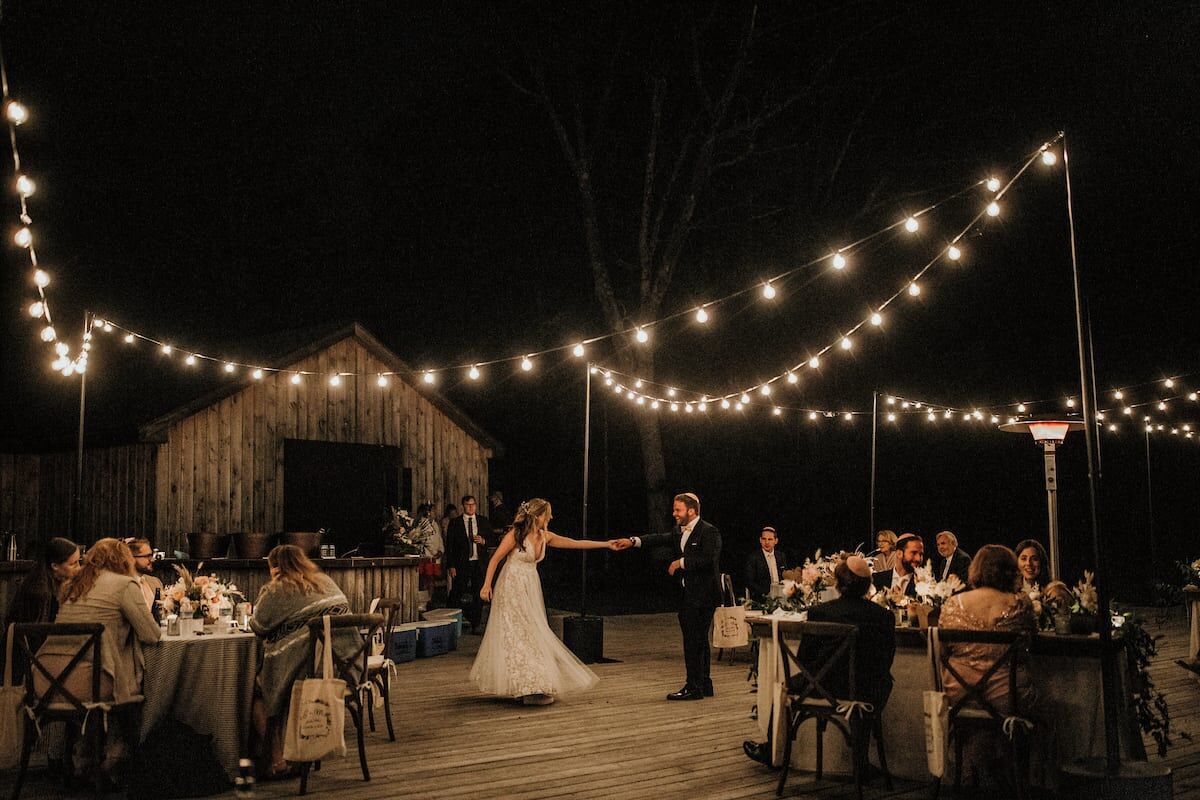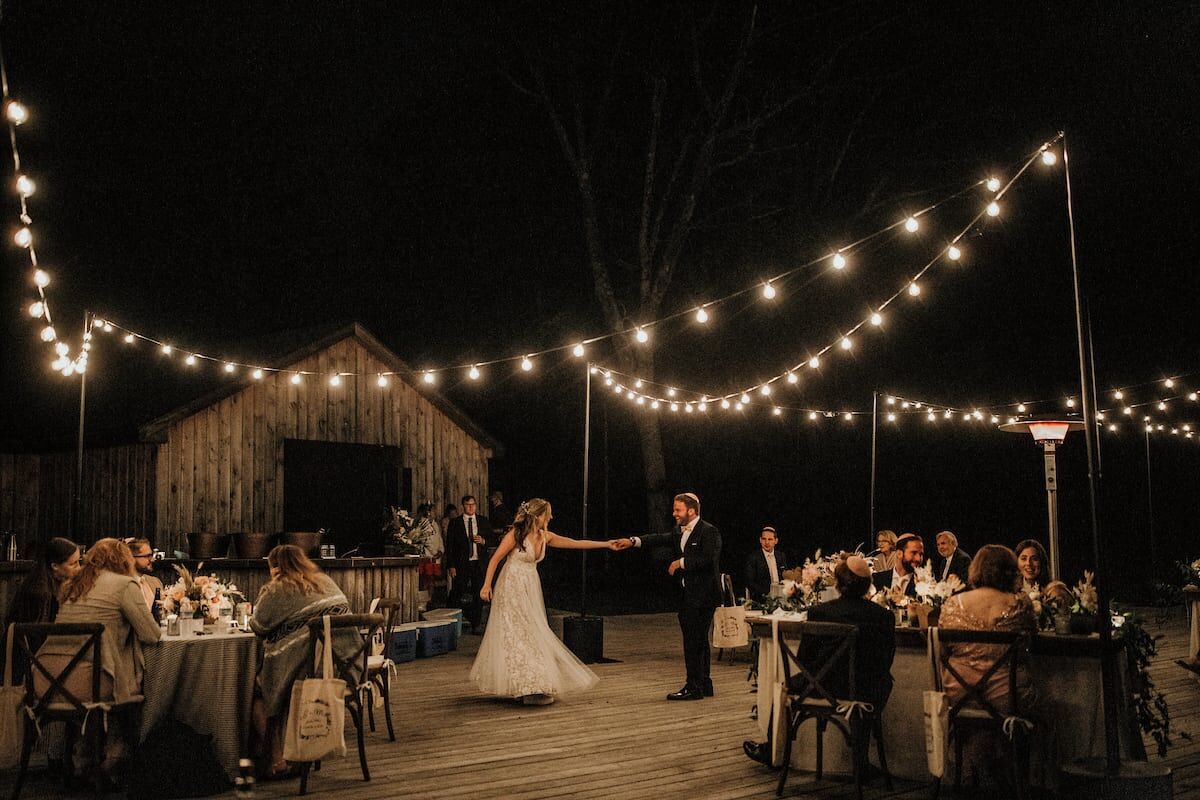 Free-Standing Bistro String Lights at Jacob's Pillow in The Berkshires MA
---
"Rob and his crew helped make our wedding such a success! From the ceremony microphones (that you couldn't even tell were there), to the gorgeous uplighting in the ballroom, to the fun photo booth, everything went off without a hitch!" Rebekah & Jim – The Cranwell Resort – Lenox MA Wedding
Meet Allison & Nick
Stonover Farms – Lenox, MA

I'd like for you to meet Allison and Nick. When you walk into Stonover Farms – it is an empty barn. Allison and Nick had a vision for their wedding. They wanted to completely transform the space with lights hung throughout. We walked the space with them, brought in a few light fixtures, and created a design to meet their vision.

We brought in amber uplighting to warm up the wood tones around the perimeter. We hung about 600′ of black strand bistro lights throughout the space. Then, we brought in 2 custom recycled wood chandeliers. One was an 8′ long plank chandelier with glass and hanging Edison bulbs hung over the wood bar. The second was a 6′ x 6′ square recycled wood chandelier with 16 Edison bulb hanging strands placed over the dance floor.

When they came in for their first look on their wedding day – they just lit up. It was more than they ever expected. Even, Stonover Farm's owner, Tom pulled me aside the day after their wedding to say that he's never seen the barn lit up – it was just amazing.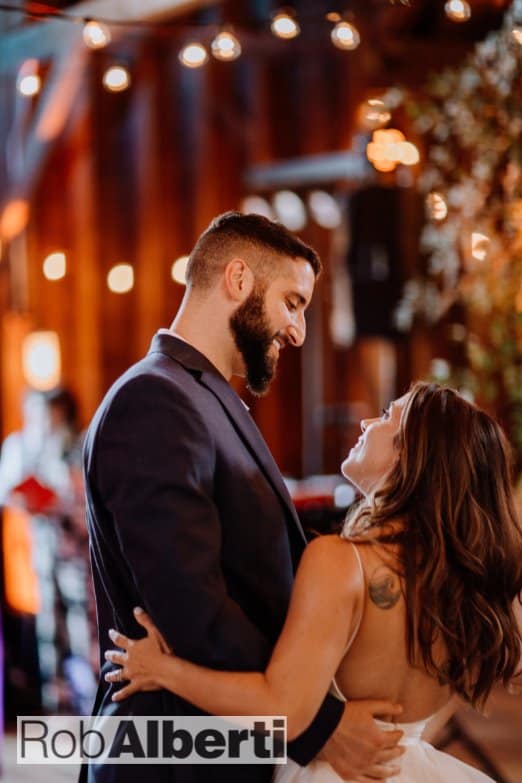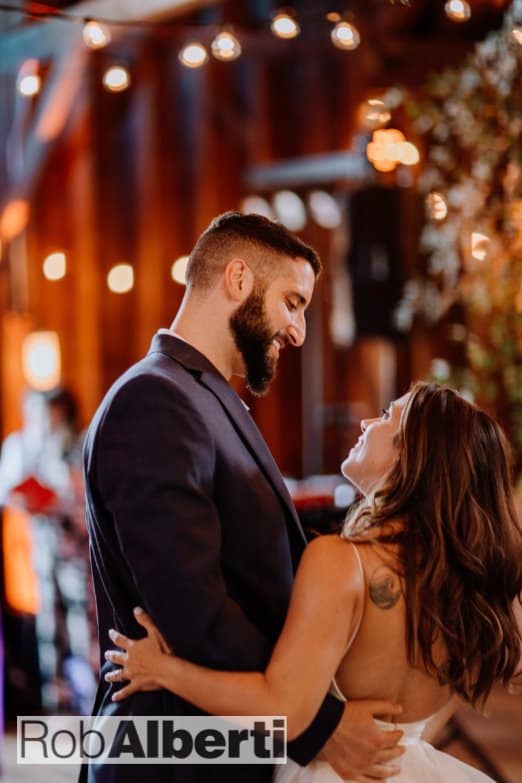 ---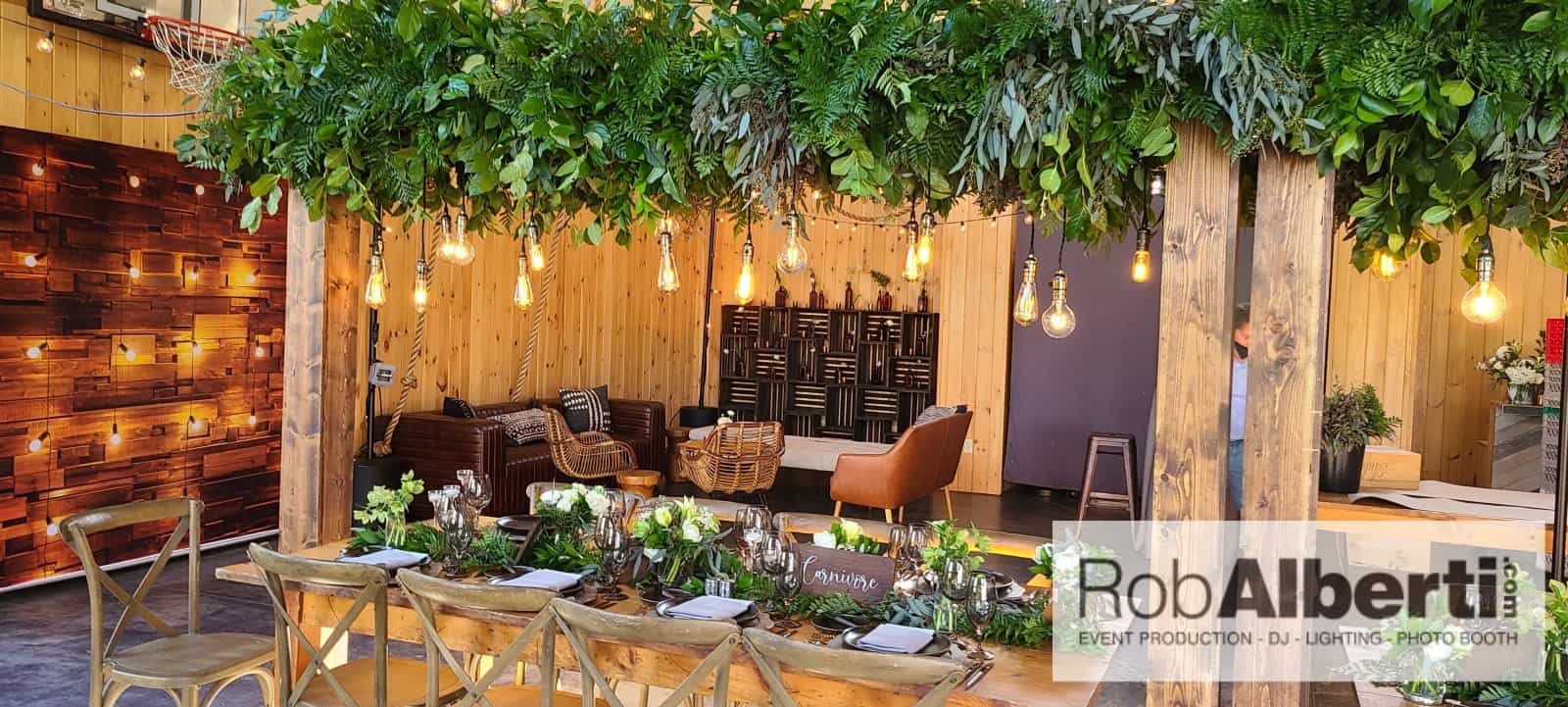 Wood Table Arch with Edison Bulbs
Wedding LED Uplighting
Think of up-lighting as a way to bring in your wedding colors or accent those colors within your room decor. If the bridesmaid dresses are blue, then maybe a complementary color like yellow on the walls will work for your wedding uplighting. Maybe that barn wedding is just too dark and using amber up-lighting on the wood beams will bring out the warm wood tones. Any way you look at it – up-lighting will make your wedding photos even better. (See: Picking The Color Scheme For Your Weddinng)

Ask your wedding photographer – uplighting will make your wedding photos just that more amazing. See Jesse and Alyshia's wedding photo at The Log Cabin here: Uplighting typically ranges from $800 – $2000 depending on the size and architecture of the venue being lit.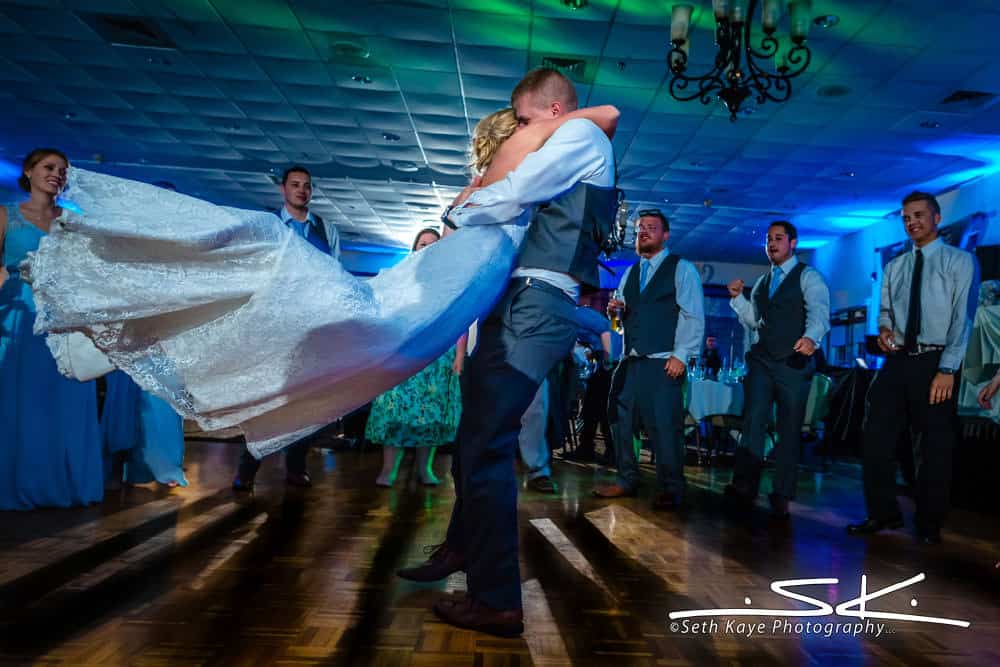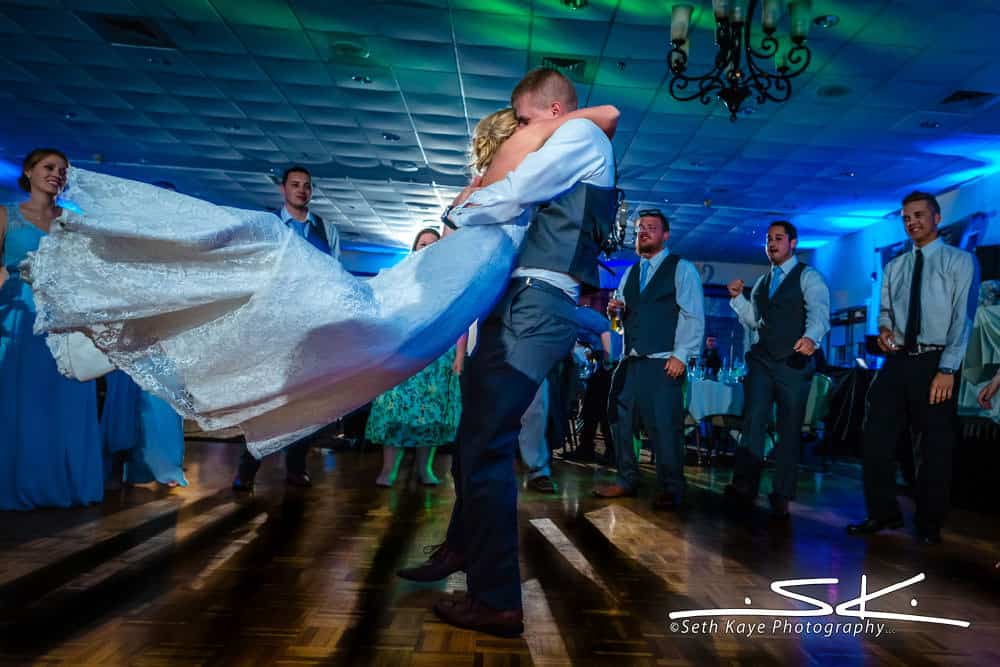 Up-lighting also should not be confused with venue room lighting which is mainly used to brighten up the venue v. add color like uplighting is used for. There are some wedding venues in Connecticut that have tried to put in their own built-in uplighting, but they are usually poorly placed within the room and use older technology.
Most newer uplights have not just RED-GREEN-BLUE color mixing capabilities. New uplighting would have RED-GREEN-BLUE-AMBER-WHITE-UV to allow for better color mixing abilities.
Uplights also have something called a LUX (or power output) rating. Some of the lower-end wedding lighting companies might offer you a $100 fixture that only has about 2,000 LUX output, whereas another might have a $400 per fixture that has an output between 5,000 – 15,000 LUX (so much brighter than they can light a ballroom in broad daylight. You are going to have to ask questions of your wedding lighting vendor to know what you are really getting for your money.
---
Wedding Chandelier Rentals
If you are having a barn or tent wedding – you might want to dress things up with some chandeliers. We have a wide variety of chandeliers for rent. Our trained lighting technicians will typically come the day prior for installation, we'll have someone onsite during your wedding and we will be back to remove it the day after. We'll pull all the necessary electrical permits for a completely worry-free wedding lighting experience.

From our custom wood and Edison bulb chandeliers (see photo) to our more traditional crystal chandeliers, we have just the right lighting to fit your wedding style. Chandelier rentals can typically range from $800 – $3000, depending on the size, quantity, and complexity of the installation. Combining chandelier installation with other lighting can save you as the same installation and travel requirements will reduce labor costs.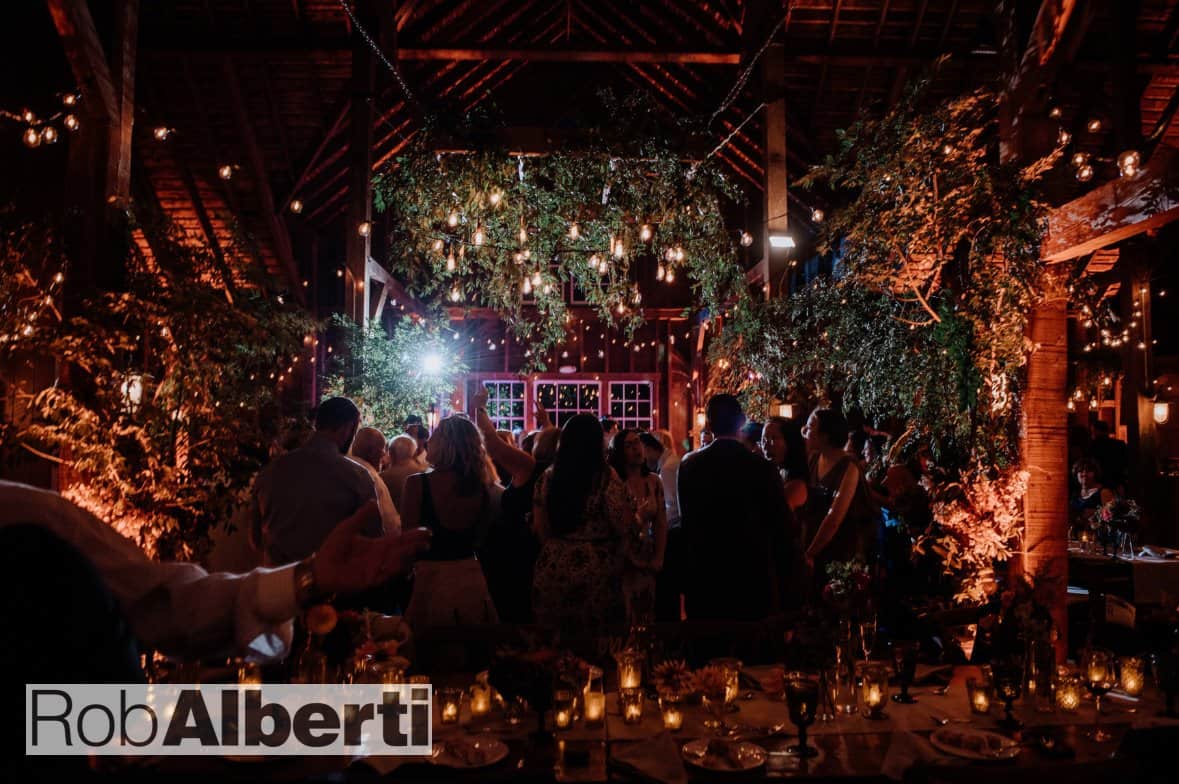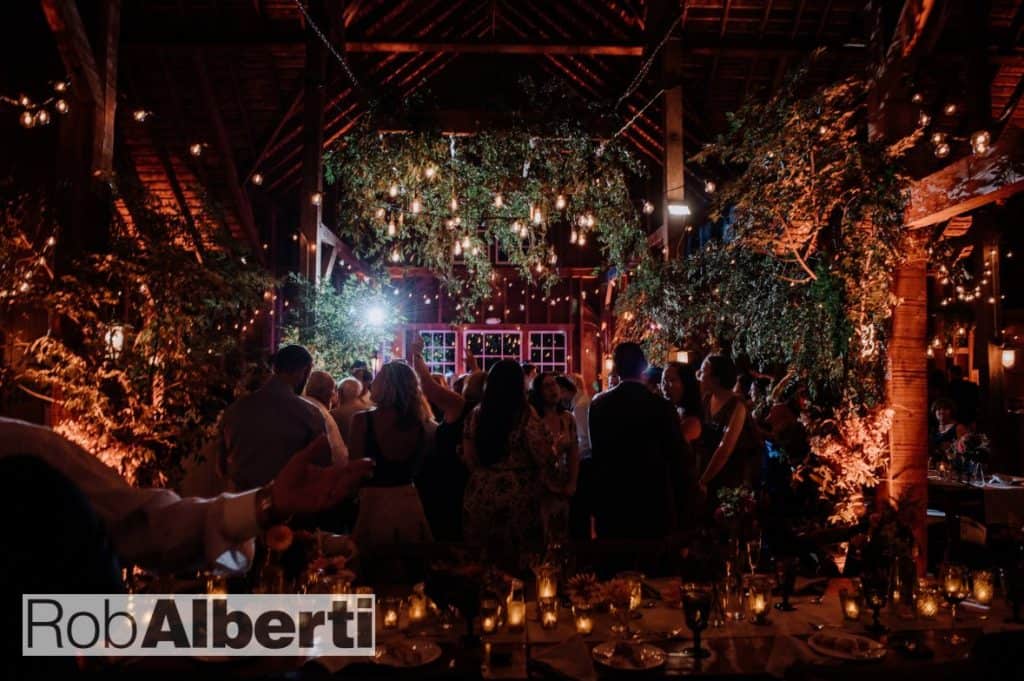 "I can't recommend Rob and his services highly enough. Not only did he take the time to visit the site and consult with us several times leading up to the event — he also advised us on lighting for other areas of the property that we made into our photo booth and late-night hangout area. Rob also provided a day-of, on-site point person from his company for our wedding day, who handled all day-of lighting and made sure there were no issues with lighting throughout the evening."
---
Wedding Bistro String Lighting
Our Bistro String Lighting can be installed both inside and outside depending on your venue's architecture. We have both white strand and black strand market lights. All of our string lighting is installed with dimmers so you can set the perfect tone for your wedding from the first dance to the last.

String lighting installations are labor-intensive and therefore can be on the higher end of wedding lighting costs. Bistro string lights can range from $1400 – $2500 depending on the complexity of the installation.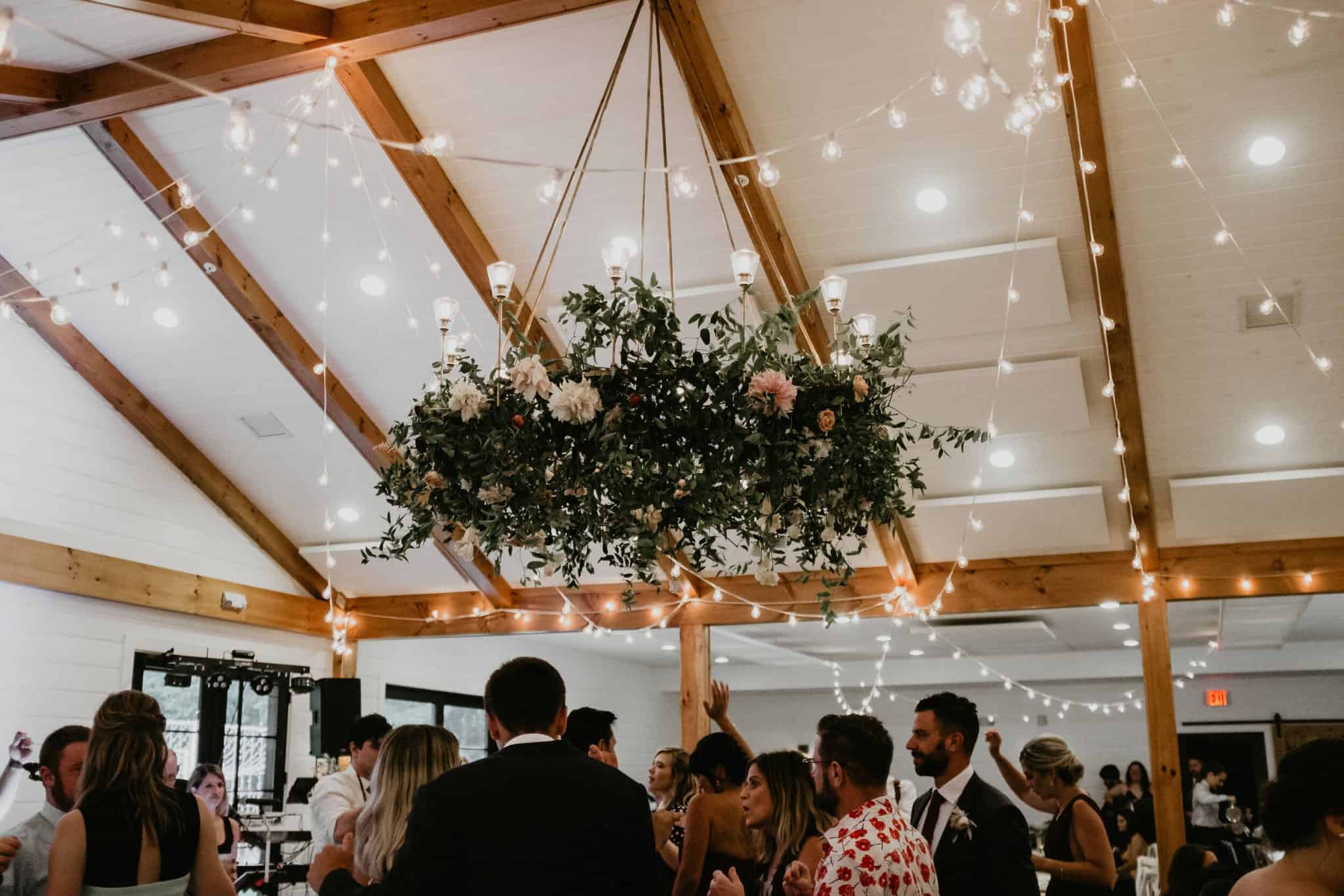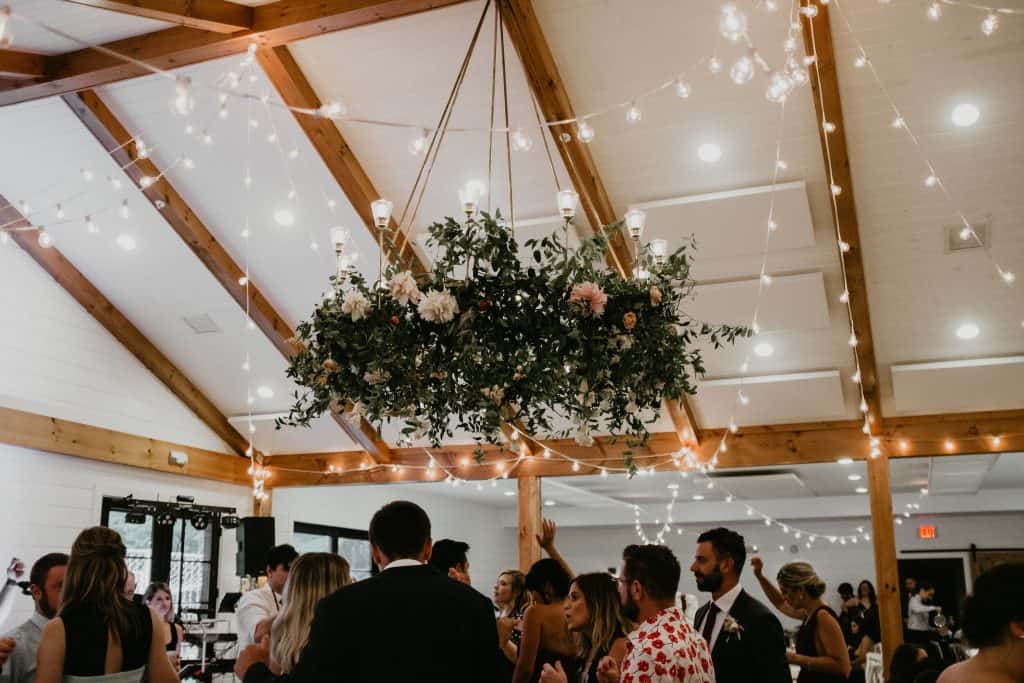 Twinkle String Lighting
Twinkle light installations can make for a more unique and dense lighting installation as it does not take as much electricity to run. A dense tent or barn installation adds that canopy style feel to your lighting. This style of lighting can also be some of the most expensive as labor costs skyrocket (this installation in a sailcloth tent took us about 12 man-hours to complete).

Expect that twinkle lighting with such a dense pattern feel will start around $3500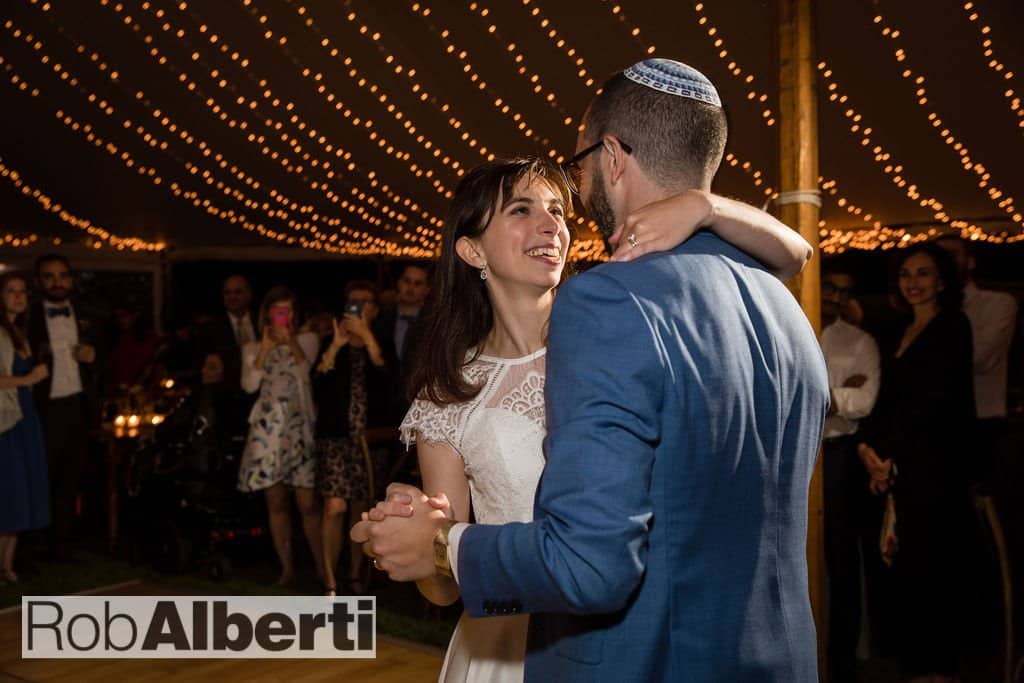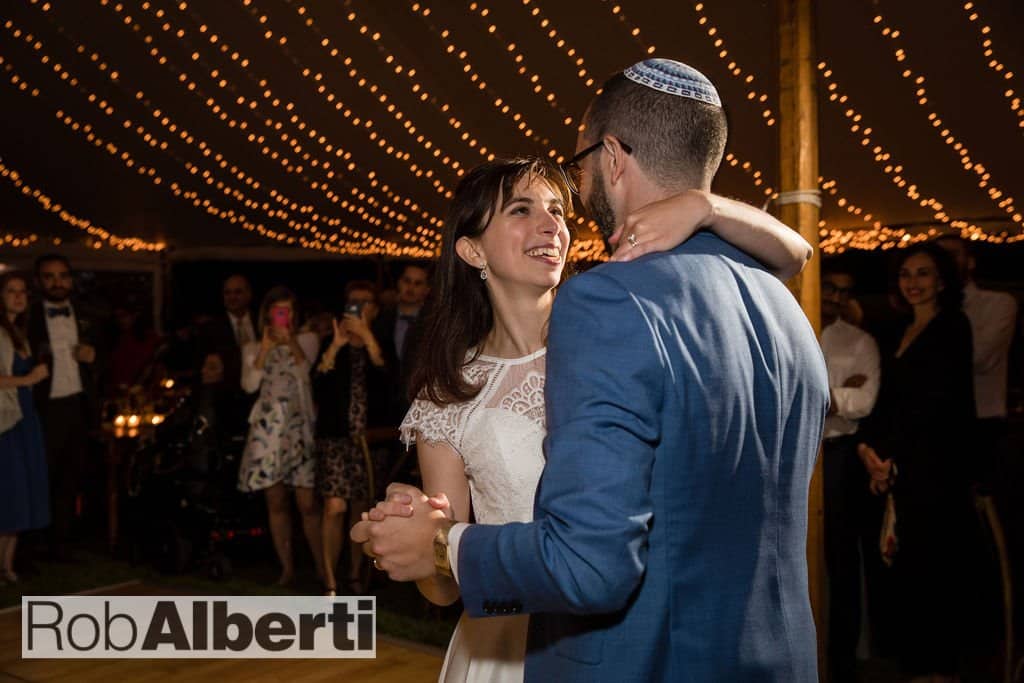 ---
Dance Floor Lighting
This is an example of dance lighting or club lighting. These lights will move and change based on the music being played. Uplighting tends to be static – stays the same color and is placed around the perimeter of the room v. pointed toward the dance floor.

You might want to think of dance lighting more like what you'd experience in a nightclub. It's what adds energy to the dance floor. There are different styles of dance lights from the basic fixtures you might see at a school dance or local bar and then there are the more sophisticated style lights from the nightclub and band stage industries.

We offer both styles for you to choose from.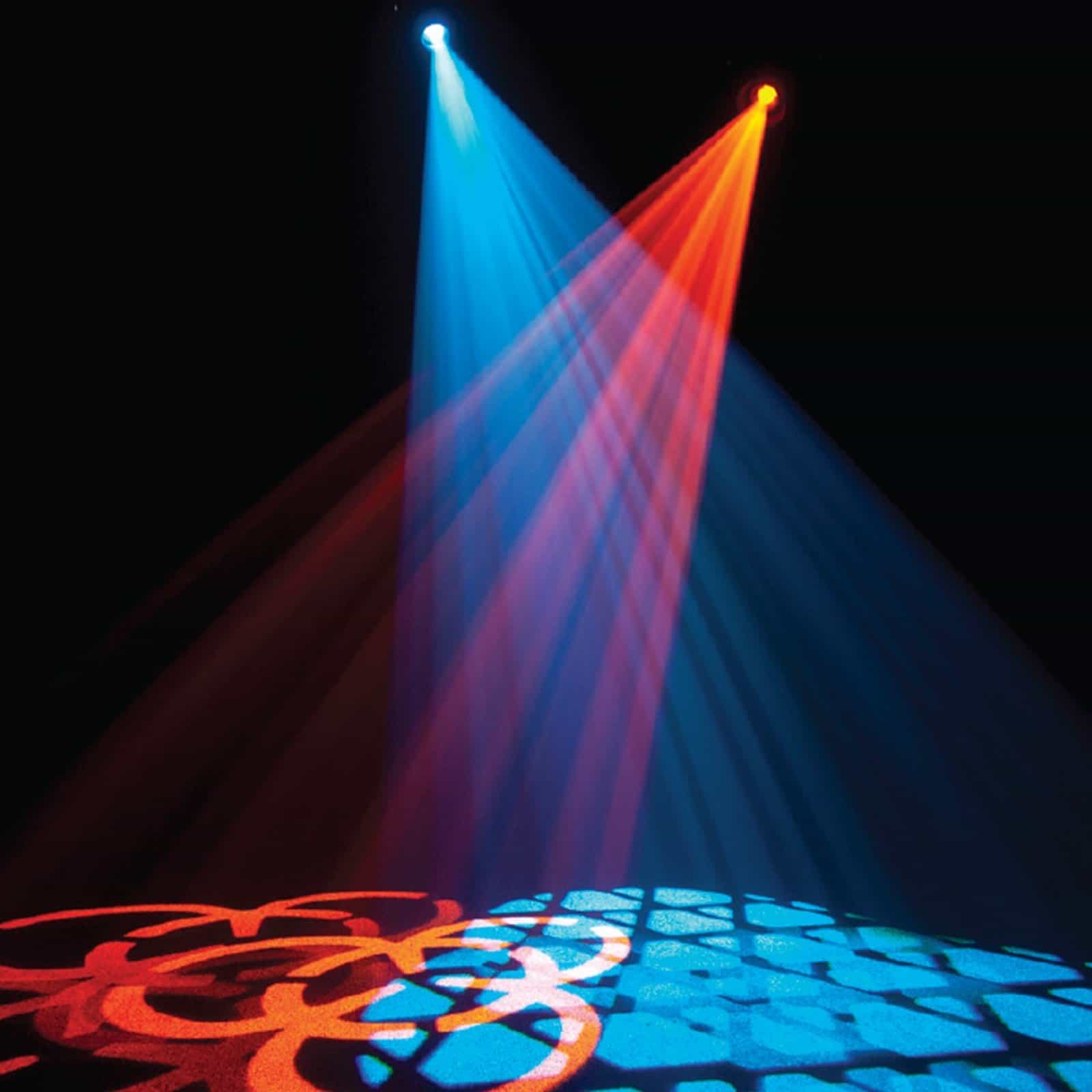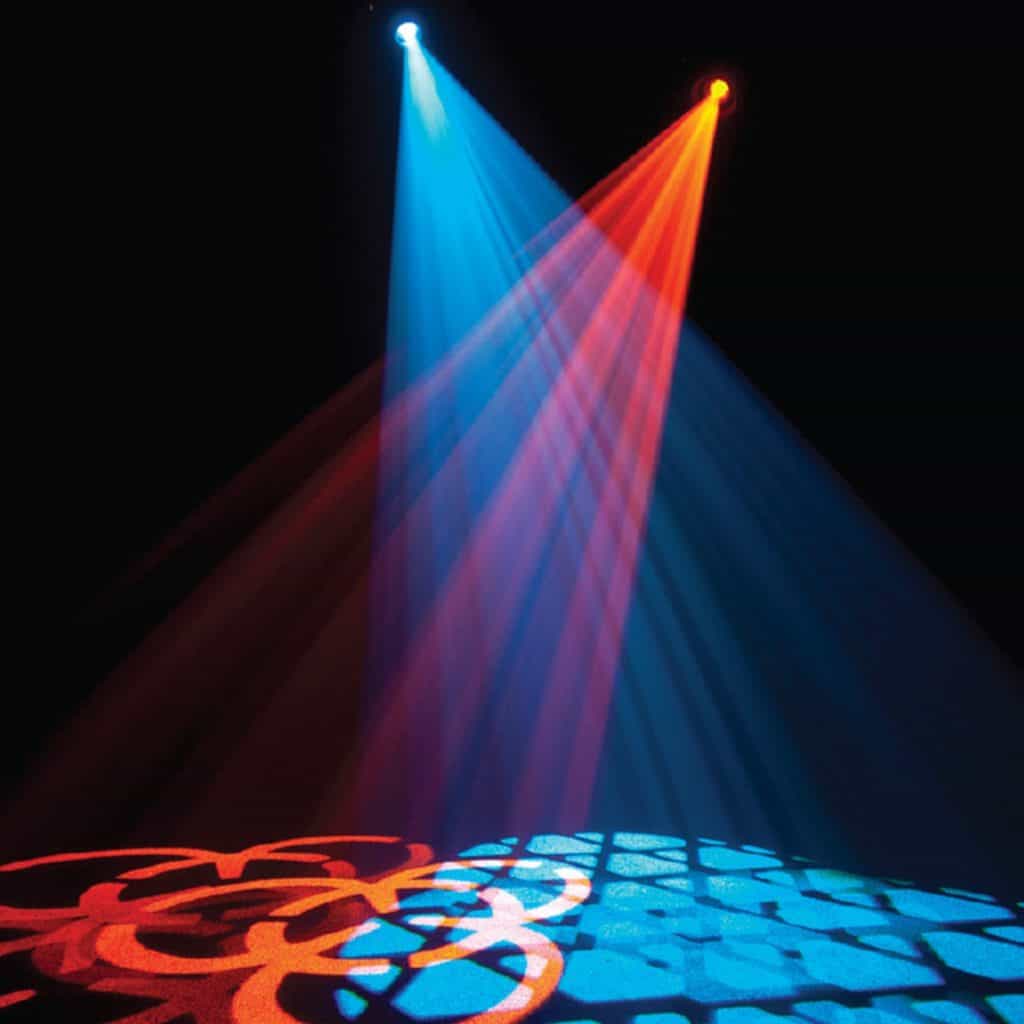 Disco Ball / Mirror Ball Installations
Disco is back with a vengeance and so are our mirror ball installations. Whether you are looking for a single rotating mirror ball in your barn or tent wedding or want to go all out and create a larger mirror ball cluster installation over your dance floor, it will help create the impact and focal point you are looking for at your wedding.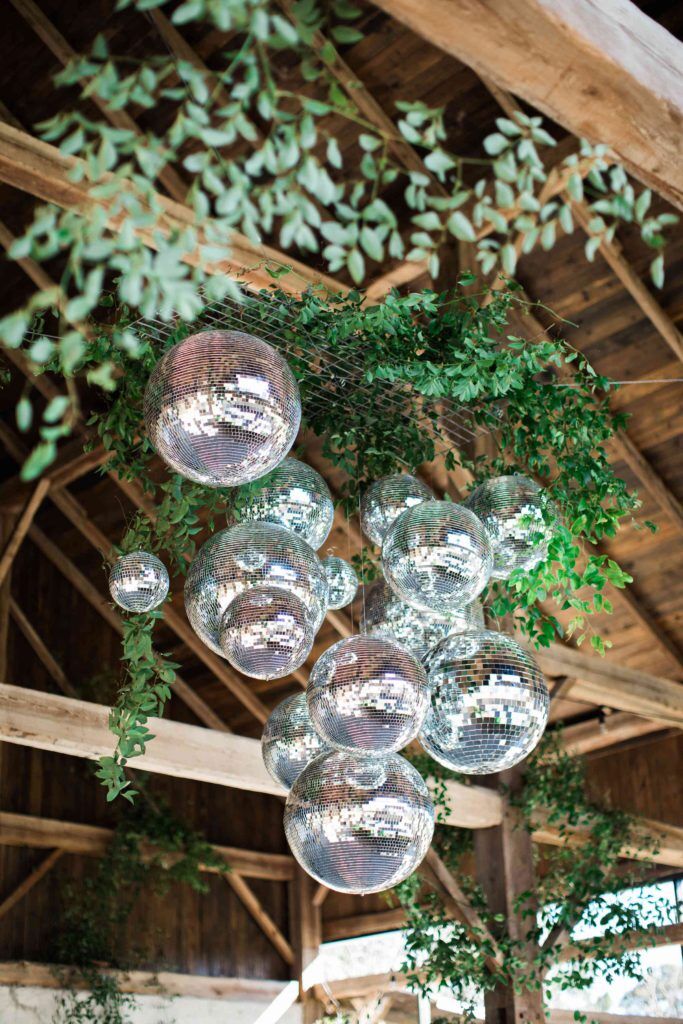 What Are Uplights? – Renting Uplights – Lighting For Rent
A wedding light designer will take into account many factors when choosing what style of lighting you need at your wedding.
What style venue is it? Barn? Tent? Ballroom?
How tall is the area that you want to uplight?
Are there a lot of window in your wedding venue?
What time do guests arrive v. when does the sunset on your wedding date? (http://www.sunrisesunset.com/)
What architectural features are there to highlight in the room? (Columns, Arches, etc.)
What areas of the venue do you want to HIDE? (placing lights in a room will draw your eyes to what is lit, so things that are NOT LIT will be less visible)
Are there electrical outlets readily available where you need to place lights?
Is there space available to place lights or will tables be too close to the area?
What color do you want to use for uplighting? Some LED fixtures only have Red-Green-Blue color mixing. Others Wedding LED Up-lights to have Red-Green-Blue-Amber-White-Ultraviolet for more color mixing choices.
Do you want the light color to remain the same throughout your wedding? Do you want your up-lights to change color – as in scene changes at a theater production? Or do you just want the ability to dim them later on when it comes to dancing?
If lights are to be placed OUTSIDE your wedding venue – they need to be IP65 rated (able to get wet/water on them)
This is probably not a DIY kind of thing for most couples unless you have theater experience and access to $10,000 worth of lighting. A typical Wedding LED Up-lighting system is worth around $400 per light fixture with 16-30 fixtures needed for most venues.
---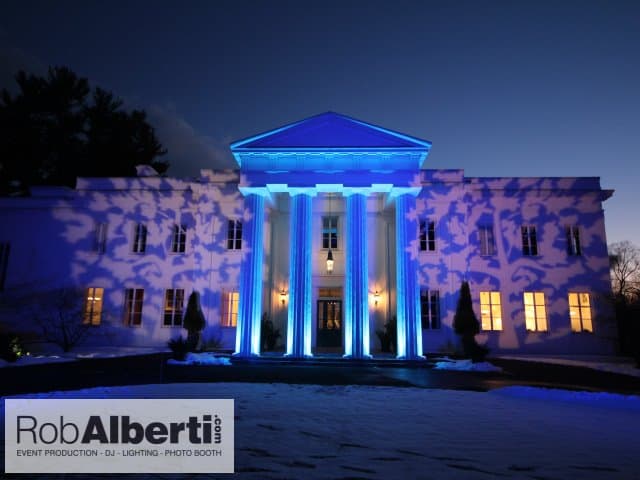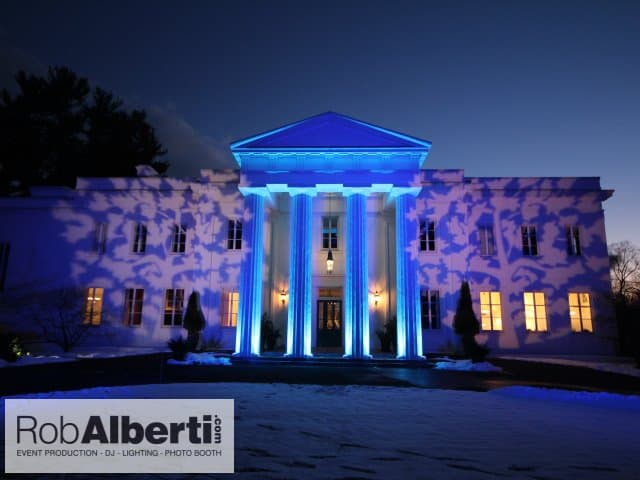 Exterior Waterproof Lighting Outside The Wadsworth Mansion in Middletown CT
---
What Do You Do Next?
Contact Rob at 413-562-2632 or Email Rob or Fill Out The Short Form to check availability and pricing.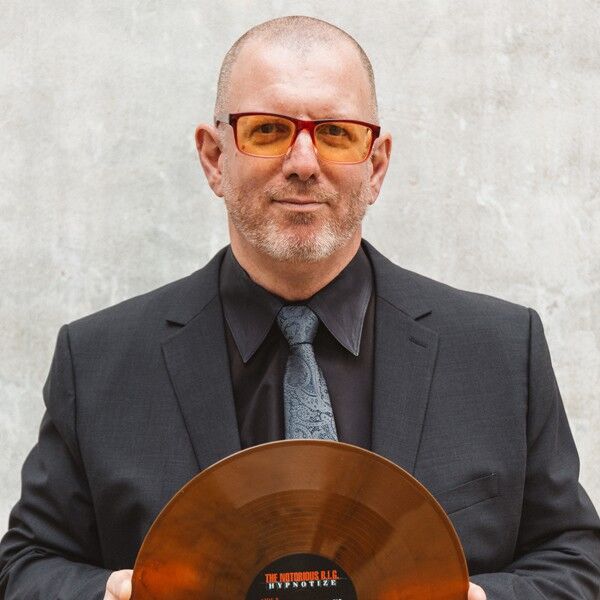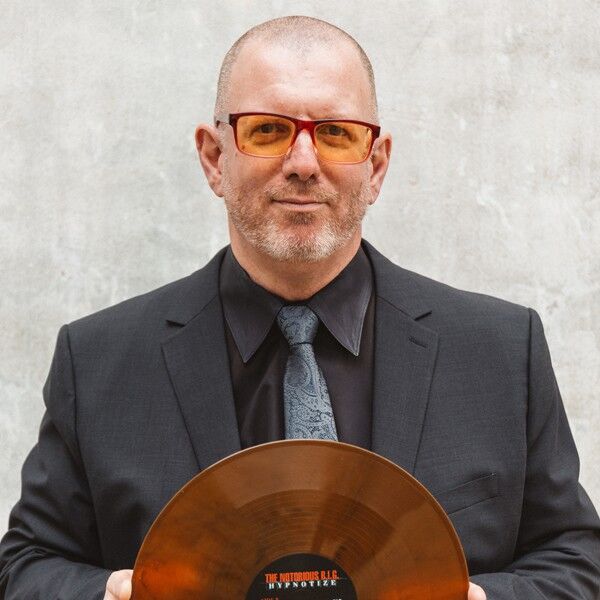 ---
---
What Will Lighting Do For My Wedding? Check Out This Video
As a wedding lighting designer – we will choose the right light fixture for each couple and venue based on all of these factors. We have 8 different styles of wedding up-lights. All are different. Not all will work for every venue or client's wedding lighting needs. If the wedding vendor that you are looking at to provide up-lighting at your wedding only has one style light – there is probably something wrong.
Don't settle for "Just Lighting" at your wedding. Poorly placed or poor-quality lighting can ruin your wedding photos. We've seen venues place 6 light fixtures at 45-degree angles (they didn't have enough lights to properly light the room). We've seen other lighting vendors skip key architectural features (light the windows v. columns) and therefore lost the effect of even having lighting.
Others have created a mess with poorly run electrical cables or created safety hazards by running cables across doorways. Just as your friend who bought a camera at Costco probably shouldn't be your wedding photographer – it's probably not a great idea to hire your florist to take care of lighting at your wedding.
Your DJ should not be playing music, caring for your lighting, and performing your wedding ceremony as your officiate. At Rob Alberti's we come as a team – your DJ&MC, assistant, lighting technician (electrician background), photo booth attendant. It's not one person doing everything but a team of professionals working together to make your wedding day a success.
"These guys deserve event better stars than 5! They were above amazing and truly catered to all of our needs. They were available to meet with us whenever we needed and right from the beginning they were so kind and accommodating! It was the best experience I've ever dealt with! Thank you!" Danielle & Ryan – Berkshire Tented Wedding
---
#djrobalberti, #CTWeddingdj, #CTweddinglighting, #weddings, #photooftheday, #picoftheday, #WeddingInspiration, #WeddingDecor
---
Hear DJ Rob Mix A Wedding Dance Set Here
---
---
Read More Blog Posts Like
What Will Lighting Do For My Wedding?


Fundraisers, Charity Auctions, and Corporate Event Production Services Near Me Fundraisers, Charity Auctions, and Corporate Event Production Services Near Me: We provide a personalized experience for all our corporate clients planning small to medium charity auctions, fundraisers, and corporate galas. With a wide range of event production services, AV rentals, and professional event lighting options….
---
A/V Rental & Sound Reinforcement Backyard Wedding Barn Weddings Behind The Scenes Berkshire Wedding Chandelier Rentals Charity Event College Events Corporate Events CT Shoreline Weddings Disc Jockey Services DIY Weddings Fall Weddings Hartford CT Weddings Hudson Valley Wedding Industrial Space Lighting Intimate Weddings / Micro Weddings Italian Weddings Jewish Weddings Mansion Wedding Micro Weddings Museum Wedding Name In LIghts – Gobo Projection New England Wedding DJ Photo Booth Rental Photography Services Press Releases Real Wedding Stories Same-Sex Weddings String Lighting & Market Lighting Stunning Weddings Sweet 16, Proms Tent Weddings Texture Lighting Uncategorized Vineyard Weddings Wedding & Event Lighting Ideas Wedding Ceremony Wedding Decor Wedding Music Ideas Wedding Planning Ideas Wedding Venues Western MA Wedding DJ Winter Weddings Zoom Wedding