What You Should Know About Your Wedding DJ
What You Should Know About Your Wedding DJ: And Things You Didn't Know About Rob Alberti, founder of Rob Alberti's Event Services. I've written up a few FAQs about the origin of myself and the business that I created over the past couple of decades. How did we become one of the most requested DJ and Lighting companies in the area? Read some of our origin story below:
---
---
Q: What are some things that most people don't know about you?
A: I was originally a Mechanical Engineer in the aerospace industry. I started DJing in high school and DJ'd throughout college as a way to pay for my education. After about 10 years in the aerospace industry, I found that my DJing career had made it so I didn't have time to go to work any longer and I went full-time as a wedding DJ.
Q: Where did you grow up?
A: Take a look at a map of Massachusetts – look for the notch on the southern border with CT and that's where I'm from. I grew up on a small hobby farm (20 acres) with cows, pigs, sheep, and chickens. We grew our own vegetables and my 5 siblings and parents would sit around that dinner table every night and eat a home-cooked meal from our farm.
Q:  Where did you go to school?
A:  Southwick High School and then got my Mechanical Engineering degree from Rensselaer Polytechnic Institute in Troy NY.
Our wedding was so perfect and a HUGE reason was because Rob was our DJ!!! Can't recommend enough!!!

Julie & Ian – The Society Room of Hartford
Q: What are your favorite movies?
A: I tend to favor the Marvel series of movies. In my youth, I followed Captain America and Falcon comic series religiously. Some of my other top movies are things like The Perks Of Being A Wallflower, Atomic Blonde and Pitch Perfect (I'm always a sucker for movies centered around great music soundtracks).
Q:  What have you been binge-watch on TV?
A:  Some of my recent bing worth TV shows have been – Star Trek Picard, Evil, Atypical, High Fidelity, and Utopia.

Q: What has been your greatest success in life so far?
A:  I have two wonderful daughters.  They are grown and out of the house now, but watching the two of them interact and laugh and grow into the wonderful young women they have become is by far my greatest success.
---
My two daughters and I went axe throwing
Q: What would you say to a younger version of yourself?
A:  Don't sweat the small stuff.  You can't control everything, just how you react to it.  And don't forget to buy tech stock and wait a few more days until when it spikes to sell! My $1,500 investment would have turned into $150,000 had I just waited three more days to sell.
---
My older brother and I
---
Q: What does a typical day in your life look like?
A: My cat, Ember wakes me up sometime just after sunrise. I feed her, get a bowl of cereal for myself (no milk) and a glass of OJ and I go through my inbox. I'll answer any questions from clients, send out new wedding quotes and then plan my day and start checking things off my TODO list. I go through newly released music and work on upcoming event music prep. Afternoons are normally for putting away gear from last weekend and preparing gear for the upcoming weekend's events.
---
My Morning Ritual
---
Q: If you could have lunch with one person (alive or dead), who would it be?
A: I was always a huge Ayn Rand reader growing up, so I would love to grab a burger with her and talk ethics. I got into Ayn Rand after hearing that Rush (the band) based 2112 off of her book and down the rabbit hole I went.
Q: What things have you learned from your parents?
A: My parents were old school. I learned to respect my elders, hold the door for women and say please and thank you. I learned the value of a hard day's work.
---
My Parent's Wedding Day Photo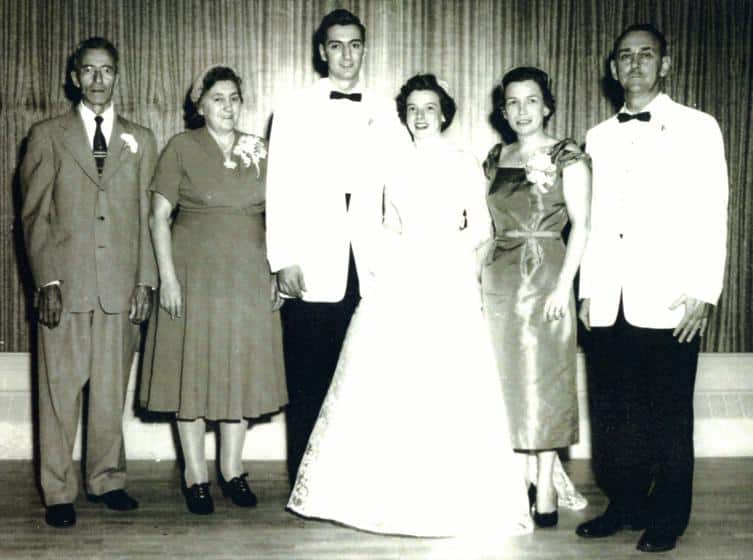 Amazing! 5 stars!
We had the most incredible experience working with Rob and were lucky enough to have Jim as our wedding DJ. Jim was so thorough and easy to work with. He even was able to edit our music for ceremony and a special performance by our friend.
---
Q: What is an important lesson you learned recently?
A: I am always learning new skills – either through conferences and webinars or in networking with other wedding vendors.  With recent developments, I have mastered my hand washing protocol and have attended more virtual webinars/seminars this year than in the past 5 years combined. Even at my age – I am constantly learning new skills as an entrepreneur.
---
---
Q: What is your favorite restaurant?
A: My daughters love Olive Garden (those breadsticks and salad dressing!), so going out there for some pasta and Italian sausage has become something I cherish.
Q: What is your fitness routine?
A: Right out of college, I was mountain biking over 150 miles every week. Lately, I've been using the local bike trails and hiking a couple of times a week. My weekend running up and down ladders installing our wedding lighting tends to keep me pretty active.
---
---
Q: What things can't you live without?
A: Like all of us – I can't seem to live without my cell phone. It's allowed me to be in control of the business even if I am out of the office. I can be in Vegas at a convention or hiking and I can still get back to clients and do virtually almost everything I can do in the office. I do rely heavily on my TODO list (old school paper sheet) and a pen and a fair amount of caffeine on busy weekends.
A: Do you have a music playlist you can share?
Q: Here's a Spotify playlist that I shared with friends and family this past holiday season. I used to make mixtapes and mix CDs for my friends. Now it seems all you need to do is share a Spotify list with everyone.
---
---
Q: What books are on your shelf?
A: I have 3 wedding books from some of my friends in the industry, some Entrepreneur/Small Business books.
Q: What podcasts do you listen to?
A: Planet Money, Ted Radio Hour, This American Life, The Agents of Change are some of my favorite podcasts.
Q: What is in your go-bag?
A: My backpack has some basic personal grooming, a spare set of clothes, a power supply for my laptop, journal/pens and my tool pouch.
---
Q: How do you relax after a long day?
A: I've been a big video gamer the last couple of years, so an hour playing some of my favorite PC games might be in my routine. I've been a big fan of Overwatch as of late. I might finish the night off out at the fire pit with a nice Redemption bourbon in my hand if the weather is just right.
---
Now That You Know What You Should Know About Your Wedding DJ – Here's What You Do Next
What Do You Do Now?
Contact DJ Rob today to find out pricing and availability for your upcoming event. We offer wedding DJs, Custom Lighting Design, and Photo Booth Rentals.

Describe your wedding in 3 words so we have an understanding of what you are looking for.
Send us an inspirational image of what you are trying to create for custom wedding lighting.
Tell us the style of music that gets you up and shaking your booty.
Let us guide you through the planning process.

Our stomping grounds are The Berkshires and Hartford CT areas, but we travel from Hudson Valley NY to Boston MA, and Southern VT to the CT Shoreline frequently. Get started today.


---
What You Should Know About Your Wedding DJ
And What You Should Listen For When Searching For Your DJ
---
---
Read More Blog Posts Like
What You Should Know About Your Wedding DJ
Kelsey + Jose's Wedding at Millwrights Restaurant in Simsbury CT Millwrights draws a very foodie clientele to their unique venue. It's all about the food at these weddings as it was with Kelsey and Jose's wedding. They staged three heartfelt toasts during the multi-course meal. But when it was time to transition down to the…