Alternative Wedding Venues – Here Are Some Amazing Wedding Venues – MA + CT
Alternative Wedding Venues In MA and CT Areas
Alternative Wedding Venues: Everyone wants to find Amazing Wedding Venues for their wedding reception in MA + CT.  With 30 years in the wedding industry, here are some of the best alternative wedding venues in the area.   No hotel ballrooms here.    When you want something unique for your wedding reception, an alternative to the boring ballroom might be just your style. Skip the boring hotel ballrooms and find a space that is uniquely you for your wedding. Whether you are looking for a boutique hotel, barn or mansion – we have a great list of places for you to check out.
Ready to check out some cool and unique alternative wedding venues in Massachusetts and Connecticut?  Let me know what one you think is the best wedding venue. OR, check out some wedding venues that we've worked at recently.
Check Out These Alternative Wedding Venues
19 Main – Bank Converted To Wedding Venue
19 Main – A converted bank turned into a high-tech wedding venue in New Milford, CT. You just have to see the inside of this venue and all the detail put into the renovation.

They have an amazing space for the couple to get ready onsite. It's worth checking this space!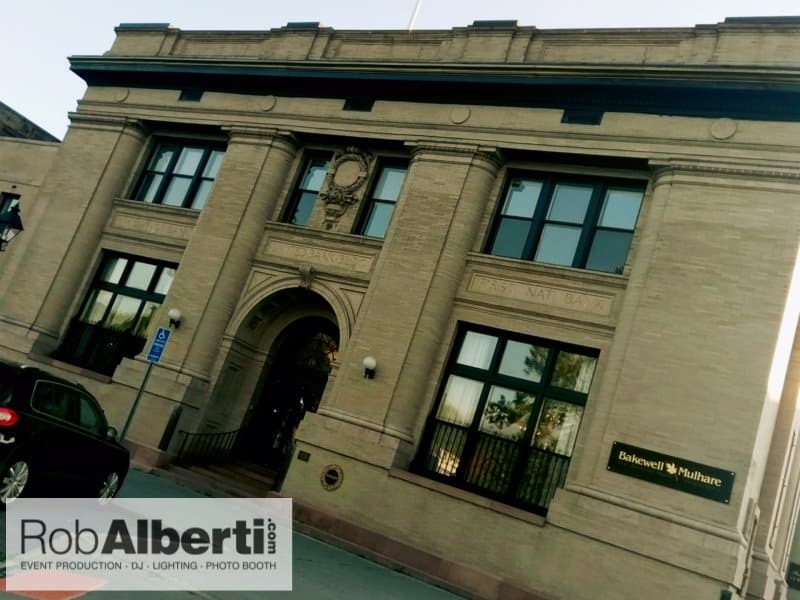 ---
southFARMS – White Barn Wedding Venue
southFARMS in Morris, CT – a white barn wedding venue. Looking for more of a Rustic Country Wedding? This might be the perfect place for your wedding.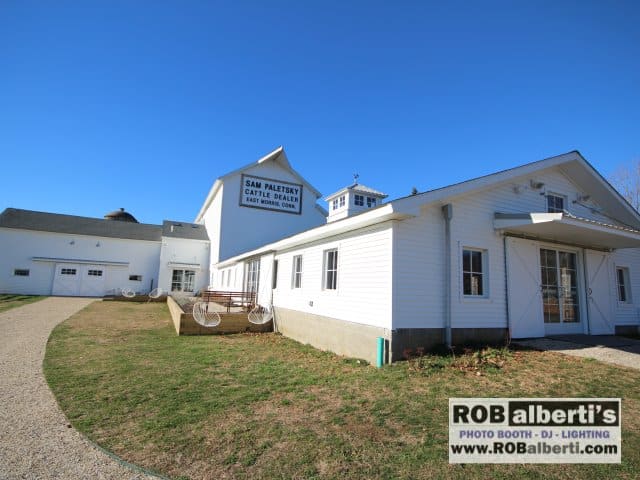 ---
Lake House Guest Cottages – Make A Weekend Out Of Your Wedding
The Lake House in Lanesboro, MA – custom cottages on a beautiful lake. From the lake view to the private kitchens in each cabin – I just wish I lived further away and had 6 people to bring with me on vacation here.

I've not only had the opportunity to work at this venue, I've stayed there a few times and it's just so relaxing. Imagine, as a wedding guest that you can literally just turn around and your cottage is right there. Make a weekend adventure for you and your wedding guests at The Lake House Guest Cottages.
Mass MoCA – Museum Wedding On A Completely Different Scale
Mass MoCA – Museum space in North Adams. Looking for more of an industrial feel to your wedding? Mass MoCA has so many different spaces available for your cocktail, dinner and dancing.

Life size artwork will be an amazing backdrop for your wedding photos here at Mass MoCA.
---
Gedney Farm – Barn Wedding Over 3 Floors
Gedney Farm – A barn wedding venue in New Marlboro, MA. Three levels – amazing wood tones and multiple areas outside for your ceremony, make this one of our favorite barn wedding venues in the area.

The great thing about most venues in The Berkshires – you can completely customize the lighting scheme using our lighting design services to transform it into just what you want for your wedding.
---
Mechanics Hall – Large Scale Wedding Venue
Have a few hundred guests that you need to invite to your wedding? Maybe Mechanics Hall in Worcester MA is just the right space for your wedding. The grandeur of this venue space with our up-lighting on both levels will bring this alternative wedding venue to life.
Mill One At Open Square – Holyoke MA Industrial Wedding
Mill One at Open Square in Holyoke – is a great example of renovated industrial mill space. Adding a few string lights and a few up-lights to add some color and you have an amazing space for your wedding reception.

They have a gallery space that is just perfect for your onsite ceremony.
---
Wadsworth Antheneum – Museum Wedding
Downtown Hartford CT has so many unique wedding venues within a block of each other. The Wadsworth Antheneum located on Main Street has multiple areas of the museum available for your wedding cocktail hour and reception. Get married next to the big gourd or stage dinner and dancing in the great hall filled with 2-floor filled with pictures.
---
Warfield House – Charlemont MA – Pavilion Wedding Venue
Overlooking an amazing valley and mountain, you can get married with all the glory of the fall leaves. Dinner and dancing under the pavilion bring you that much closer to nature and the draw of The Berkshires.

It's a more stripped-down and simple venue compared to many. It might just be perfect for your wedding vibe.
Whether it's a barn in the Berkshires or an old theater – you need to find the best wedding venue that fits your style and personality. Maybe it's a library in Boston, an old bank in downtown Hartford or a museum space that speaks to your wedding venue needs. Happy hunting for the best wedding venue and maybe one of these alternative wedding venues are just right for you?
---
Rob Alberti is the owner of Rob Alberti's Event Services – Wedding Disc Jockey, MC & Wedding Event Director + Wedding Event Lighting design rated by local brides + voted as "The Knot – Best of Weddings", Bride's Choice Award Winner from Wedding Wire + his work has been featured in Martha Stewart Wedding, CT Bride, VT Vows, + on numerous national wedding blogs such as Style Me Pretty, Wedding Chicks. Be sure to check out his blog, Pinterest boards
---
What Do You Do Now?
Contact DJ Rob today to find out pricing and availability for your upcoming event. We offer wedding DJs, Custom Lighting Design, and Photo Booth Rentals.

Describe your wedding in 3 words so we have an understanding of what you are looking for.
Send us an inspirational image of what you are trying to create for custom wedding lighting.
Tell us the style of music that gets you up and shaking your booty.
Let us guide you through the planning process.

Our stomping grounds are The Berkshires and Hartford CT areas, but we travel from Hudson Valley NY to Boston MA, and Southern VT to the CT Shoreline frequently. Get started today.


---
---
Hear DJ Rob Alberti Mix A Dance Set – This Is What Your Wedding Could Sound Like
Packed wedding dance floors start here! Because A Perfect Wedding Needs A Perfect Soundtrack. Whether you are a foodie, hipster couple or off-beat-bride – dancing is so important to you and you want your wedding to be a unique reflection of your personalities. See what our past clients have to say: "Worth every penny spent!! Our guests had a blast!!! Rob kept the music flowing from one song to another" So many couples are afraid no one will dance at their wedding. We want you and your guests to be up and dancing – not sitting and being bored. You will get guaranteed more dance time with one of our DJs. I am going to make sure everything we do and play reflects your personality and not some canned DJ routine (ie – chicken dance). You are going to have an amazing time, no cheesy DJ antics here.
Listen to what your wedding might sound like with one of our luxury wedding DJs
Hero Video
Hero Video
Read More Blog Articles Like
Alternative Wedding Venues
Kelsey + Jose's Wedding at Millwrights Restaurant in Simsbury CT Millwrights draws a very foodie clientele to their unique venue. It's all about the food at these weddings as it was with Kelsey and Jose's wedding. They staged three heartfelt toasts during the multi-course meal. But when it was time to transition down to the…
---