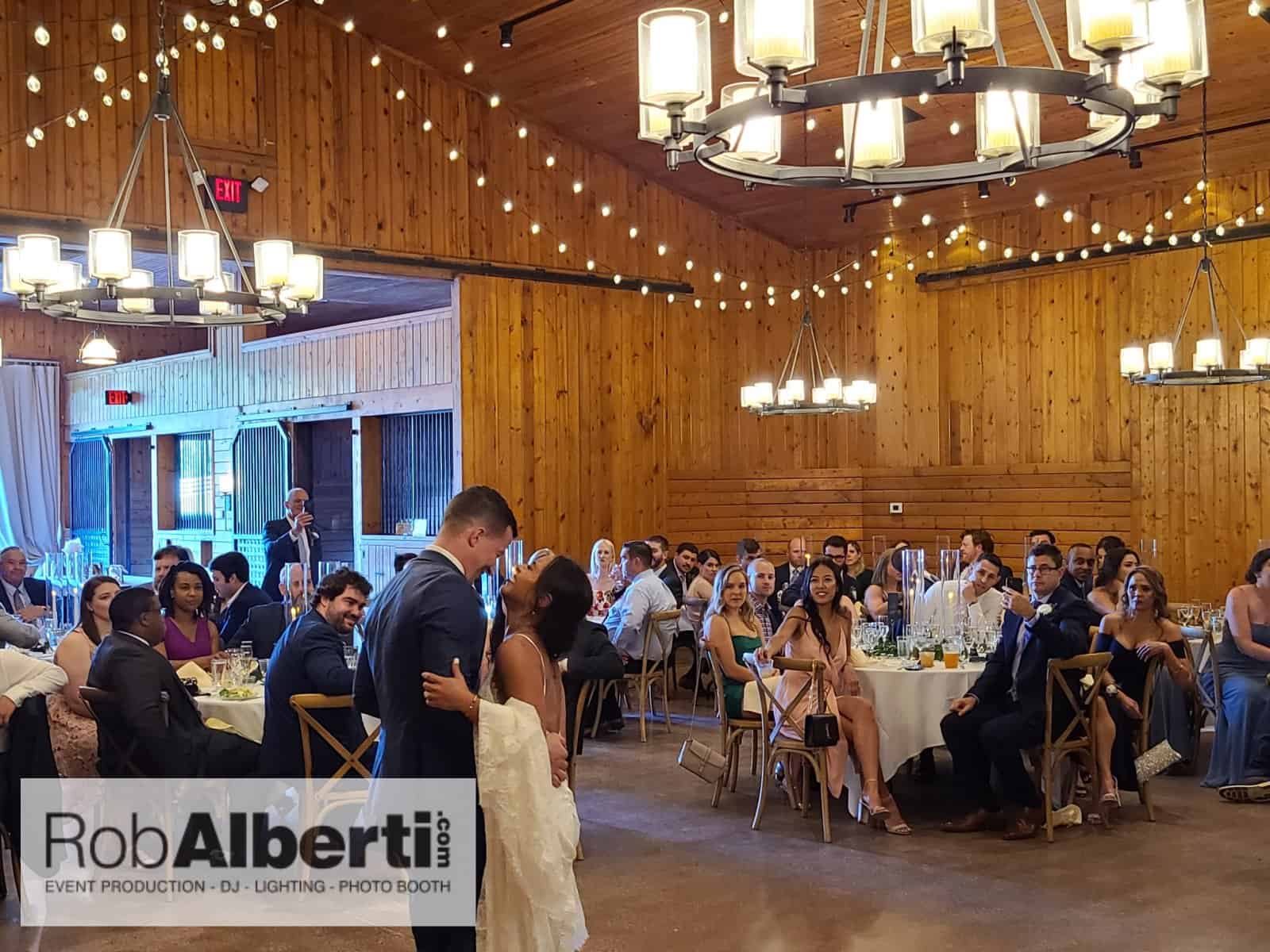 Alyssa & Andrew Wedding – The BARN at Liberty Farms – Ghent NY
Alyssa & Andrew, like so many of our couples – found us on Google as we had done weddings in the past at The BARN at Liberty Farms in Ghent NY. They had just under a hundred guests (most of them there age – almost no older family members) and they were there to party! When the bridal party was introduced, they each came in with drink in hand and chugged them down with cheers from their guests. The mood had been set for this wedding celebration!
The weather was perfect for their outdoor ceremony. We provided multiple wireless microphones and music as they walked down the aisle. No electricity out in the field, so all our ceremony systems are run off of battery power.
Their week of wedding planner got involved and made some weird decisions regarding the order of events. We tend not to like bunching up the couples first dance and parent dances all in a row (seems to take the wow factor out of them). Guests started cocktailing at 5:30, but toasts didn't happen until 8:30 during the meal service. It's hard to enjoy your meal and try to listen to speeches all while you really want to just get up and start dancing. We highly recommend you take into consideration our 30+ years of pacing a party and controlling the energy level of a wedding reception before listening to a week-of-wedding planner who only has a dozen weddings under their belt when it comes to event staging. We are after all, the wedding experts.
Never the less – Alyssa didn't leave the dance floor once the party got going after dinner. It was truly a wonderful wedding.
Ceremony Procession: Here Comes The Sun – MIdnite String Quartet
Ceremony Recession: If It Feels Good – Leon Bridges
Introduction: Your Love Keeps Lifting Me Higher – Jackie Wilson
First Dance: Better Together – Luke Combs
Alyssa & Dad: There Goes My Life – Kenny Chesney
Andrew & Mom: 100 Years – Five For Fighting
Cake: Watermelon Sugar – Harry Styles
Last Dance: NY NY – Frank Sinatra
NO PLAY LIST: Line Dances
Caterer: Talk Of The Town
Venue: The BARN at Liberty Farms
---
Highlight Reel From Alyssa and Andrew's Barn Wedding
---
Hear One Of The Dance Sets From Their Wedding
---
Wedding Photos From The BARNS at Liberty Farms


The Hermitage Inn Wedding Photos West Dover VT Wedding DJ The Hermitage Inn Wedding Photos West Dover VT: We have been working at The Hermitage Inn located in West Dover VT for years now. We have DJ'd weddings and provided tent lighting for so many weddings held there over the years. I wanted to put…