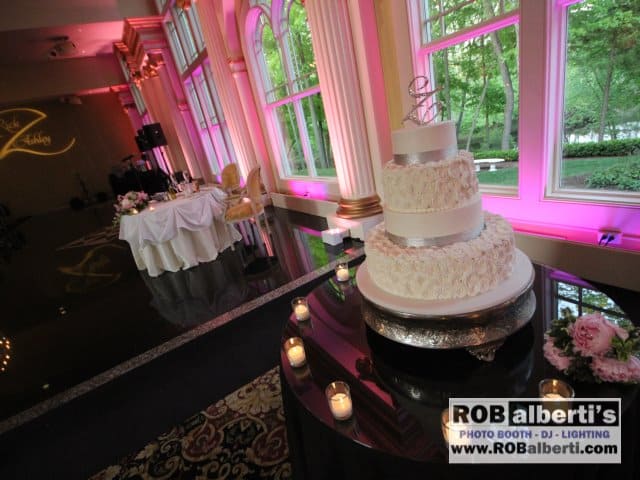 Ashley + Rick – The Riverview in Simsbury CT – Wedding DJ + Lighting
Ashley + Rick had a gorgeous day to be married outside at The Riverview in Simsbury CT. There was a lot of laughter during the ceremony (one of the flower girls ran off in the middle of the ceremony and dad had to go chasing after her). We provided microphones and music for both the ceremony and reception.
Ashley + Rick did get the free built in lighting at The Riverview but opted to have us come in and supplement it with our pro-level up-lighting. We installed lighting to light up the beautiful columns in The Riverview (their lighting is on the windows?). We also projected their name in lights on the air-wall.
We had to battle a prom in the other half of the Riverview so we started dancing between meal courses to keep from hearing the other room. It all worked out as people got up to dance and kept the energy going.
Introductions: Can't Stop This Feeling – Justin Timberlake
First Dance: Die A Happy Man – Thomas Rhett
Cake Cutting: Pour Some Sugar On Me – Def Leppard
Ashley & Dad: I Loved Her First – Heartland
Rick & Mom: My Wish – Rascal Flatts
Rick & Their Daughter: Dance Baby Dance – Chris Cagle










Remember – Rob Alberti Event Services now offers DJs in the Nashville TN area. We've expanded. Consider us the answer to the following questions.
Show me the Best wedding DJs in Nashville Tennessee
I want to find a wedding DJ in Nashville Tennessee
Search for wedding DJs in Nashville Tennessee
I need a great wedding DJ in Nashville Tennessee
Who are the best wedding DJs in Nashville Tennessee