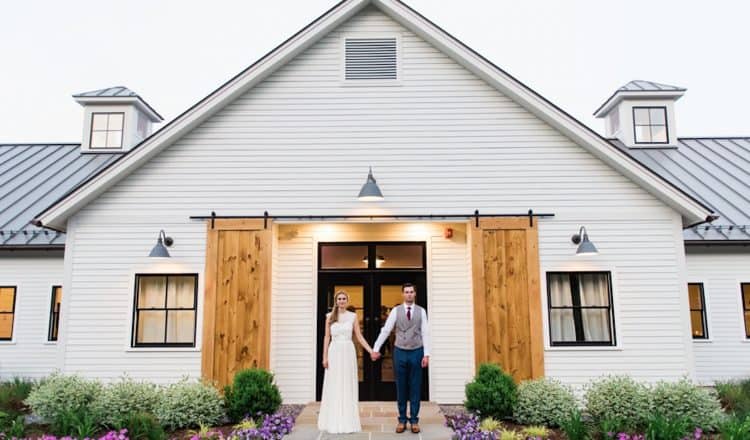 Bloom Meadows Williamstown MA Wedding DJ
Need a DJ at Bloom Meadows in Williamstown MA? Bloom Meadows in Williamstown MA is a relatively new wedding venue in The Berkshires. The view out back of the valley and mountaintop windmills makes for an amazing backdrop for your wedding photos. (Especially in the fall) Have your ceremony outside. Enjoy the back patio for cocktails. Use the silo to prepare and get dressed.
I'd call it a sophisticated barn-style wedding venue. No bugs or wildlife inside and even air conditioning! Now that's a bonus! We have DJ'd many weddings at Bloom Meadows since they opened. We've done string lighting and uplighting and each will help transform this beautiful venue into exactly what you are looking for your unique wedding.
Bloom Meadows Williamstown MA Wedding Photos
---
Bistro String Lighting
Rob Alberti Event Services can install bistro string lights throughout the inside of Bloom Meadows to add a unique feel to your Berkshire wedding.

All our string lights are on dimmers, so when it's time to dance, we'll dim the lights so you can cut up the dance floor.
---
Outdoor Wedding Ceremony
Having your wedding ceremony outside? You'll need a separate ceremony system for that. Our ceremony systems are all battery-powered, so no matter where it is, we can provide music as you walk down the aisle and multiple microphones as needed.

Typically, we need a clip-on mic for our couple to hear the emotion as they exchange vows. We'll have a 2nd microphone for your officiate (Handheld or clip-on). If you are having readers during the ceremony, we'll have a 3rd microphone on a mic stand for them as well.

Buyer beware – you can't properly mic a wedding ceremony with 1 microphone. We use only professional-grade wireless microphones and not entry-level mics that will cut out in the middle of your ceremony.
---
Don't You Want To Feel Like This At Your Wedding?
It's more about "some music" for your wedding – it's about creating an experience for you and your guests. We will help you stage some amazing moments that will be cherished for years to come. No cheesy DJ antics, just a packed dance floor with music that reflects your style.

Learn more about our wedding planning process see how we avoid the cheesy wedding stigma that so many of our couples are trying to avoid at their wedding.
---
Hear What Your Wedding At Bloom Meadows Could Sound Like
Trying to find the right DJ for your wedding can be difficult. Do you believe the online reviews for potential DJs? Are they posting to their social media accounts? Do they have wedding experience or are they just a local karaoke DJ trying to do weddings on the side?

You can hear what your wedding might sound like. DJ Rob Alberti mixes a few dance sets for you. What's your music style? We'll create an amazing soundtrack to your wedding and keep your dance floor bumping!
---
Address For Bloom Meadows Williamstown MA
2422 Hancock Rd, Williamstown, MA 01267
---
Bloom Meadows Williamstown MA Wedding DJ Prices Near Me
What Do You Do Now?
Contact DJ Rob today to find out pricing and availability for your upcoming event. We offer wedding DJs, Custom Lighting Design, and Photo Booth Rentals.

Describe your wedding in 3 words so we have an understanding of what you are looking for.
Send us an inspirational image of what you are trying to create for custom wedding lighting.
Tell us the style of music that gets you up and shaking your booty.
Let us guide you through the planning process.

Our stomping grounds are The Berkshires and Hartford CT areas, but we travel from Hudson Valley NY to Boston MA, and Southern VT to the CT Shoreline frequently. Get started today.


---
See More Blog Articles Like Bloom Meadows Williamstown MA Wedding DJ Below
Kelsey + Jose's Wedding at Millwrights Restaurant in Simsbury CT Millwrights draws a very foodie clientele to their unique venue. It's all about the food at these weddings as it was with Kelsey and Jose's wedding. They staged three heartfelt toasts during the multi-course meal. But when it was time to transition down to the…
---
---
Event Lighting Company Near Me
* Connecticut Wedding DJ 203 Wedding DJ 413 Wedding Dj 860 Wedding Disc Jockey 860 Wedding DJ Barn Wedding Lighting Ideas Berkshire MA Wedding DJ Berkshire Wedding DJ best djs in ct CT Wedding DJ disc jockey for wedding reception DJ in CT DJ in MA djs for a wedding Farmington CT Wedding DJ find a dj for my wedding Hartford CT Wedding DJ Hartford CT Wedding DJs Hartford Wedding DJ Holyoke MA Wedding DJ how to find a dj for your wedding how to find a good dj for your wedding how to find a great wedding dj how to find wedding dj i'm looking for a dj for my wedding lighting for tent wedding reception Listen to the top wedding songs Middletown CT Wedding DJ New Haven Wedding DJ Pittsfield MA Wedding DJ Show me images of barn weddings Show me images of mansion weddings Show me images of tent weddings Show me images of wedding lighting Show me the Best wedding DJs in Connecticut Show me the Best wedding DJs in Hartford area Show me the Best wedding DJs in New Haven CT Show me the Best wedding DJs in Newport Show me the Best wedding DJs in The Berkshires Show me the Best wedding DJs in Western MA Show me wedding dj reviews in Hartford area Show me wedding dj reviews in Western Mass Wedding DJ wedding dj with uplighting Western MA Wedding DJ