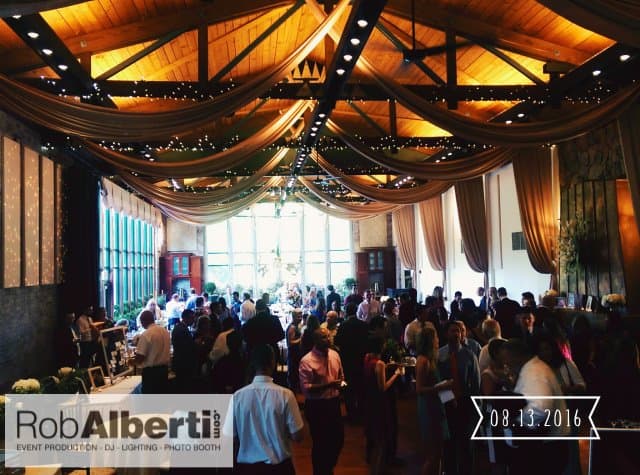 Caitlyn + Joe – The Pond House – West Hartford Connecticut Wedding – DJ
Caitlyn + Joe braved the heat and humidity outside at Elizabeth Park in West Hartford CT for their ceremony. We were in the shade so it was not totally unbearable in the heat. Once we were inside the air conditioning at The Pond House in West Hartford Connecticut – NO ONE went outside for social hour and they stayed until the end (the fact that it was pouring like crazy and lighting was lighting up the entire area probably helped).
Luckily, the rain stopped just before we ended at 11:30. Someone was looking out for us.
We started off with some surprises – Caitlyn's dad got up and sang "Forever Young" on the guitar. He got a standing ovation. Then, as the lights dimmed after Caitlyn and her dad dances after dinner to "Sweet Child Of Mine", we rolled right into AC/DC – Shook Me All Night Long and the party erupted. It was a sea of dancing bodies from then until the last song was played. I never left my perch up on the stage. (I don't think I could have made it through the crowd even if I needed to)
Introductions: Brass Bonanza
First Dance: Die A Happy Man – Thomas Rhett
Cake Cutting: Marry You – Bruno Mars
Joe & Mom: My Wish – Rascal Flatts
Caitlyn & Dad: Sweet Child Of Mine – Sheryl Crow
Last Song: Sweet Caroline – Neil Diamond
We provided music and microphones for the outdoor ceremony, wireless speaker for the patio (until the rain started) and DJ/MC services inside.
Hear their introduction and first dance:
Here is a quick video clip of the dance floor as we kicked off dancing.

ABOUT AUTHOR SECTION
—————————————
Rob Alberti is owner of Rob Alberti's Event Services – Wedding Disc Jockey, MC & Wedding Event Director + Wedding Event Lighting design
rated by local brides + voted as "The Knot – Best of Weddings", Bride's Choice Award Winner from Wedding Wire + his work has been featured in Martha Stewart Wedding,
CT Bride, VT Vows, + on numerous national wedding blogs such as Style Me Pretty, Wedding Chicks. Be sure to check out his blog, pinterest boards + on Facebook
Be sure to ask Google, Siri or Cortana one of the following:
Search for wedding DJs in Connecticut
I want to find a wedding DJ in The Berkshires
I want to find a wedding DJ in Hartford Connecticut
The Society Room of Hartford Wedding DJ
The Riverhouse Haddam Connecticut Wedding DJ
The Lace Factory Deep River Connecticut Wedding DJ
The Barns at Wesleyan Middletown Connecticut Wedding DJ
Priam Vineyards Colchester Connecticut Wedding DJ
Saint Clements Castle Portland Connecticut Wedding DJ
Farmington Gardens Farmington Connecticut Wedding DJ