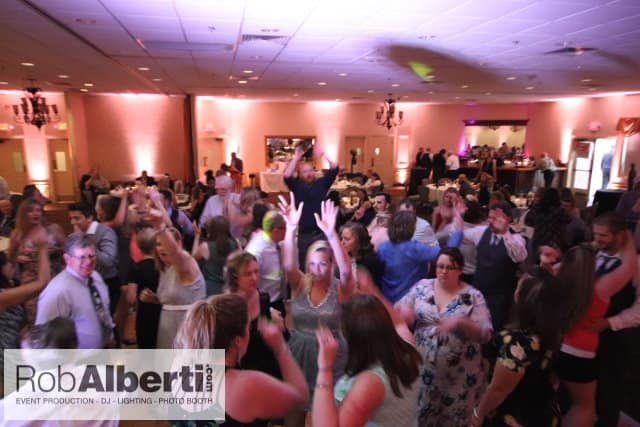 Christy Lee & Todd's Wedding – The Log Cabin – Holyoke MA
Christy Lee & Todd had their ceremony at Easthampton Congregational Church and then arrived at The Log Cabin (No Rain!) for their wedding reception. Family and friends enjoyed the outdoor patio – it had been days without rain. With our pale pink up-lighting, the room looked amazing.
They opted for a station meal and true to form – we had much more time for dancing. They were up and dancing just after 6 and we danced all the way through 10pm. This was a wedding that I looked forward to – you see – Christy's father used to be my boss when I used to be a Mechanical Engineer in the Aerospace Industry. Yep – engineer turned DJ. Christy and Todd wanted everyone dancing – and we delivered.
Introduction: Jackson – Johnny Cash
First Dance: How Would You Feel – ed Sheeran
Christy & Dad: I Loved Her First – Heartland
Todd & Mom: All To You – Keo
Last Song: Piano Man – Billy Joel
Here their introductions here:
"Rob, We wanted a dance party and that is what we got. Thank you for making it happen and for being so flexible. The end of the evening was unexpected but perfect. (And Uncle Frank was all about Love Shack too.)

Cheers, Todd and Christy"
"Rob,

We wanted a dance party and that is what we got. Thank you for making it happen and for being so flexible. The end of the evening was unexpected but perfect. (And Uncle Frank was all about Love Shack too.)

Cheers,
Todd and Christy"