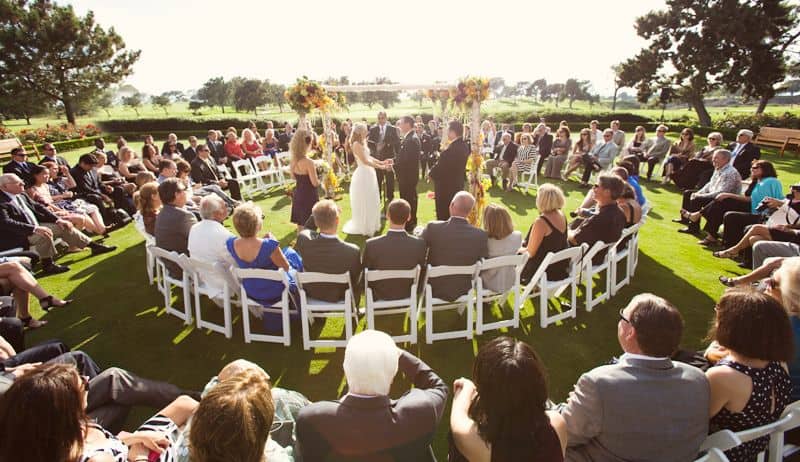 Having an outdoor wedding ceremony in New England?
Exchanging vows outside in New England can be a challenge. It could rain. It could be too hot, too sunny or too humid. The ground could be mud. The noise from a nearby road or passing plane just might interrupt your ceremony. Despite that, so many of our brides insist on getting married outside in New England.
You should always have a backup plan. Arrange for an indoor area in case mother nature is not on your side. If you are outside with more than 50 guests, you are going to need some kind of PA system or microphones so everyone can hear you exchange vows. Talk with your officiate or DJ and secure the necessary equipment to properly amplify everyone's voice who will be speaking during the ceremony.
Remember that wind is always an issue outside. Anything that you put down will have to be weighted or tied down. That includes your wedding aisle runner, wedding ceremony programs, and anything else that the wind might get hold of.
If it is a warm day, be sure to have ice water available for your guests – especially your elder guests. Too many times we've seen elderly guests pass out in the sun at a ceremony. Be proactive and keep guests out of the sun until the ceremony is just about to start. Obviously, there should be at least enough chairs for your elderly guests to sit.
If it looks like it is going to rain, be sure to give your officiate the OK to shorten the ceremony as needed to ensure that you do not get caught out in the rain. If you are having readers, be sure to coach them on the proper use of a microphone. They should speak clearly and use their "outdoor voice" holding the microphone about 2-3 inches away from their mouth at all times.
Unity candles DO NOT WORK outside. You can never keep them lit long enough for the ceremony. Instead opt to use a "Sand Ceremony" or "Rock Ceremony" instead where you mix different colors of sand or pass out rock to your guests to give you wishes.
—————————
Rob Alberti is owner of Rob Alberti's Event Services – Wedding Disc Jockey, MC & Wedding Event Director + Wedding Event Lighting design rated by local brides + voted as "The Knot – Best of Weddings", Bride's Choice Award Winner from Wedding Wire + his work has been featured in Martha Stewart Wedding,
CT Bride, VT Vows, + on numerous national wedding blogs such as Style Me Pretty, Wedding Chicks. Be sure to check out his blog, pinterest boards + on Facebook