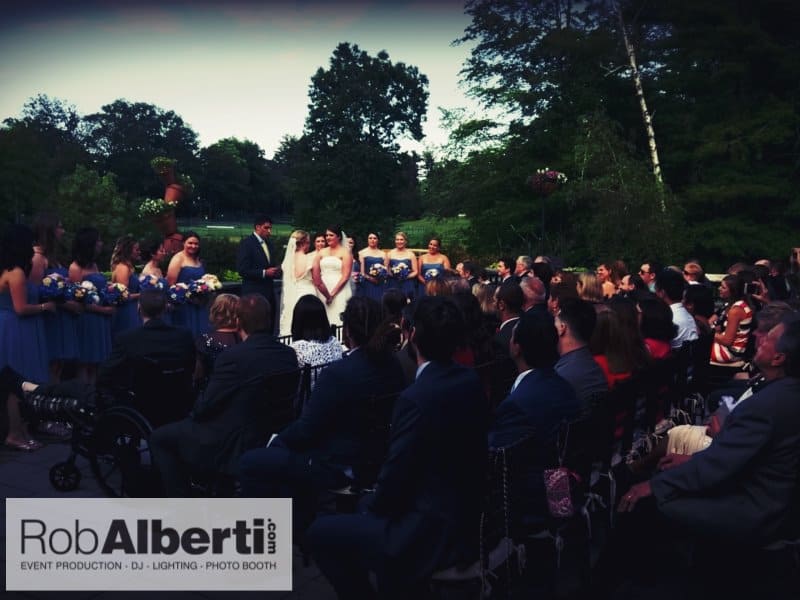 Kaitlyn + Fiona's Wedding at The Pond House Cafe in West Hartford CT
Kaitlyn + Fiona kept it personal and had a friend officiate their ceremony out on the patio (just after a massive downpour). Timing is everything! I love how the bridal party processes in full view as they circled on to the patio here at The Pond House Cafe.
Here their wedding ceremony (we can digitally record your exchange of vows and toasts)
Kaitlyn and Fiona were part of their social hour and the rain held off so everyone enjoyed the outdoor space. There were quite a few toasts (2 more than I was told about!!!) as everyone celebrated their love. We did a 2nd Line March style introduction (New Orleans Style) for their bridal party and then a love story intro for Kaitlyn and Fiona.
When it came to the party – we kicked if off with a bang. Kaitlyn's dad had medical issues and was in a wheelchair for the wedding, so we did a mashup of My Girl and Push It for their dance. Kaitlyn also did a great job rapping to Gettin' Jiggy Wit It during our first dance set.
Introductions: Still The One – Ingrid
First Dance: Book Of Love – Airborne Toxic Event
Cake Cutting: Cake – Flo Rida
Fiona & Dad: Here Comes The Sun – Beatles
Fiona & Stepdad: Forever Young – Iron and Wine
Kaitlyn & Dad: Mashup of My Girl and Push It
Last Song: Save The Last Dance – Michael Buble