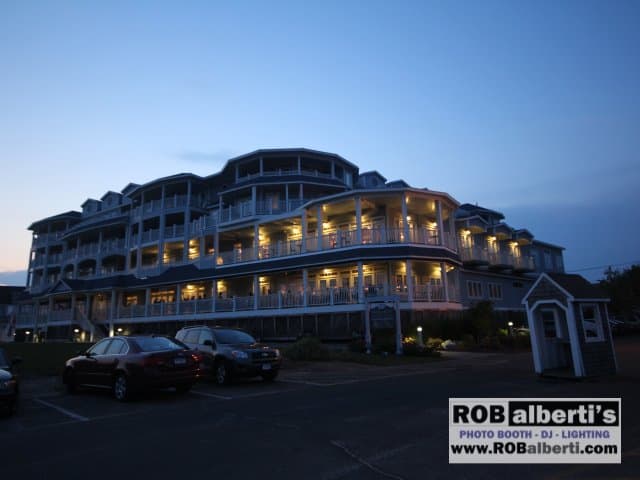 Kara + Kevin's Wedding – Madison Beach Hotel – Madison CT – Drapes
Kara + Kevin came to us and let us know they had a DJ for their wedding, they had their facility and their florist – but they had a problem. Kara HATED the blue curtains in The Madison Beach Hotel. They did not go with her decor and theme. The Madison Beach Hotel is a newly renovated and beautiful facility. They just went with a blue ocean motif and really should have gone neutral colors – clearly I watch too much HG TV.
We came in and draped the entire 2nd floor ballroom from floor to ceiling with our white shear drapery. We pulled them back in various areas so that the view of the CT shoreline was not impaired. We placed our up-lighting between the drapery and the walls and lit the entire room in a pale yellow (not amber) color. When it was time for dancing – we had full control of the room and we dimmed the up-lighting to help set their party mood.
---
What Do You Do Now?
Contact DJ Rob today to find out pricing and availability for your upcoming event. We offer wedding DJs, Custom Lighting Design, and Photo Booth Rentals.

Describe your wedding in 3 words so we have an understanding of what you are looking for.
Send us an inspirational image of what you are trying to create for custom wedding lighting.
Tell us the style of music that gets you up and shaking your booty.
Let us guide you through the planning process.

Our stomping grounds are The Berkshires and Hartford CT areas, but we travel from Hudson Valley NY to Boston MA, and Southern VT to the CT Shoreline frequently. Get started today.


---

Justin & Hannah Bliss Farm MA Wedding It was a rainy Saturday at Bliss Farm in Granville, MA but, that didn't stop Justin and Hannah from having one heck of a daytime wedding. When I arrived onsite they instantly let me know that we're doing this thing outside no matter the weather! They carefully prepared…