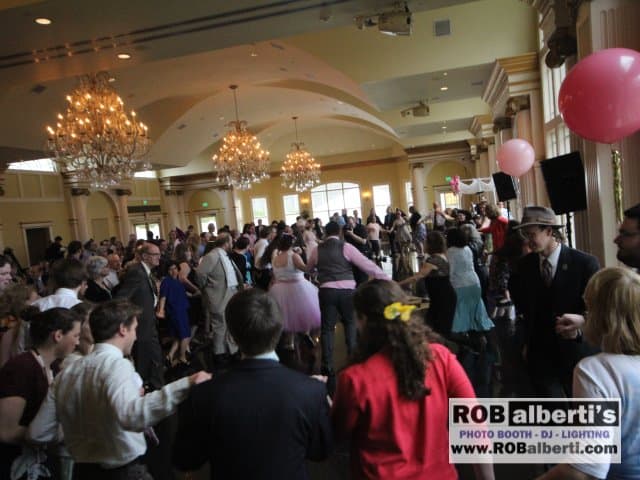 Laura + Steve – The Riverview Simsbury CT – Quirky Jewish Wedding
If there is one word to sum up Laura + Steve's wedding at The Riverview in Simsbury CT it has to "QUIRKY". They were just the sweetest couple and anyone who met them could just see how in love these two were. But they marched to their own beat and it came through in everything they did at their wedding.
They took photos with their golden retriever, there were large pink 3′ diameter balloons, Laura wore a short white and pink dress and they were super involved in their music choices. Their first dance music list that they submitted to me as MUST PLAY was about 9 hours worth of music. We had to work together to hone that down to the important songs so that we got to play the right mix of music for they and their guests.
We started their reception with quick introductions, first dance and about 200 people came to their feet for the hora before salad was even served. This was going to be a fun Sunday afternoon wedding. The sun was shining even with the rain outside but that did not stop this crowd. They came out in numbers on the dance floor to dance to just about anything.
While Laura + Steve were outside taking some special photos with their photographer, Seth Kaye – we had everyone up and dancing for about 20 minutes while we waited for them to return and cut the cake (cupcakes) and dance with their parents.
Laura's mom had sensitive ears and we worked with her to ensure there were no issues with the music volume. What a fun crowd this quirky couple and their guests ended up to be!
Introduction Song: Pentatonics – Starships
First Dance: Rainbow Connection – Weezer + Hayley Williams
Cupcake Song: Crayola Doesn't Make A Color For Your Eyes – KA
Steve & his Mom: As – Stevie Wonder
Laura & her Dad: Superhero – Eight To The Bar
Last Song: Still Into You – Paramore
No Play List: Meghan Trainor, Katy Perry, One Direction, Cotton Eye Joe, YMCA, Chicken Dance, Love Shack, Single Ladies, Kanye West, U2, Nickelback, James Blunt, Green Day, Creed, Celine Dion and MANY MORE
Officiate: Megan Barber Ceremonies
Be sure to ask Google, Siri or Cortana one of the following:
Search for wedding DJs in Connecticut
I want to find a wedding DJ in The Berkshires
I want to find a wedding DJ in Hartford Connecticut
The Society Room of Hartford Wedding DJ and Lighting
The Riverview Simsbury Connecticut Wedding DJ and Lighting