The Dennis Inn – Cape Cod Wedding DJ – Kayla + Peter
The Dennis Inn – Cape Cod Wedding DJ – Kayla + Peter
Kayla + Peter were guests at a wedding I DJ'd last year. They had such a blast at Lauren's wedding that they instantly hired us to DJ their wedding at The Dennis Inn on the Cape for their wedding. The hot summer weather pattern we were in, broke the week of their wedding and it was the perfect weather for their wedding. Their ceremony was out back near the pool. Cocktails were on the front lawn. Dinner was in a tent on the front lawn and dancing was inside the Inn. That meant we had multiple sound setups to cover all the areas of their wedding – no problem!
Once we got inside around 8, it was non-stop high-energy dancing the entire time up until their end at 10 (no, it was 10:30, so everyone got a bonus 30 minutes of dancing! (she told and reconfirmed the WRONG END TIME!) No worries – we played "one more song" a few times to get us to the correct 10:30 end time! Kayla and Peter are both Westfield State University Alumni (they probably heard us DJ many of their college events also without realizing it)
Kayla's Processional: Can't Help Falling In Love – Kina Grannis
First Dance: Grow Old – Florida Georgia Line (custom edit)
Kayla & Dad: Humble and Kind – Tim McGraw (custom edit)
Peter & Mother: Forever Young – Rod Stewart
Kayla + Peter's Wedding Highlight Reel
"Peter and I are still in awe of our wedding day and truly cannot thank you enough for being a part of it and making it so amazing and fun for us!!!"

All the best, Kayla and Peter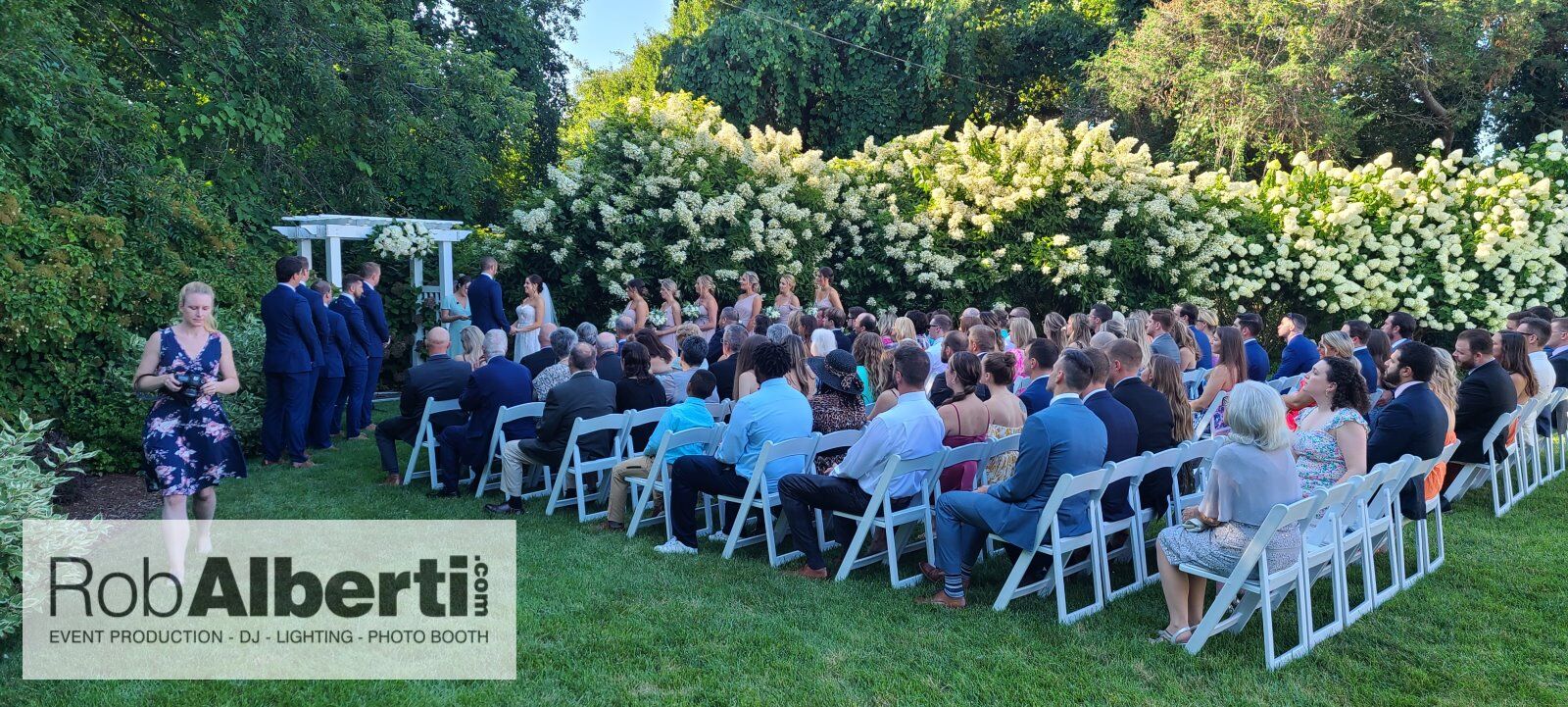 Photographer: Morgan O'Neil Photography @morganoneilphotography
Banquet Mgr: Mark Flanagan (Owner) Jamie Noone (Event coordinator) @the_dennisinn
Caterer: Treats Catering @treatscatering
Tent Company: Under Cover Tent @undercovertent
Florist: Flowers by Meredith @meredithfancy
DJ: Rob Alberti with Rob Alberti Events @djrobalberti
Hear What Your Wedding Might Sound Like With Our Luxury Cape Cod Wedding DJs

Fundraisers, Charity Auctions, and Corporate Event Production Services Near Me Fundraisers, Charity Auctions, and Corporate Event Production Services Near Me: We provide a personalized experience for all our corporate clients planning small to medium charity auctions, fundraisers, and corporate galas. With a wide range of event production services, AV rentals, and professional event lighting options….
Continue Reading