The Riverhouse at Goodspeed Station Wedding Photos
The Riverhouse at Goodspeed Station Wedding Photos
The Riverhouse at Goodspeed Station Wedding Photos: We have done many weddings over the years at The Riverhouse in Haddam CT. This wedding venue sits near the banks of the Connecticut River and immediately across from the historic Goodspeed Opera House. Its expansive ballroom is equally matched by its wraparound porch and grand foyer and staircase up to the bridal suite. Riverhouse couples love the opportunity to step out on the balcony overlooking the ballroom – and it makes for a unique photo opportunity for group photos and tossing of your bouquet.

Outside, they offer an on-site covered patio for your wedding ceremony.

The Riverhouse Hospitality group also manages The Society Room of Hartford and Riverhouse Catering – their off-site catering company.
Airen Miller Photography With The Riverhouse at Goodspeed Station Wedding Photos @airenmiller
With Our Texture Pattern Lighting Projections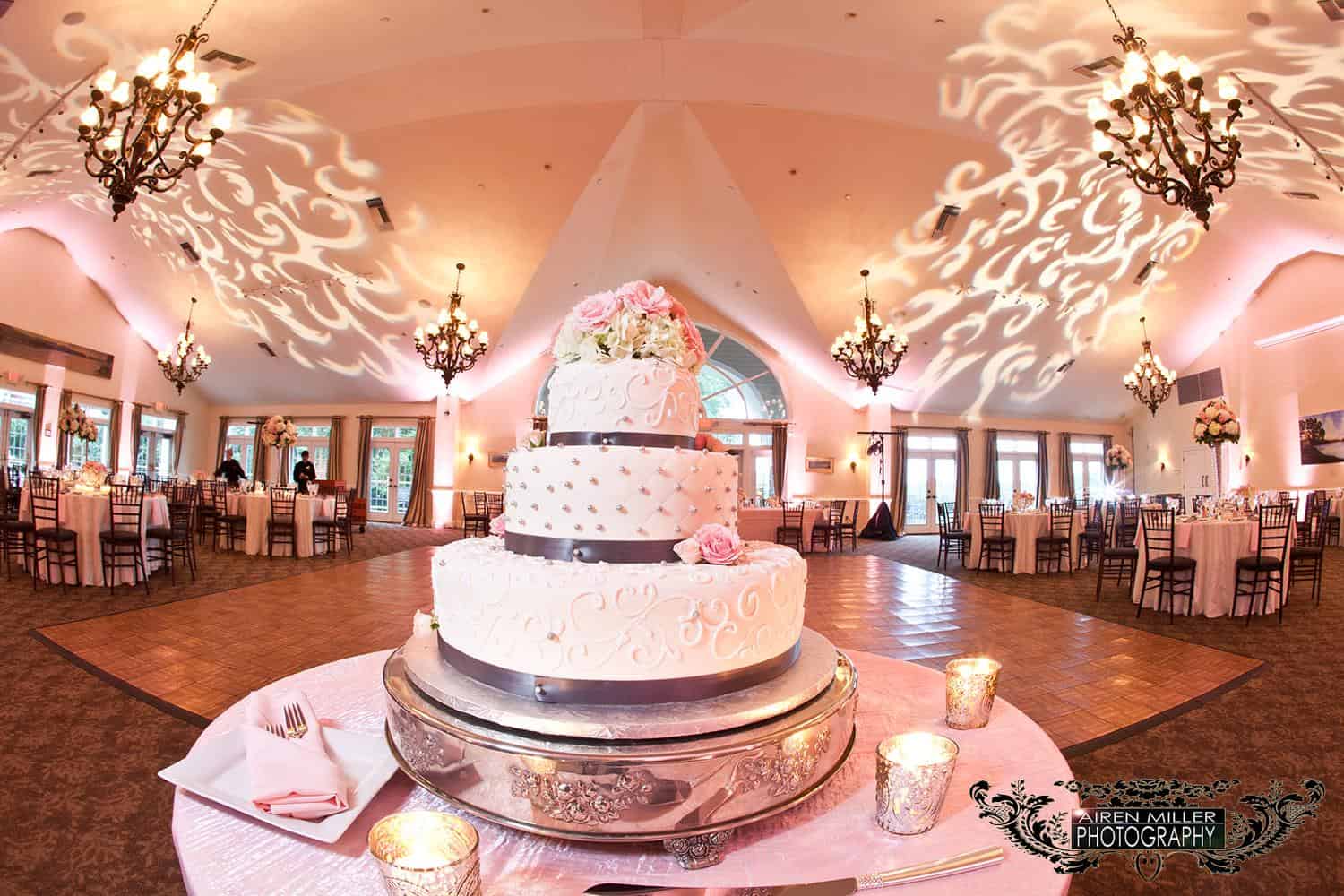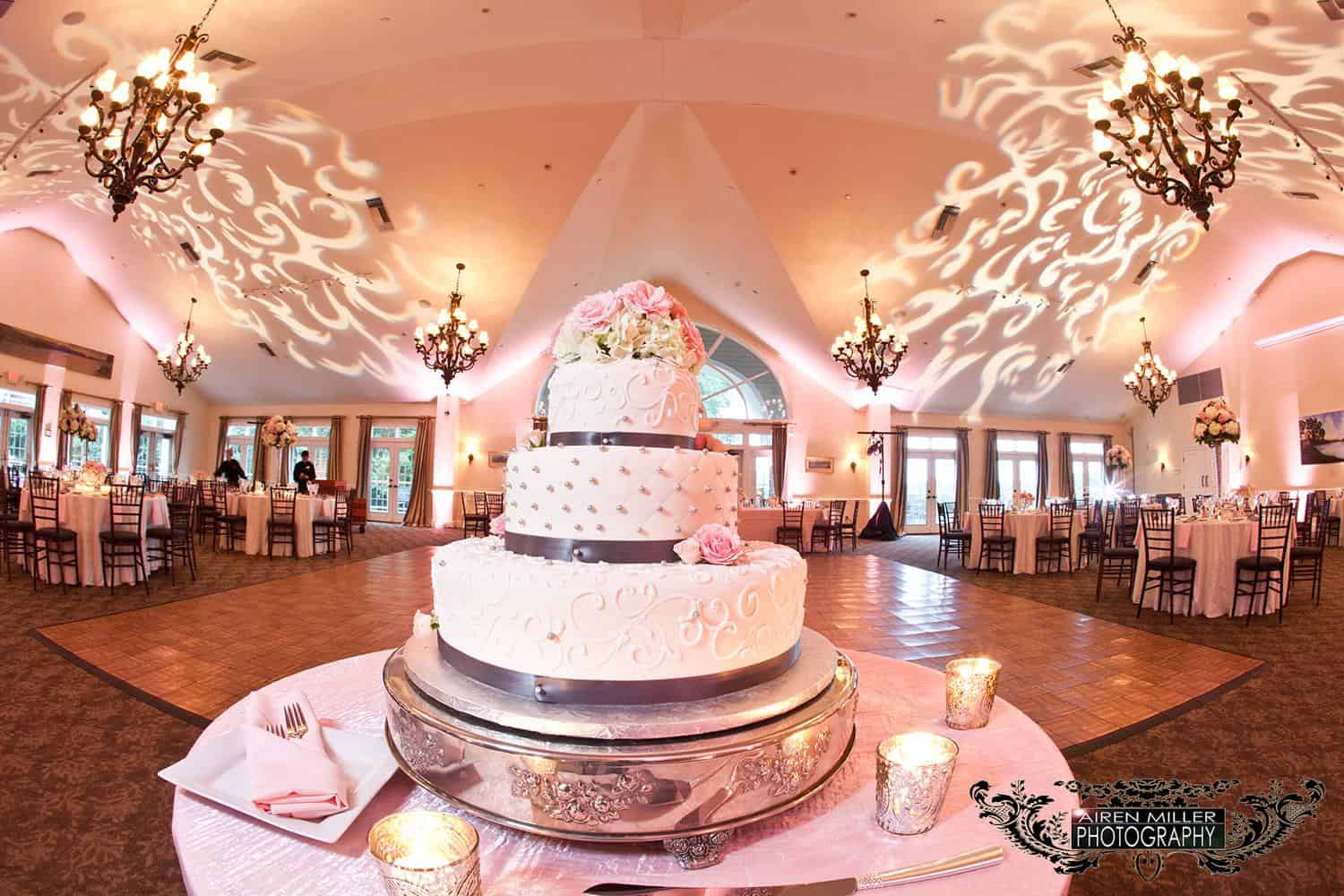 See Images Of Our Lighting At The Riverhouse at Goodspeed Station Wedding Photos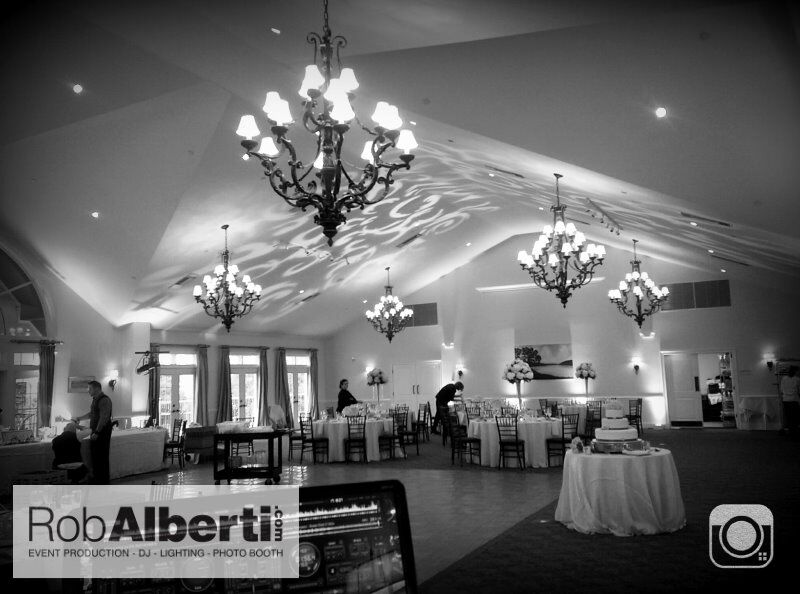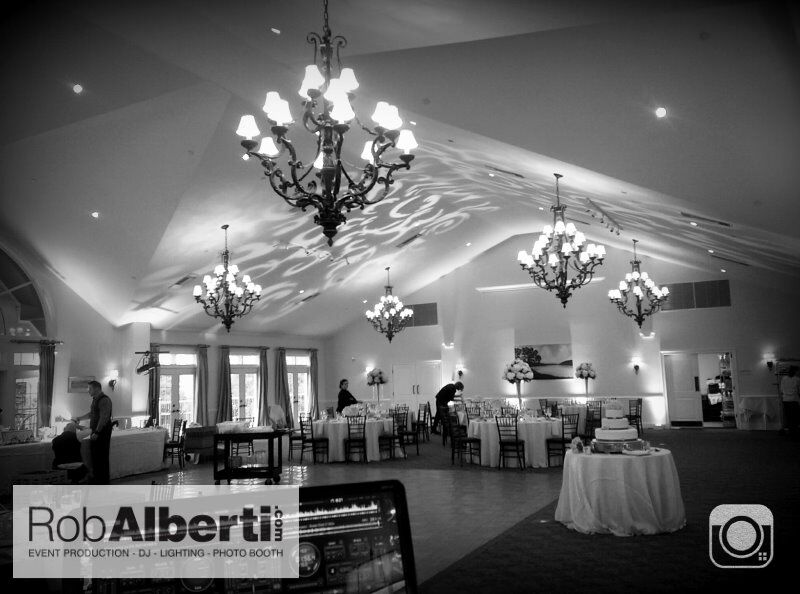 The Riverhouse is a large expansive space and they normally place the DJ off in one of the corners, so we typically have to run multiple wireless speakers to balance the sound across the large venue. Depending on where you have your cocktails (front foyer or outside on wraparound porch), we also have to run wireless speakers in those areas to properly cover all the venue space you will be using. If your wedding DJ thinks they can cover this space with just 2 speakers right next to their setup, you and your guests will be disappointed in the outcome.
Hear What Your Wedding Might Sound Like With One Of Our Luxury Haddam CT Wedding DJs
Our Luxury Wedding DJs know how to throw a party! We'll keep all of your guests up and dancing the entire time at your wedding. We'll work with you the months leading up to your wedding day to help customize your wedding day soundtrack from the background music during cocktails all the way through the last song of the night as your friends and family gather around you to tell you how much fun they had at your wedding.

We are not your average wedding DJ – you can see that when you read our reviews online from past couples. You can see that in our social media feed and you can read that on our website.
The Riverhouse at Goodspeed Station Wedding Photos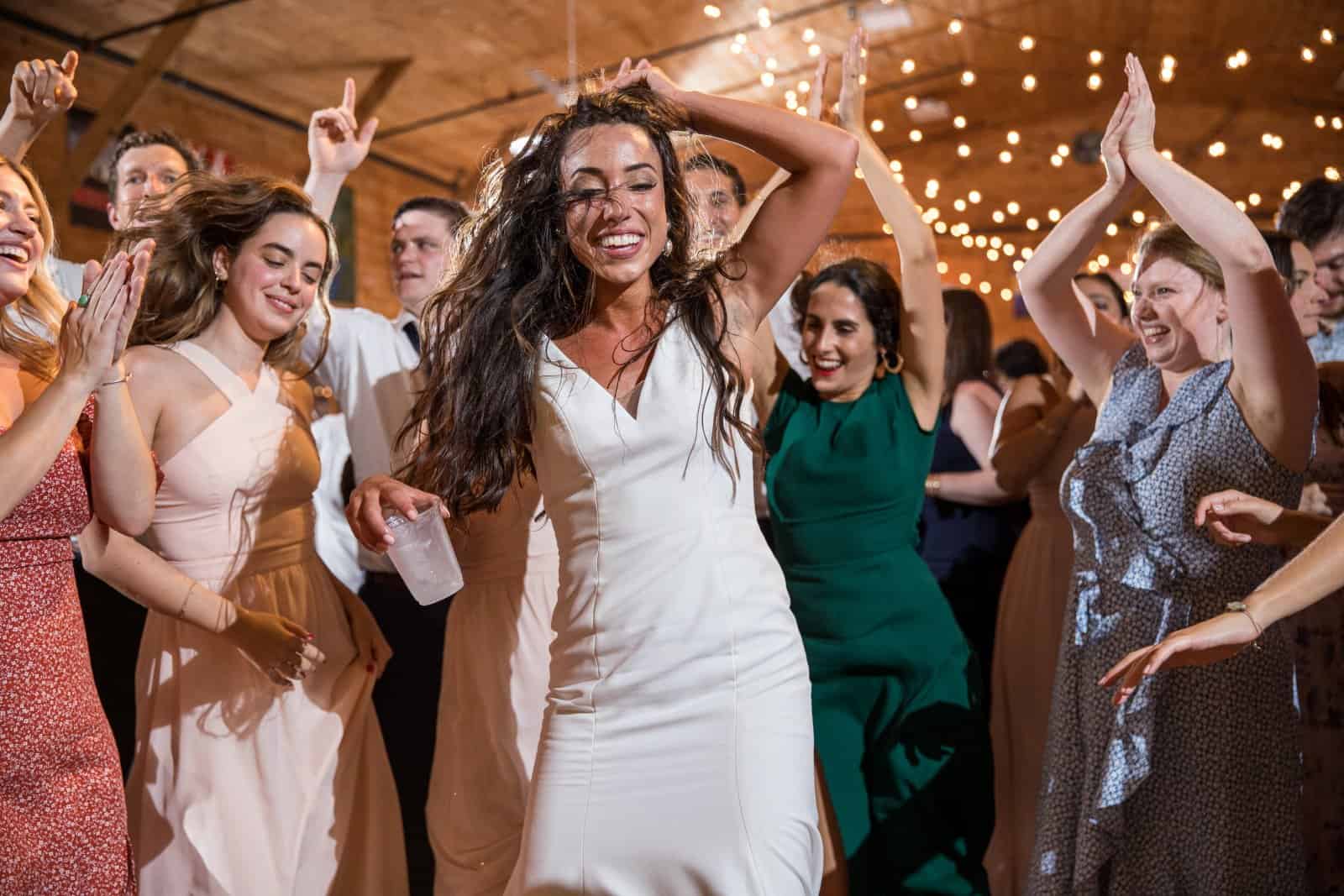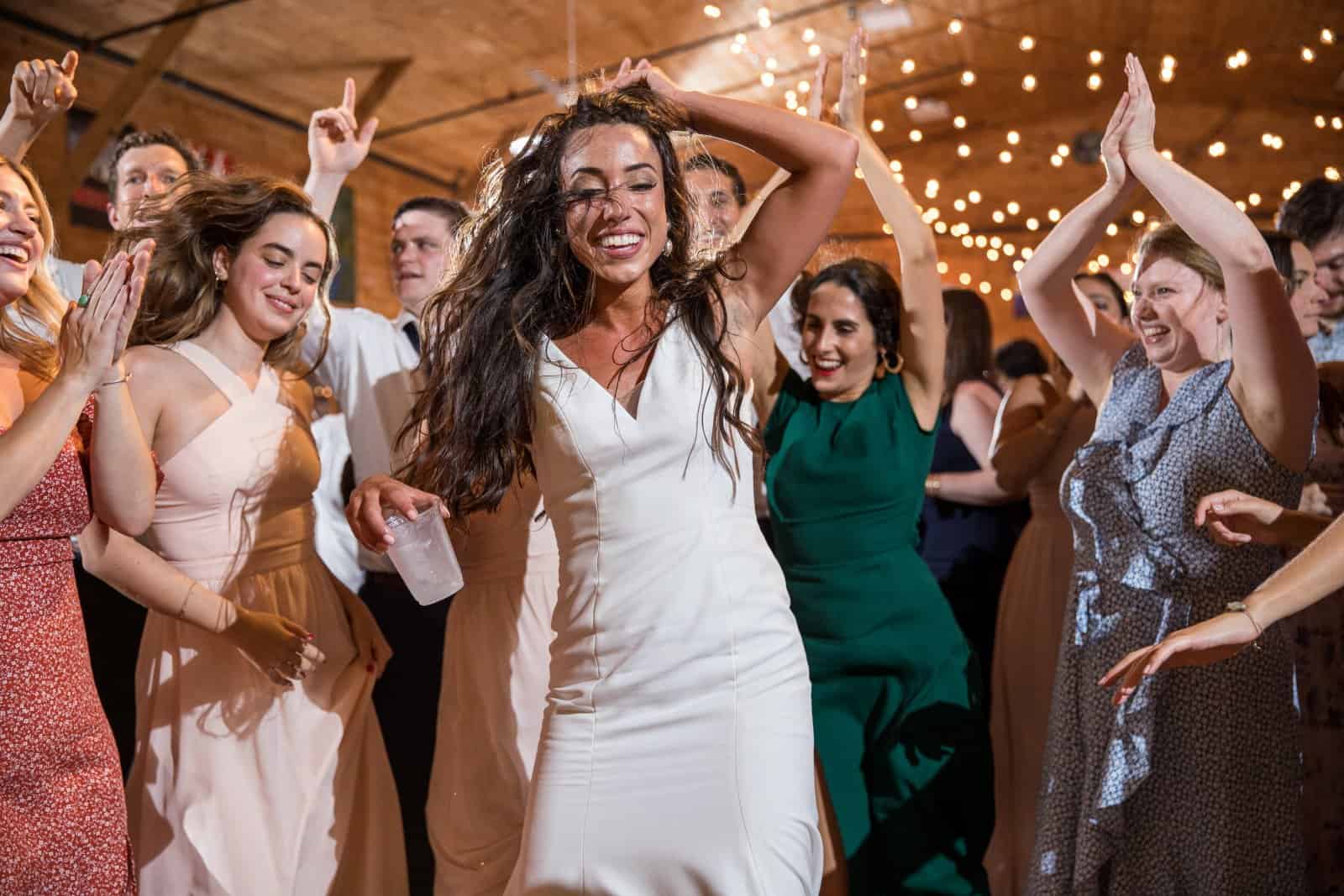 The Riverhouse at Goodspeed Station has a beautiful outdoor space for your outdoor wedding ceremony. We can provide a separate ceremony sound system so that everyone hears the emotion as you exchange vows. Not only will we have a microphone for your wedding officiate, but we also provide a clip-on lav mic for you (because how else can Aunt Judy in the 4th row hear you?) We even have a 3rd microphone for any readers during your ceremony. Most average wedding DJs think they can provide ceremony support with a speaker, a single microphone, and an iPad. That's not how we do things properly. We have multiple sound playback devices, multiple microphones, and a professional sound mixer to ensure that your ceremony is heard by all your friends and family.
Our photo booth rentals are always a big hit at our Riverhosue at Goodspeed weddings. It's typically set up in the front foyer near one of the bathrooms. Our booth allows your guests to instantly share their images to their phones (and social media). With our touch-screen – they simply enter their phone number and their photos are sent directly to them. We'll also print out 2×6 or 4×6 prints of their photos instantly for them to enjoy. Unlike other photo booth rental companies – we will print as many copies as guests that are in the photo – so if 8 people are in the shot, we'll print 8 hardcopies PLUS an additional one to be given to you at the end of your wedding. We'll give them to you at the end along with a USB flash drive with all the digital images. We'll also send you a link to the online gallery to share with friends and family so they can grab all the digital images that they wish. Want your guests to get dressed up? No problem – we supply a trunkload (not 8-12 props on a table) of props so everyone can find something that resonates with their personalities for their photos.

You can even choose between 20+ backdrops to customize your wedding photo booth experience even further.
See More Blog Articles Like
The Riverhouse at Goodspeed Station Wedding Photos

The Hermitage Inn Wedding Photos West Dover VT Wedding DJ The Hermitage Inn Wedding Photos West Dover VT: We have been working at The Hermitage Inn located in West Dover VT for years now. We have DJ'd weddings and provided tent lighting for so many weddings held there over the years. I wanted to put…
Continue Reading
* Connecticut Wedding DJ 203 Wedding DJ 413 Wedding Dj 860 Wedding Disc Jockey 860 Wedding DJ Barn Wedding Lighting Ideas Berkshire MA Wedding DJ Berkshire Wedding DJ best djs in ct CT Wedding DJ disc jockey for wedding reception DJ in CT DJ in MA dj near me djs for a wedding find a dj for my wedding Hartford CT Wedding DJ Hartford CT Wedding DJs Hartford Wedding DJ Holyoke MA Wedding DJ how to find a dj for your wedding how to find a good dj for your wedding how to find a great wedding dj how to find wedding dj i'm looking for a dj for my wedding lighting for tent wedding reception Middletown CT Wedding DJ New Haven Wedding DJ Pittsfield MA Wedding DJ Show me images of barn weddings Show me images of mansion weddings Show me images of tent weddings Show me images of wedding lighting Show me the Best wedding DJs in Connecticut Show me the Best wedding DJs in The Berkshires Show me the Best wedding DJs in Western MA Show me wedding dj reviews in Hartford area Show me wedding dj reviews in Western Mass up lighting Wedding DJ wedding djs wedding dj with uplighting Wedding Reception Playlist Western MA Wedding DJ What To Put On A Wedding Playlist