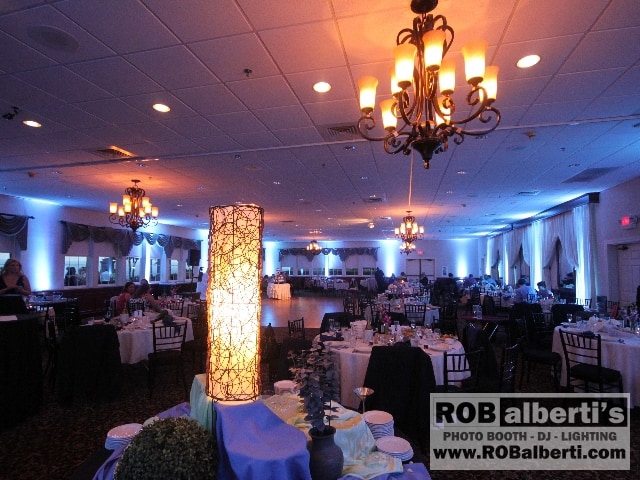 Weddings At The Log Cabin Banquet Facility – Holyoke MA
Having a wedding reception at The Log Cabin banquet facility located in Holyoke MA? Resting on top of the mountain, with an amazing view of the valley, The Log Cabin in Holyoke Massachusetts is a picturesque wedding facility for your celebration. We've been DJing weddings at The Log Cabin in Holyoke since it first opened years ago.
Wedding entertainment can be tricky at The Log Cabin with their outdoor social hour and fire-pit. The view on top of the mountain is a draw for your guests to spend time outside. Later, when the sun goes down and the fire-pit is lit, your guests will want to head out to check it out. If your DJ only is playing music INSIDE, your guests could get lost outside The Log Cabin and miss things like your cake cutting or special moments at your wedding reception. With the use of WIRELESS SPEAKER TECHNOLOGY, we can project the same music and announcements both inside and outside The Log Cabin in Holyoke for your wedding reception. That means no one will miss their favorite song or a key announcement. A wireless speaker outside is something you should require of your wedding DJ at The Log Cabin.
If your reception is in the Southampton Room at The Log Cabin, a wedding DJ with only 2 speakers just can't cover the room properly with sound. The room is WIDE and SHALLOW requiring more than a two-speaker system in order for all your guests to hear announcements. The same goes for the Grand Ballroom – too often we have seen lesser wedding DJs try to DJ a wedding with an inappropriate sound coverage. If your guests cannot hear announcements during your wedding at The Log Cabin, it goes to figure that they will not react to it. That means the emotional toast your brother gives, will fall on deaf ears. Only your wedding guests immediately in front of the wedding DJs two speakers will actually be able to hear. Don't you deserve more than that at your wedding at The Log Cabin in Holyoke?
We don't take shortcuts when it comes to entertaining your wedding guests at The Log Cabin (or it's sister facility – The Delaney House also located in Holyoke). Your wedding is a once in a lifetime event – why chance your wedding entertainment on the cheapest wedding DJ you can find on Craigslist? If your wedding budget was your main concern, you would have gone to a less expensive wedding venue. You are paying more per wedding guest to have your wedding here at The Log Cabin compared to if you had your wedding at The Moose Lodge. It only goes to figure that you want THE BEST WEDDING RECEPTION, after all – you get what you pay for, right? The same goes with your choice for wedding DJs. Want to hear what a great wedding DJ at your reception would sound like? LISTEN HERE.
Not all wedding lighting is equal. Having The Log Cabin put up six $50 LED up-lights for your wedding reception is not going to get you the same effect as if you have us bring in our $10,000 up-lighting system (with 16-24 fixtures) into the The Log Cabin in Holyoke. When placing event lighting, it's important to remember that what you put a light on is where the eyes of your guests will be drawn to. If the 6 house lights are placed just in a random place (and sometimes at a 45-degree angle???), it will just make your wedding photos look haphazard. Professionally placed wedding up-lighting will make your wedding photos come out better and improve the quality of your wedding video. Want to see some of our lighting work for weddings at The Log Cabin in Holyoke?
---
---
Or would you prefer the Log Cabin's in-house lighting system? Not quite the same effect, right? I guess you know why they try to throw it in for FREE. It's better if they just DO NOT TURN THEM ON and ruin your Log Cabin Wedding photos.
Having your wedding ceremony outside at The Log Cabin in Holyoke? No worries because they always have a rain contingency and you can have your ceremony inside if necessary. When it comes to the sound at your ceremony, at Rob Alberti's Wedding DJ service, we believe one is not enough. That is – one microphone to cover both your officiate talking AND to hear the two of you exchange vows just won't work. We like to have a clip-on wireless lavalier microphone on one of you to help capture the emotion and your exchange of vows. Having a reader during your outdoor wedding ceremony at The Log Cabin? We would provide a 3rd wireless microphone for them as well. If the Log Cabin is providing a microphone for your ceremony, it might just make sense to have us take care of sound needs – we can even record your exchange of vows outside and provide you with a digital copy as a keepsake for your wedding day at The Log Cabin.
A great wedding DJ and MC is not only the VOICE OF YOUR WEDDING, but will keep the flow of events at your wedding reception moving and upbeat without jumping over the fence into corny DJ antics. No embarrassing moments for you and your guests. We won't talk between every song or crack inappropriate jokes. We will just make sure that you end up with happy guests with tired feet. No empty dance floor or wedding guests leaving early. We are here to energize your party and keep people dancing with the right mix of music to match your personality, guests and style.

---
Find A Great Wedding DJ Near You – Listen To What Your Wedding Might Sound Like And How We Keep Your Wedding Guests Dancing
Try asking Siri or Cortana:
Show me the Best wedding DJs in Western MA
I want to find a wedding DJ in Western Mass
Show me a list of local wedding DJs
I need lighting for my wedding in Western Mass
Show me wedding dj reviews in Western Mass
413 Wedding Dj
Western MA Wedding DJ
Show me photos of a wedding at The Log Cabin in Holyoke Massachusetts
#djrobalberti, #ctWeddingdj, #weddinglighting, #ctweddingdiscjockey, #newportweddingdj, #hartfordweddingdj, #berkshireweddingdj
---
What Do You Do Now?
Contact DJ Rob today to find out pricing and availability for your upcoming event. We offer wedding DJs, Custom Lighting Design, and Photo Booth Rentals.

Describe your wedding in 3 words so we have an understanding of what you are looking for.
Send us an inspirational image of what you are trying to create for custom wedding lighting.
Tell us the style of music that gets you up and shaking your booty.
Let us guide you through the planning process.

Our stomping grounds are The Berkshires and Hartford CT areas, but we travel from Hudson Valley NY to Boston MA, and Southern VT to the CT Shoreline frequently. Get started today.


---

Justin & Hannah Bliss Farm MA Wedding It was a rainy Saturday at Bliss Farm in Granville, MA but, that didn't stop Justin and Hannah from having one heck of a daytime wedding. When I arrived onsite they instantly let me know that we're doing this thing outside no matter the weather! They carefully prepared…